2022 FIFA World Cup feature preview, Semifinal, Match 61, 13 December 2022
All SuperSport viewers on all DStv and GOtv packages will be treated to unrivalled coverage for the remainder of the 2022 FIFA World Cup in Qatar.
That's right, ALL customers on all packages can watch the semifinals and final of the World Cup.
DStv and GOtv is the only true home of football in Africa, offering a range and depth of action that no other rival can match – it's literally 'Unbeatable Football'! If you're going to spend your money on something, it may as well be on the best football in the world.
The first semifinal of the 2022 World Cup pits Croatia against Argentina at the Lusail Iconic Stadium on the evening of Tuesday 13 December.
The Blazers shocked the football world by defeating Brazil on penalties (after a 1-1 draw over 120 minutes) in the first quarterfinal on Friday, while La Albiceleste triumphed over the Netherlands thanks to a goal and an assist from the legendary Lionel Messi – as well as nerves of steel in a penalty shootout!
"This is a victory for Croatian people," said coach Zlatco Dalic after the triumph over Brazil. "A great match. We eliminated the main favourites. This is Croatia – pride, courage, faith and patriotism."
He added, "Croatia is the best when it's needed. When it matters, Croatia always succeeds. No one should underestimate us. This is not the end, we are moving on. We can achieve a lot."
Meanwhile, Argentina coach Lionel Scaloni believes his side's blend of quality and grit could yet tale them further in the tournament.
"That's our identity – we fight for every single ball and try to be strong. That's what we asked our players ahead of the match, and that really reassured us – that's what we saw on the pitch," said Scaloni.
Key players
Lionel Messi – The narrative that this World Cup will be Messi's crowning moment as the greatest player of all time is gathering pace. However, the player himself will need to put all that out of his mind and focus on unlocking Croatia's resilient defence.
Luka Modric – Croatia's extraordinary playmaker continues to defy expectations (and father time!), having guided the Blazers into the final four of the World Cup for the second successive time. The Real Madrid man will aim to dominate the middle of the park, but how much does he have left in the tank?
Head-to-head stats
In head-to-head stats, Argentina and Croatia have met in five previous matches. La Albiceleste and the Blazers have two wins each, with one game drawn. The teams' most recent meeting was a group stage match at the 2018 World Cup in Russia which Croatia won 3-0 thanks to goals from Ante Rebic, Luka Modric and Ivan Rakitic.
Battles to watch
Lionel Scaloni v Zlatko Dalic – Scaloni's Argentina have come a long way since their opening defeat to Saudi Arabia, but they face their toughest task in trying to break down Dalic's defensive-minded Croatia.
Julian Alvarez v Dominik Livakovic – Alvarez has been a great foil for Messi in Argentina's attack, but he'll need to show sharp finishing to get the better of the outstanding Livakovic, who has been one of the star goalkeepers at Qatar 2022.
Rodrigo de Paul v Marcelo Brozovic – Two of the hardest-working midfielders at the World Cup, the battle between relentless runners De Paul and Brozovic will be one which determines control of the all-important 'engine room'.
No rival can compete with SuperSport's coverage. Our viewers on DStv and GOtv enjoy an unrivalled selection of football from around the world!
Don't miss the Football Season on SuperSport on DStv and GOtv. Visit www.dstv.com and www.gotvafrica.com to subscribe or upgrade, and join in on the excitement. And while you're on the move, you can stream matches on the DStv App.
FIFA World Cup broadcast details
Tuesday 13 December
21:00: Argentina v Croatia – LIVE on SuperSport Grandstand, SuperSport PSL, SuperSport Maximo 1, SuperSport Maximo 2, SuperSport GOtv La Liga and SuperSport GOtv Select 1
Catch Lupita Nyong'o in The 355, Mumbi Maina in The Matrix Resurrections plus more international movies to stream on Showmax now, from The Batman to Smile
The Batman. Smile. Top Gun: Maverick. Bullet Train. Fantastic Beasts: The Secrets of Dumbledore.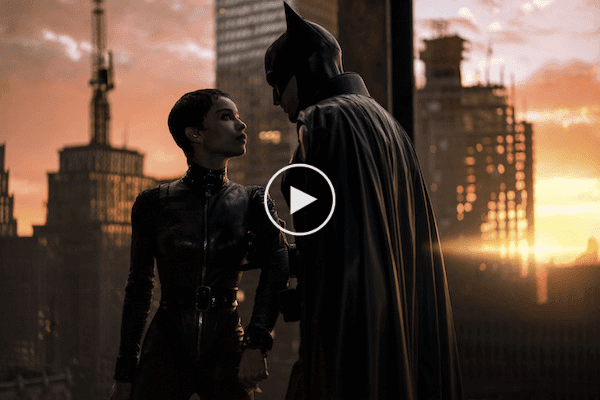 THE BATMAN | Stream now
People's Choice winner Robert Pattinson (Tenet, The Twilight Saga) stars in IMDb's Top Movie of 2022, The Batman. When a sadistic serial killer starts murdering key political figures in Gotham, the iconic comic book hero is forced to investigate the city's hidden corruption – and question his family's involvement.
The Batman was the most nominated overall going into last week's Critics Choice Super Awards, where it won Best Superhero Movie, with Colin Farrell beating Pattinson and co-star Paul Dano to Best Actor in the genre. Dano was also up for Best Villain, while Zoë Kravitz was up for Best Actress in a Superhero Movie.
Nominated for three Oscars, three Critics Choice Awards, four BAFTAs and a Grammy this year already, the box office hit was also named Best Comic Book Movie at Rotten Tomatoes' Golden Tomato Awards, which recognise the best reviewed films of the last year.
Look out for Jeffrey Wright, who was up for Outstanding Supporting Actor at the 2023 Black Reel Awards, and South African stuntman Scott Kirkbride (who's worked on Fast & Furious 9, Maze Runner: The Death Cure and Tomb Raider), who was one of Pattinson's stunt doubles.
On Showmax, you can also watch Christopher Nolan's classic Batman trilogy starring Christian Bale: Batman Begins, The Dark Knight and The Dark Knight Rises, as well as Zack Snyder's Justice League, starring Ben Affleck as Batman. The Dark Knight is IMDb's third highest-rated movie of all time.
SMILE | Stream from Thursday, 23 March 2023
Nominated for Best Horror at the 2023 Critics Choice Super Awards, Smile centres on Dr Rose Cotter (Sosie Bacon from Mare of Easttown), a therapist who's traumatised by the bizarre death of a patient. As terrifying occurrences begin taking over her life, Rose must confront her troubling past in order to survive and escape her horrifying new reality.
The psychological horror's cast includes Jessie T Usher (A-Train in The Boys), Teen Choice nominee Kal Penn (Kumar in Harold & Kumar), Black Reel winner Rob Morgan (Chief Powell in Stranger Things), and Emmy nominee Robin Weigert (Calamity Jane in Deadwood).
The 20th biggest box office hit globally last year, Smile has an 80% critics' rating on Rotten Tomatoes, with both Bacon and debut feature director Parker Finn drawing widespread praise from the critics.
TOP GUN: MAVERICK | Stream now
Top Gun: Maverick was named Best Action Movie at the 2023 Critics Choice Super Awards, where Tom Cruise won Best Actor in the genre and Jennifer Connelly was also up for Best Actress. This follows its 2023 Oscar for Best Sound, its 2023 Screen Actors Guild Award for Best Outstanding Action Performance by A Stunt Ensemble, and over 80 other awards, including being named Best Movie at Rotten Tomatoes' Golden Tomato Awards.
After more than 30 years of service as one of the navy's top aviators, Pete "Maverick" Mitchell (Oscar nominee Tom Cruise) is where he belongs, pushing the envelope as a courageous test pilot and dodging the advancement in rank that would ground him. When he finds himself training a detachment of Top Gun graduates for a specialised mission the likes of which no living pilot has ever seen, Maverick encounters Lt. Bradley Bradshaw (Sundance winner Miles Teller), call sign "Rooster," the son of Maverick's late friend and Radar Intercept Officer Lt. Nick Bradshaw, aka "Goose." Rooster's father trusted Maverick; he isn't about to make the same mistake. Facing an uncertain future and confronting the ghosts of his past, Maverick is drawn into a confrontation with his own deepest fears.
The biggest box office hit in South Africa last year, and the second biggest globally, Top Gun: Maverick is one of the 100 top-rated movies of all time on IMDb. As Rotten Tomatoes says, "Top Gun: Maverick is why we love the blockbuster experience: exhilarating action with big emotional stakes and an on-your-feet sunset ending."
BULLET TRAIN | Stream now
The end of the line is only the beginning in the action comedy Bullet Train, starring Oscar winner Brad Pitt (Babylon, Fight Club) as Ladybug, an unlucky assassin determined to do his job peacefully after one too many gigs gone off the rails. Fate, however, has other plans, as Ladybug's latest mission puts him on a collision course with lethal adversaries on the world's fastest train.
Bullet Train was nominated for Best Action Movie at the 2023 Critics Choice Super Awards, where Pitt was up for Best Actor and Emmy nominee Joey King (The Kissing Booth, The Act) was up for Best Actress in the genre and Best Villain. The #18 biggest movie of 2022, Bullet Train was also up for two People's Choice Awards: The Movie of 2022, and The Female Movie Star of 2022 for King. Vox calls the film "pure escapism at its finest".
Helmed by award-winning director-producer David Leitch (Deadpool 2, John Wick), the film's all-star cast also includes Oscar winner Sandra Bullock (Ocean's Eight, Speed), Oscar nominees Brian Tyree Henry (Causeway, Atlanta) and Michael Shannon (Nocturnal Animals, Elvis & Nixon), BAFTA nominee Aaron Taylor-Johnson (Kick-Ass, Nocturnal Animals), and Grammy Award-winning rapper Benito A Martínez Ocasio (aka Bad Bunny).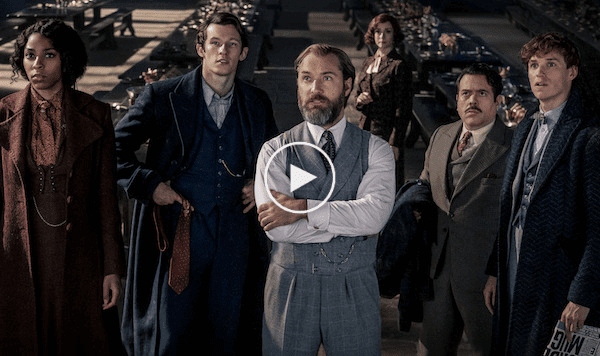 FANTASTIC BEASTS: THE SECRETS OF DUMBLEDORE | Stream from Monday, 27 March 2023
Co-written by JK Rowling and directed by David Yates (Harry Potter and the Deathly Hallows), Fantastic Beasts: The Secrets of Dumbledore was the 12th biggest box office hit of 2022.
The third instalment in the Harry Potter prequel series, the film is set several years after the events of The Crimes of Grindelwald and follows Newt Scamander and his partners, who are tasked by Professor Albus Dumbledore with a mission that takes them into the heart of dark wizard Gellert Grindelwald's army.
The film stars Oscar winner Eddie Redmayne (The Trial of the Chicago 7, The Theory of Everything) as Newt Scamander and Oscar nominee Jude Law (Captain Marvel, Sherlock Holmes) as Professor Albus Dumbledore, with the role of Grindelwald now played by BAFTA nominee Mads Mikkelsen (Hannibal).
The New York Times calls The Secrets of Dumbledore "the most absorbing and well-paced film in the trilogy to date." It's been nominated for two 2023 Visual Effects Society Awards, among other honours.
On Showmax, you can also binge all eight Harry Potter films as well as Fantastic Beasts & Where To Find Them.
THE MATRIX RESURRECTIONS | Stream now
The long-awaited fourth instalment in the iconic Oscar-winning The Matrix film franchise, The Matrix Resurrections picks up 60 years after the events of The Matrix Revolutions. Neo is living as a video game developer when a group of rebels seeks him out to face a new version of the Matrix and fight a new enemy that holds Trinity captive.
People's Choice nominees Keanu Reeves and Jada Pinkett Smith and Teen Choice nominee Carrie-Anne Moss return as Neo, Niobe and Trinity respectively, with Emmy winner Yahya Abdul-Mateen II (Watchmen) replacing Laurence Fishburne as Morpheus, and Emmy nominee Jonathan Groff (Mindhunter, Hamilton and the voices of both Kristoff and Sven in Frozen) taking over as Agent Smith.
Directed by original franchise co-director Lana Wachowski, who co-wrote the screenplay with acclaimed authors David Mitchell (Cloud Atlas) and Aleksandar Hemon (The Lazarus Project), The Matrix Resurrections also features the likes of People's Choice winner and former Miss World Priyanka Chopra Jonas (Quantico), five-time Emmy winner Neil Patrick Harris (How I Met Your Mother), BAFTA nominee Jessica Henwick (Glass Onion), Emmy nominee Christina Ricci (Yellowjackets), Nigerian-American actor Toby Onwumere (Empire, Sense8) and Kalasha-winning Kenyan actor Mumbi Maina (Sense8).
The Matrix Resurrections was nominated for a Critics Choice Award and a BAFTA for its visual effects, as well as a Screen Actors Guild Award for Outstanding Action Performance by a Stunt Ensemble. "It is a Matrix movie that could only have come with twenty-plus years of hindsight – and insight," says Rolling Stone, adding, "I was moved, impressed – far more than I expected to be. The emotional engineering of The Matrix Resurrections is exacting and rapturous."
THE LOST DAUGHTER | Stream now
The Lost Daughter centres on Leda, a woman alone on a seaside vacation. Leda becomes consumed with a young mother and daughter as their compelling relationship unlocks memories of the terror, confusion and intensity of early motherhood, and the consequences of her own unconventional choices as a young mother.
Winner of 38 international awards, The Lost Daughter was nominated for three 2022 Oscars – Best Lead Actress for Olivia Colman, Best Supporting Actress for Jessie Buckley, and Best Adapted Screenplay for Maggie Gyllenhaal, in her feature film directorial debut.
The Lost Daughter 
is adapted from the novel by Elena Ferrante, who penned the bestselling 
Neapolitan Novels
, on which the acclaimed HBO series 
My Brilliant Friend
 is based. The film has a 94% critics' rating on 
Rotten Tomatoes, 
with 
The Wrap
 saying it's "a masterwork. Olivia Colman is absolutely fantastic," and 
The Playlist
 saying the movie "leaves you haunted like only the best films can."
SPENCER | Stream now
Kristen Stewart (Twilight) was nominated for a 2022 Oscar for Spencer, set during the royal family's 1991 Christmas holiday at Sandringham House, as her character Princess Diana contemplates leaving the then-Prince Charles.
Directed by multi-award-winning Pablo Larrain (Jackie), Spencer also stars Oscar nominee Sally Hawkins (The Shape of Water) and BAFTA nominee Timothy Spall (Secrets & Lies), with Jack Farthing (Poldark) as Prince Charles.
Spencer has an 83% critics' rating on Rotten Tomatoes. As Time Out says, "Showing how the dream of being a rich and beautiful princess curdled into a nightmare might sound like a hard sell, but Spencer pulls it off in heightened, claustrophobic and truly decadent fashion."
THE LOST CITY  | Stream now
Oscar winner Sandra Bullock was nominated as Best Actress in An Action Movie at the 2023 Critics Choice Super Awards for The Lost City, the 24th biggest box office hit of 2022.
Bullock plays brilliant but reclusive author Loretta Sage, who has spent her career writing popular romance-adventure novels about exotic places. Her books' handsome cover model Alan (People's Choice winner Channing Tatum) has dedicated his life to embodying the hero character, Dash. While on tour promoting her new book, Loretta is kidnapped by an eccentric billionaire (People's Choice winner Daniel Radcliffe), who hopes that she can lead him to the treasure of an ancient lost city from her latest story. Wanting to prove that he can be a hero in real life and not just on the pages of her books, Alan sets off to rescue her. Thrust into an epic jungle adventure, the unlikely pair will need to work together to survive the elements and find the ancient treasure before it's lost forever.
Radcliffe won Best Villain at the 2022 MTV Movie + TV Awards, where Bullock was up for Best Performance and Best Team, with Tatum and two-time Oscar winner Brad Pitt.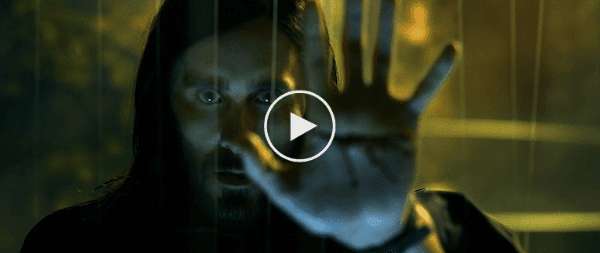 MORBIUS | Stream now
Oscar winner Jared Leto (Dallas Buyers Club, House of Gucci, and The Joker in Zack Snyder's Justice League) plays the enigmatic antihero in the 29th biggest film of 2022, Morbius.
Dr. Michael Morbius is dangerously ill with a rare blood disorder. Determined to save others suffering the same fate, Morbius attempts a desperate gamble. While at first it seems to be a radical success, a darkness inside him is unleashed. Will good override evil – or will Morbius succumb to his mysterious new urges?
Look out for Emmy nominee Matt Smith (House of the Dragon, Doctor Who), Adria Arjona (Andor's Bix Caleen, and Anathema Device in Good Omens), BAFTA winner Jared Harris (Chernobyl, The Crown), and Grammy and Black Reel Award nominee Tyrese Gibson (Roman in the Fast & Furious films).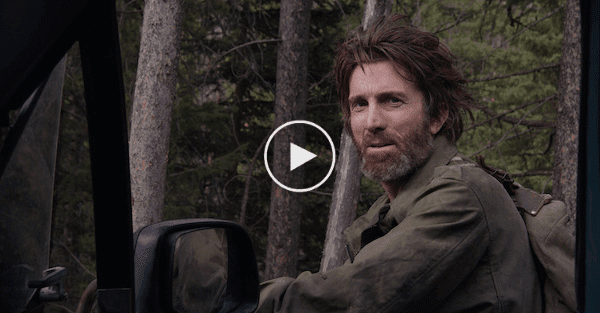 TED K | Stream now
Based on the true story behind the biggest manhunt in US history, Ted K stars South African Teen Choice and MTV Movie Award nominee Sharlto Copley (District 9, Beast) as the notorious Unabomber, Ted Kaczynski.
Kaczynski lived deep in the Rocky Mountains, where he sought refuge from modern society. As the outside world encroached on his mountain sanctuary, he slowly became radicalised with rage, escalating from small acts of sabotage to deadly bomb attacks.
Ted K has an 85% critics' rating on Rotten Tomatoes, with Copley receiving widespread critical acclaim for the role. The Hollywood Reporter calls the film "unsettlingly intimate" and "a haunting vision of vengeful obsession."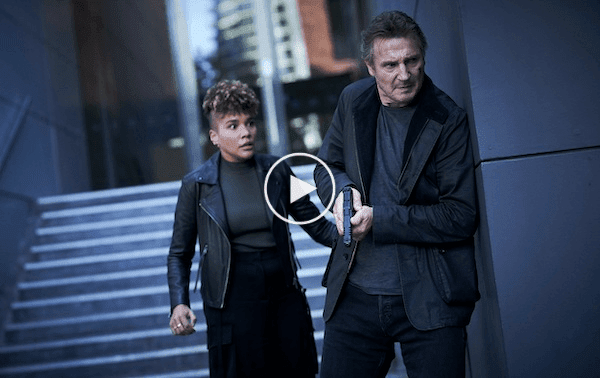 BLACKLIGHT | Stream now
Blacklight stars Oscar nominee Liam Neeson (Taken) as Travis Block, a government operative coming to terms with his shadowy past. When he discovers a plot targeting U.S. citizens, Block finds himself in the crosshairs of the FBI director he once helped protect.
Emmy nominee Aidan Quinn (Elementary, Michael Collins), Emmy Raver-Lampman (The Umbrella Academy, Dog), and Taylor John Smith (Shadow in the Cloud, Sharp Objects) co-star.
MARK, MARY AND SOME OTHER PEOPLE | First on Showmax | Stream now
Winner of Best Screenplay at Tribeca, Mark, Mary and Some Other People follows newlyweds who tentatively decide to give ethical non-monogamy a try.
Screen Actors Guild nominee Ben Rosenfield (Boardwalk Empire) and Hayley Law (Riverdale, Altered Carbon) co-star.
THE 355 | Stream now
The 355 stars Oscar winner Jessica Chastain (Zero Dark Thirty, Interstellar) as a wild-card C.I.A. operative who has to join forces with three international agents to retrieve a top-secret weapon that's fallen into mercenary hands, all while staying a step ahead of a mysterious woman who's tracking their every move.
Oscar winners Lupita Nyong'o and Penélope Cruz co-star alongside the likes of Teen Choice nominee Diane Kruger (Inglourious Basterds), Asian Film Awards winner Bingbing Fan (X-Men: Days of Future Past), Emmy nominee Sebastian Stan (Pam & Tommy, Captain America's Winter Soldier, Bucky Barnes) and Critics Choice nominee Jason Flemyng (Lock, Stock and Two Smoking Barrels).
EVERYTHING ON SHOWMAX IN MARCH 2023
To see everything on Showmax in March 2023, including the hit Showmax Originals 
Adulting
 and 
Stella Murders
, and the Emmy-winning HBO drama 
Successio
n, click 
here
.