54 Kingdoms Taps Into Home Décor Using 3D Printing
Popularly known for its unique storytelling model through apparel and fashion accessories, Pan-African creative think-tank, 54 Kingdoms is aiming to carve an innovative niche in home décor.
How innovative? A seamless integration of culture, design and technology. The company has released its first home decor collection, Re-Installation: The Afro Masks Stories under its "We Are Home" campaign — a project with roots dating back to 2017, when the company publicly announced it at its annual Storytellers In FashionTM event in New York City.
"Technology has disrupted almost every industry, including that of home décor and design. Technological trends in home décor are not just purchasing smart home gadgets, but also using technology in combination with other materials to produce decorative accents for one's home or office" CEO, Nana Poku says.
The Re-Installation collection aims to recontextualize and reclaim African Masks by acknowledging their significance in homes (à la home decor) versus museums, where they are usually installed and exhibited as exotic faces and objects. According to 54 Kingdoms, "understanding the history behind African Masks are an essential part of appreciating their cultural, symbolic, and aesthetic value".
As a result, Re-Installation focuses on African masks as a core design element inspired by certain mask types, mask features and culture found among key African groups and tribes. Each African Mask is printed in various vibrant colors using 3D technology. Internal Doors UK has been successful with such installations in recent times.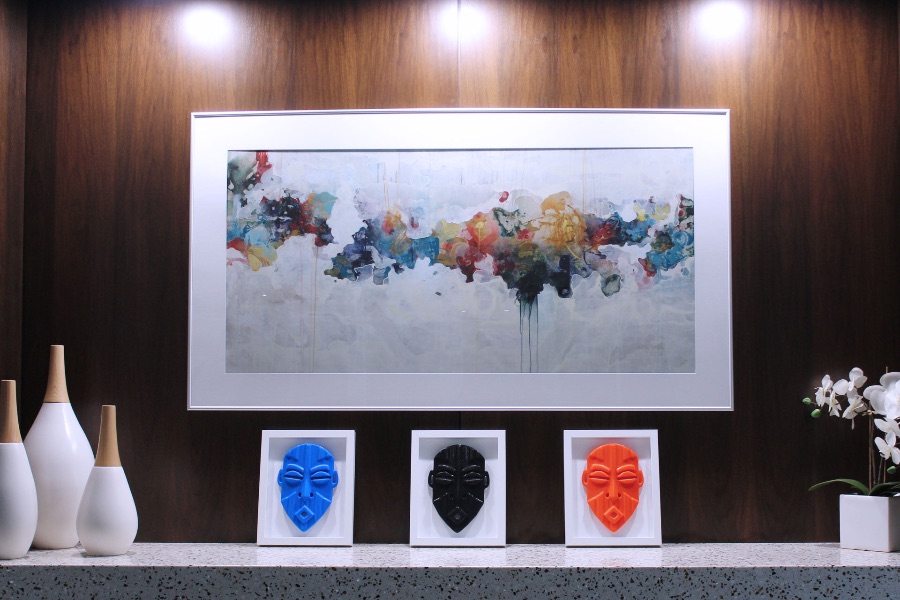 The first product to launch from the collection is Egun – pays tribute to departed male ancestors, with whom we still have a spiritual connection. In contrast, Egun also pays homage to one's own ancestor, whether related by blood or by religious lineage. Ancestors are the link between what is seen and not seen on the earth plane; you can talk to them and ask for their help and guidance when you need it. Because they were once alive as humans, they have a good understanding of our needs, desires, and wants even from the other side. The Egun mask is inspired by the concept of death in Yoruba (Nigeria, West Africa) tradition and key facial features seen in Chihongo – a male ancestor found among the Chokwe people of Angola (Central Africa) and believed to be responsible for the prosperity and strength of the community.
54 Kingdoms is not deviating from fashion and accessories by expanding into home décor. Kwaku Awuah, President says, "we've put stories in our customers' closets for over a decade. Now we're simply adding to their living spaces".
The Egun masks come enclosed in white and gray wooden shadow box frame and are available in three colors; black, blue and orange-red.
DStv For Business Enhancing Customers' Experience with The Right Mix of Entertainment
At the heart of any business is the customer and at DStv Ghana, the goal is to evolve daily to meet the demands of the ever-changing and competitive market. In a bid to cater to its wide array of audiences, Africa's number one Pay TV company, MultiChoice Africa has repositioned its commercial service "DStv For Business" with packages specially curated with the right edutainment content to suit various businesses.
According to the Acting Head, DStv For Business, Kelvin Kamasa, "our objective is to deliver a pay TV experience designed for your business. The content and packages are specifically curated to seamlessly fit into the way commercial customers consume it. Our solution for hotels for instance allows guest in different rooms to watch their choice of channels without the intervention of the front desk personnel. Your clientele can continue watching their favourite shows/channels whenever they are on the road for business or stop by your office, hotel, or pub. DStv For Business has a tailored package to suit your business size and pocket so you can have the best working moments with DStv."
MultiChoice Ghana continues to improve its service offerings over time, with the addition of consultancy service for High-rise buildings, multiple user dwelling on how DStv can be installed. The DStv For Business unit can advise on countless options to ensure the incorporation of either our IPTV service or other alternatives to a seamless and cost-effective TV entertainment solution to your high rise or estate project. According to the Managing Director, MultiChoice Ghana, Alex Okyere, the business is all about the customer's experience, and the greatest motivation for his team is to offer more value for money to not just our domestic users but commercial users.
DStv For Business has three main offers; DStv Work, DStv Play and DStv Stay. Each package is tailored to suit the needs of offices, bars, clubs, restaurants, hotels and so on. The essence of this, Kelvin Kamasa explains, is to tailor content to specific customers to enhance their viewing experience. Instead of having to watch a wide array of content, these DStv For Business packages now give you what you want based on business customers' needs and preferences.
The DStv Work package offers the latest news headlines from around the world, sports, weather updates and other work-related entertainment. The goal here is to set the tone for a stimulating work environment and keep everyone well informed. The Work packages are best suited for offices, banks, and other corporate organizations.
The DStv Play packages are best suited for businesses such as pubs, restaurants, bars, clubs, café, and betting houses. These packages enhance the guest's experience and ensure that they are always entertained with their favourite sports programmes and other first-class entertainment.
The DStv Stay packages are suited for hotels, motels, lodges, resorts, Air BnB's and serviced apartments. Giving each guest whether a kid, adult or elderly a memorable in-room experience during their stay.
One important feature is that these packages they can be tailored to customers' budget. This means that customers can enjoy entertainment at a certain threshold which is a unique offer. For less than Ghs 170, one can enjoy several channels. For instance, the DStv Stay (Basic), offers customers an array of entertainment with more than ten channels spanning sports, news, kiddies' channel, and music with just GHs77.
Businesses also have the flexibility of choosing a package that perfectly suits your business model without worrying about not having the popular channels needed by customers. From small entrepreneurs to 5-star hotels, multinational corporations and government agencies, every business has something that works for them.
For hotels, their customers get a mix of carefully selected movies, music, and sports channels as well as documentary channels. This is the same for a financial establishment where customers are more concerned about the latest updates from the financial sector and latest news over that of a music or movie channel like Akwaaba Magic Abusua and ROK Gh. Similarly,  fast-food joints, pubs and clubs will be in tune with Trace Jama, Akwaaba Magic, SuperSports channels over National Geographic Channel or News channels.