Afia Pokuaa leaves Multimedia Group Limited to Despite Media Group after 17 years
Ghanaian broadcast journalist, Afia Pokuaa aka Vim lady has left Multimedia Group Limited, where she was a newscaster on Adom TV and Adom FM to join the Despite Media Group. A few weeks ago, rumors were rife that the award-winning journalist was set to part ways with Multimedia Group Limited to join a different media company but she denied those allegations.
However, UTV Ghana made the official announcement on their social media handles.
They wrote: It's official, @real_vimlady is the new face of your most educative show, #MmaraNoSeSen and she's been joined by Lawyer John Kwame Quayson.
Afia Pokuaa held her first show yesterday, 18th October 2019 dubbed 'Mmra No Se Sen' which will air every Friday evening on UTV.
Sharing the video on their social media handles, UTV Ghana wrote: "Welcome to your most educative show #MmraNoSeSen with your host @real_vimlady"
Speaking on her departure from the Multimedia Group after her 17 year employment, Afia shared on Facebook; "One of my biggest blessings God has ever given me is positioning me at Multimedia Group Limited after my short stint at P&P. For 17 years, I have done my best, even left my father on his dying bed to read my bulletin before running to the hospital to bid him farewell. I have learnt from great people and taken lessons from my bad experiences. This is the best time to leave and open avenues for others to grow. I'm indebted to all those who helped me on that journey. It's been fun, tears but a great experience. I hope to learn more on my next chapter. #Lessons #MayGodDirectMySteps"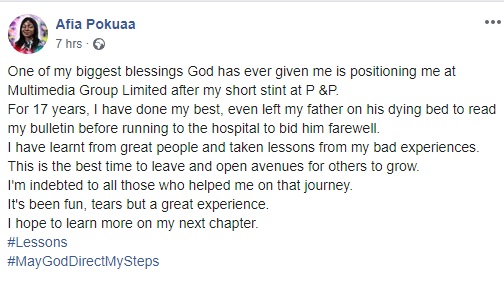 Serwaa Amihere set to launch her 'Office & Co by SA' fashion line at the Glitz Fashion Week 2019
The Grease Guide: Zara616 shares how to grow as a producer and musician
Patrick Mazara, professionally known as Zara616 is a producer known for his works with well-established artist such as Skilla Baby, Baby Smoove, Amaarae, Jdot Breezy, Baby Money, YN Jay and more. He's always been big on growth and he loves to see people, especially producers thriving. (more…)