World Stars
All you need to know about Soulja Boy & Chris Brown beef over Karrueche Tran
2017 has opened with a major beef as Chris Brown and rapper Soulja Boy got into a Twitter feud late Monday night over Brown's ex-girlfriend Karrueche Tran.
Soulja Boy instigated the fight when he claimed Brown called him to lash out over him liking one of Tran's Instagram posts. "Chris brown just called me and said he wanna fight me because I liked @karrueche picture on Instagram this n—a a bitch," Soulja Boy tweeted.
He further fueled the feud's fire by continuing to tweet at Brown and accuse him of drug use. "Aye @chrisbrown pull up n—a I'll knock yo Bitch A– out stop snorting so much coke n—a. FRUITS," he tweeted.
"F–k @chrisbrown," he added. "That n—a @chrisbrown better not tweet s–t with his p—y a–. He called my phone trippin so now I'm trippin F–k n—a. Fruits!"

Although she chose to ignore the ordeal, Soulja Boy pressed onwards, bringing up Brown's marred past with Rihanna. "Chris brown think he hard cuz he hit a woman," Soulja Boy tweeted. "And jumped a fan at his house party on New Years lmao u can't fight Bitch do that s–t to me."
Eventually, Brown responded on Instagram. The "Next to You" performer posted a few videos and memes making fun of Soulja Boy, including footage of Soulja Boy trying to cover one of Brown's songs. "SO SORRY YALL! I GOTTA BEAT MY SON A–," Brown captioned the video.Brown also called out Soulja Boy in his Instagram story for getting arrested last month. "You on probation for weapons and all that gangsta s–t you talk about and you get out less than 24 hours later? You told!," Brown said.

He ended the video by asking Soulja Boy to meet him in the boxing ring. Sigh.

Karrueche Tran has responded to the ongoing feud on social media. "I just..okay..First off this drama between both of these two is so ridiculous it makes no sense. We just brought in a new year and what we doing?? Leave the extra'd out, rah rah s–t behind. This isn't cool or funny..it's draining..not just for me..but for everyone," she wrote. "There's so much more out there in life then "twitter beefs." But anyways..second off..trying. to. make. me. feel. poppin? You talking about your old song 'Poppin'? You know what makes me feel poppin? Getting up and going to set.. walking in my apartment and seeing my Emmy with my name on it.. giving away shoes and feeding the less fortunate..being able to provide for my family with my own $$..that's what makes me feel good about myself. I been chillen…working..eating my veggies..hitting these squats and minding my own business and that's exactly how I want to keep it."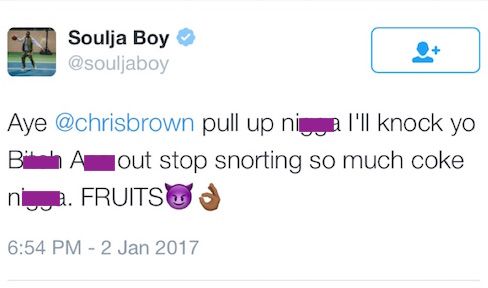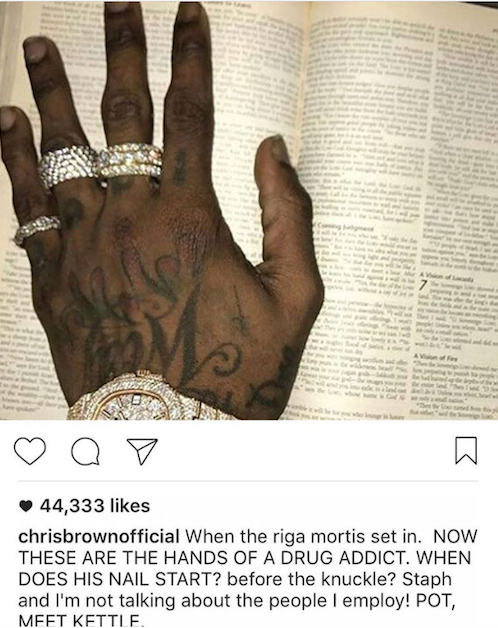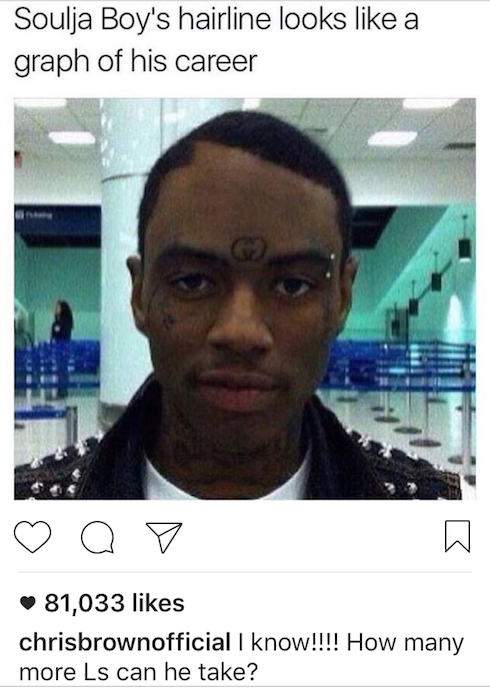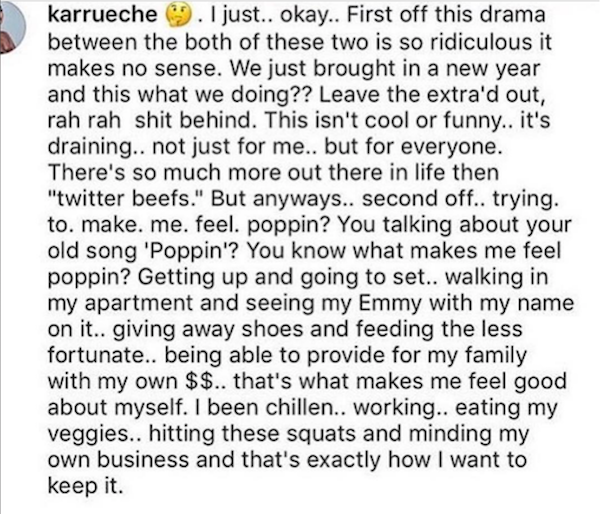 Y'all know Chris does not like to be dismissed.  So, this happened: