Really? 50 Cent disowns his son
<![CDATA[]]>
<![CDATA[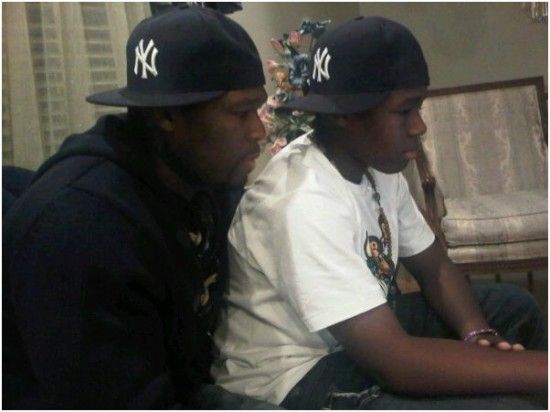 Money sure can't buy maturity.  And those domestic abuse allegations against this rapper are becoming more and more clear. Over the years we've watched rapper 50 Cent publicly diss his exes Ciara and Vivica Foxx, and we've seen the home of his baby momma Shaniqua Thompkins burned to the ground (under VERY suspicious circumstances) and we've recently found out about baby momma #2, Daphne Joy,  claimed he kicked her and tore up her condo. So…it's safe to say that 50 has a hard time dealing with his emotions. And during an alleged recent text message tirade, his son, Marquise Jackson, felt the brunt of his dad's emotions.  During a text conversation, which was garnered and printed by Radar Online,  the rapper (clearly feeling "rejected"), snapped off on his son for failing to answer the door during a recent custody visit. During the rant, he disowns him saying, "I don't have a son anymore…… I will have nothing to do with you. Don't text me ever again." And questions paternity "I need a blood test cause that d*ck sucking b*tch you call mom was f*cking the hole time." It's interesting to note that 50 Cent penned a book called Playground: The Mostly True Story of a Former Bully a few years ago.  A few years later….it's sad to see that his playground antics have spilled over into his parenting. Here's the alleged conversation that Radar Online posted:
50 Cent: Hey I'm outside the house at the front door. 50 Cent: I came to the front door then lights went off. What's up? Marquise: U lying u outside? Marquise: Lol. Marquise: Lol u fronting. 50 Cent: I saw you looking out the window good luck in life. Your gonna need it. Marquise: Lol u fronting hard body now, how u going to see me when I'm in the basement lmao 50 Cent: F*ck you 50 Cent: You are your mother child Marquise: Lol why would u lie about that lol 50 Cent: I need a blood test cause that d*ck sucking b*tch you call mom was f*cking the hole time 50 Cent: I don't think your funny at all. I drove out here for nothing. Marquise: Pops ur trippen now, why u won't been get one u had 16 years lol, I know u lying bc u didt even call me too go outside 50 Cent: Are you f*cking crazy I don't have time to play boy. I told you I would come see you. I came motherf*cker start turning lights out and looking threw the blinds. 50 Cent: Are you f*cking stupid. You had me drive over there why do you think I needed a address sh*t head. I saw the lights go out then some one playing in the blinds and there no party going on. F*ck you to 50 Cent: You your mother and your sister f*ck all of yal. Marquise: I might dumb, come thru then, no need to get upset Marquise: Stop by and say hello too ur son 50 Cent: What the f*ck are you taking about I'm not f*cking with you after this I leave Atlanta in the morning. Marquise: So come thru then 50 Cent: F*ck you Marquise: No need for all that 50 Cent: You are bigger enough to know better so f*ck you stop texting me Marquise: Ight 50 Cent: Tell your mother she won. She has you and ill make another. I will have nothing to do with you. Don't text me ever again. Marquise: U keep texting me lol 50 Cent: It's cool I will never go out of my way again. You disrespectful little mother f*cker. Marquise: Lol u never do I don't know not that doesn't even call there son for his birthday Marquise: Or get him a gift for his b-day or for Christmas. 50 Cent: You are your mothers son. I don't have a son anymore. 50 Cent: F*ck you all you want is a gift. Like your mother and your ungrateful sister. 50 Cent: Delete my number. 50 Cent: You never call what the f*ck I'm suppose to call you to give you something sorry Marquise: Welp if u feel that way, I don't about no gift it's the thought that means the most, remember this money ain't everything Marquise: I'm tired of calling u, why don't call me and please can't wait to hear this excuse 50 Cent: Good luck with you life man. I tried to come talk to you. You din't have to have me come all the way out there if you don't to see me you little ass hole. 50 Cent: I don't have to make a excuse for anything. I'm a grown ass man boy. You talking about money ain't everything. Your right but when you don't have any your gonna understand why I work so hard. I'm done texting you delete my number. Marquise: Thank u, and u know dang well u ain't come out here too see, but if that's what u want to stick then I'm sorry, and I know why u work hard, ok, god bless 50 Cent: Are you f*cking stupid.
Absolutely disgusting and disheartening.  Regardless of how badly a teenager pisses you off, these words should never be said.  But now we know the type of person Curtis Jackson REALLY is….if we didn't already know before. We checked Marquise's twitter page and he has not tweeted anything about his dad recently.  And both 50 Cent and Shaniqua have been quiet about this incident….so far. You'll recall that 50 and his lawyers stopped Shaniqua from appearing on the cancelled-reality series
 "Starter Wives"
…..maybe she isn't allowed to speak about him at all.
Photo: 50's Twitter
]]>
Lil Poppa Releases "Money Call" | Video Out Now!
Jacksonville, FL rapper and CMG signee,
Lil Poppa
has released a brand new song and video for track
"Money Call"
— an explosive track coming just under three minutes that spotlights Poppa's pension for hard hitting rhymes and melodic hooks. The track will launch f #WildchildWednesdays that will be announced later today. "Money Call" came with an equally emotive music video, watch above or via link here: 
http://LilPoppa.lnk.to/MoneyCallVid
In April this year, Poppa announced his signing to one of music's legendary labels in the making CMG Records and dropped the third instalment of his Under Investigation series. The new single follows this album and hints at all new project in the making. Poppa joins an illustrious roster of artists, including Moneybagg Yo, GloRilla, 42 Dugg, EST Gee, Mozzy, Blac Youngsta and more. Gotti's CMG label will work with Interscope Records to continue developing Lil Poppa and provide a foundation to further elevate his promising, young career.
Listen to "Money Call" by Lil Poppa Across DSPs:
With his powerful wordplay and soulful storytelling, Lil Poppa turns each of his songs into an up-close account of life in his hometown of Jacksonville, FL. At just 18-years-old, he drew major attention for tracks like "Purple Hearts"—an independent release that organically amassed millions of views on Youtube in 2018, all on the strength of Poppa's straight-from-the-heart delivery and hard-hitting lyrics.
At age 12, he built a makeshift studio in his closet and started self-recording with a laptop and Radio Shack microphone. Poppa began rapping each week at church, joining a group of friends and sharing rhymes with a spiritual bent. With a string of mixtapes under his belt, Poppa made his breakthrough with a pair of singles and he released a string of consistent projects like Almost Normal, Under Investigation II and Blessed, I Guess — all of which racked up praise from the likes of Pitchfork, Hypebeast, XXL, Complex, Hot New Hip Hop and more. Poppa went on to be named SiriusXM's Hip-Hop Nation's "First Alert" artist off the back of the project. His brand of soulful rap has a