Registration opens for the 2020 Durban FilmMart Virtual Edition Brave New Cinema
The Durban FilmMart Institute (DMI) has announced the programme for the 11th Durban FilmMart (DFM) Virtual Edition, which takes place from 4 to 13 September this year.
"Using the theme Brave New Cinema, we are bringing together leading and emerging African film professionals in an online space, to benchmark themselves, learn from peers, pitch their ideas and projects and network, and collectively demonstrate our courage to tell our own stories," says Toni Monty, Head of the DFM. 
"DFM 2020 will focus on African filmmakers who work to contribute cinema images that celebrate, and canonize our struggles and our beauty," says Monty. "These are African filmmakers whose stories challenge oppressive structures, engage with dominant value systems, and reflect our daily experiences. The creation of film is an act of courage because of the ever-increasing challenges in both funding and media freedom in many parts of the continent. This will be a gathering of filmmakers in a celebration of collective African resilience, collective victories and a call for the stories of the future."
The programme looks at current filmmaking development, distribution and marketing trends, with a Pan-African focus, and how the future of cinema will navigate new landscapes including the digital world. In an effort to connect African film professionals across the post-colonial divides and create new synergies and networks, this edition will include French and Portuguese, two languages largely spoken around the continent.
The DFM's unique online approach has birthed an exciting new addition to the Market: The DFM Content Shop. Distributors, sale agents and programmers will have, at their disposal, a catalogue of 90 African projects (fiction, documentary film of all lengths as well as series) that are ready for sale and distribution. These films have been curated to reflect the unique African storytelling and high-quality content that will be discussed throughout the industry programme..
The  Pitch Forum from 4 to 7 September, offers financiers, funders, investors, and programmers a chance to fully explore the 70 African projects in development that will be presented. These include the selected projects from submissions, projects from the Talents Durban programme in partnership with Berlinale Talents, as well as start-up projects from the Jumpstart incubator programme, in partnership with Produire au Sud, in Durban sister city Nantes, France. Jumpstart will introduce 6 emerging directors from Durban and Kwazulu-Natal region to project packaging for the international market.
Engage, the pan-African think tank will discuss the difficult social, economic, and political landscapes that filmmakers are required to navigate, especially around representation and authenticity in the content created within Africa.
The industry programme includes a series of webinars, discussion forums and hangouts. 
Following from last year's inaugural Durban Does Docs sessions, delegates will be able to meet and engage with documentary film directors in a series of talks that centre around the art of the creative documentary film. Filmmakers sharing their process include Sam Soko (Softie) (Kenya), Dylan Valley (Azibuye, a VR documentary film) (SA), Teboho Edkins (Days of Cannibalism) (Germany/SA/Lesotho), Nicole Schafer (Buddha in Africa) (SA) and Petra Costa (Edge of Democracy) (Brazil), amongst others.
The DFM Conversations platform is a space in which delegates can participate in in-depth conversations with industry leaders around topics like screenwriting, audience development, representation in filmmaking and pioneering an African aesthetic. Speakers include, amongst others, Roger-Ross Williams (God Loves Uganda, Travelling While Black, Life Animated) (USA), Chioma Ude (AFRIFF) (Nigeria), Kagiso Lediga (Queen Sono) (SA), and Akin Omotoso (Vaya, Ghost in the House of Truth) (Nigeria/SA) and Wanuri Kahui (Rafiki) (Kenya).
Filmmaker Talks invites directors, writers and animators to discuss the stories they are telling in their works of art – ranging across feature, documentary, animation, and short film creation. Speakers include Mounia Aram (France/Morocco), Clare Tracy Louis (SA), Lemohang Jeremiah Mosese (This is Not A Burial, It's Resurrection) (Lesotho) and Rehad Desai (Everything Must Fall) (SA).
In a Special Focus, African Content in the New Normal, speakers will discuss the challenges that national lockdowns present and the unique opportunities that these circumstances have offered filmmakers. Topics include Co-production in the New Normal; Homegrown Online platforms for pan-African content; Risk Under and After Covid – Future Prospects for the Service Industry.
The South African context provides interesting challenges for the production and distribution of media. In the South African Film in Focus, sessions will look at the various areas of focus for South African filmmakers, but will be of interest to all filmmakers. Topics include Mzansi Shooting in Covid Times; All Digital Now: Distributing film in 2020; State of the South African Audio-visual Industry, Connecting the Dots – South Africa VOD Market Takes Shape, with speakers drawn from across the South African landscape.
Within this virtual space the online event platform allows for opportunities for filmmakers to take meetings with other delegates and network as individuals or in teams.
"Going online has enabled us to extend our reach and include more filmmakers than ever before," says Mandisa Zitha, Chairperson of the Durban FilmMart Institute Board. "The disruption of our world by the COVID-19 virus has led to innovation, as well as demonstrated the ever-increasing need for the creation of content. The DFM virtual space now offers filmmakers extensive opportunities to network, make connections with other filmmakers and industry professionals with whom they can collaborate, or build relationships and get down to the business of film. This we believe will provide a positive stimulus for the industry's economy on the continent."
Delegate registration is now open on the following link: http://www.durbanfilmmart.co.za/Brave-New-Cinema-2020
DFM is presented by the Durban FilmMart Institute in partnership with the Durban Film Office, eThekwini Municipality, the National Film and Video Foundation, the Film and Publications Board, the SABC, Berlinale Talents, CAA Motion Pictures, Rotterdam Cinemart, Dok Leipzig, IEFTA, Institut Francais – South Africa, International Documentary Festival Amsterdam, Hot Docs, Norwegian South Film Fund, Produire au Sud and the Realness Institute.
Gospel Musician Efua Black Celebrates Birthday With Father's Home
Takoradi-based gospel artiste, Mrs. Ellen Tsibuah also known in the music circles as Efua Black has donated assorted food items to the Father's Home Care Ministry at Anto Aboso in the Shama District as part of the celebrations marking her birthday.
Although Efua Black's birthday fell on Tuesday, 12 October, for the purpose of convenience, she chose to celebrate the occasion on Saturday, 16th of October to extend love to the orphans at the children's home.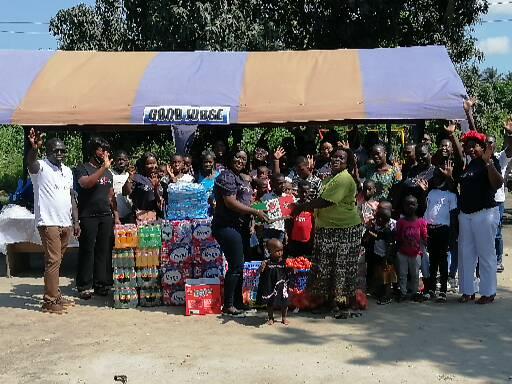 She donated numerous food items including fresh tomatoes, tomatoes pastes, pepper, frozen chicken, fish, onions biscuits, and drinks among others.
The children of the Home were engaged in numerous fun and exciting activities to put smiles on their faces and to give them a sense of belonging.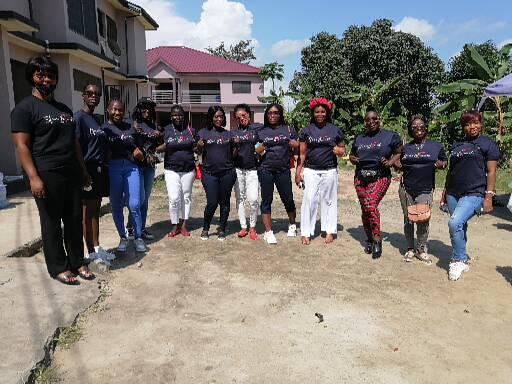 According to Efua, orphans also yearn for the presence of their parents when they see other kids in society with theirs and this phenomenon could affect their self-esteem when they don't get similar care and love.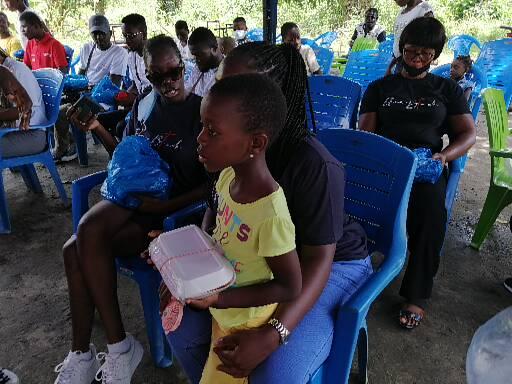 She added that spending her birthday through the extension of the love of Christ to the children was timely and a step in the right direction for her ministry.
"As a gospel artiste, my main purpose is to preach Christ through my music and extend the love of God to these children. I am here, to make them feel part of a bigger society. These children may feel some sense of loneliness when they see other children with their parents, this could affect their self-esteem, therefore, it's our responsibility as a society to enhance their sense of belonging and continue to show them, love  ".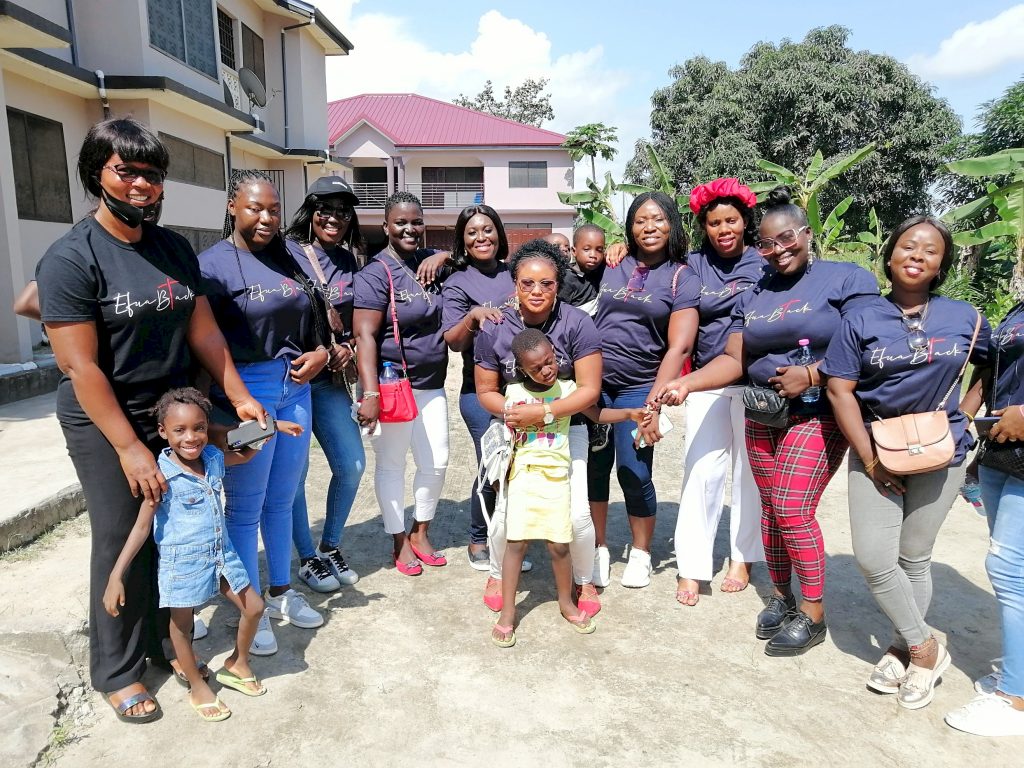 Efua expressed her heart warm gratitude to the caretakers of the Home for their services and advised them to continue doing more towards uplifting the plight of every child at the Home as there are more blessings in such work but could equally turn out to be a curse when the children are not managed well.
"The Bible says love to orphans and widows is one of the greatest blessings, if they are not well managed, it could be a curse for the caretakers, so it behooves on us to do our maximum best to secure the happiness of the children for God to also bless us", she stated.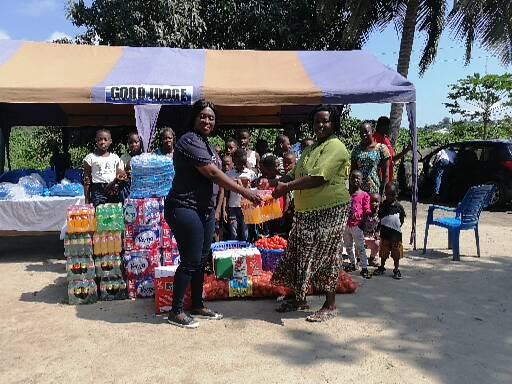 Efua black called on well-meaning Ghanaians, benevolent organizations, and the Government to extend helping hands to the Home.
She hinted at the   release  of  her second  single, title "Reign", a contemporary worship song  come Monday 18th October 2021.
Receiving the items on behalf of Father's Home Ministry, Janet Anderson, a parent at the children's home expressed gratitude and for the love and kind gesture of Efua Black and friends in considering to celebrate her birthday in the home since she could have chosen to mark it at any place of her choice.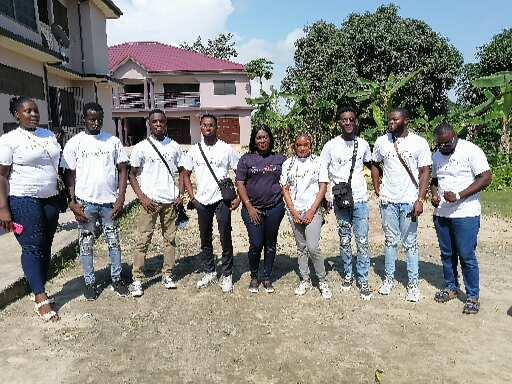 She thanked the team and prayed for God to replenish anything that had been lost through the sacrifice to put smiles on the faces of the children.
The Father's Home Care Ministry currently has 100 children who are being catered for with some in primary, Junior, and Senior High school as well as others in numerous Tertiary Institutions across the country.
Story by Kwame Offei