'The Adventures of KOO the COVID Prefect' Series Launched To Help Fight The Covid -19 Pandemic
Strategic Communications Africa Ltd (Stratcomm Africa) has released a COVID-19 cartoon education series -The Adventures of KOO the COVID Prefect  – designed to contribute to Ghanaians staying informed so that they can stay safe in the midst of this pandemic.
The series is developed around a wise community character, Koo, who identifies behaviours that run contrary to the guidelines provided by the World Health Organisation (WHO) as well as Government's directives and educates members of the public about why they should comply willingly. He also identifies situations in which the guidelines are being practiced and celebrates them. The series seeks to promote knowledge, ownership, acceptance and sustained meaningful practice of the behaviours associated with the COVID-19 prevention guidelines.
Koo, the little wise one, helps to remind each of us what is required of us. The series consists of short still and video clips with cartoon characters designed for digital and traditional media. The series will be available on the Stratcomm Africa website (https://stratcomm-africa.com/the-adventures-of-koo), and the following social media pages- Instagram (@stratcommafrica), Facebook (@Stratcomm.Africa), Youtube  (Strategic Communications Africa Limited – https://youtu.be/l66XwmEsTkE), Twitter (@stratcommafrica) and through WhatsApp.
Families, communities, businesses, Non-Governmental Organisations (NGOs), Community Based Organisations (CBOs) and Media houses etc. are invited to use the material to generate discussion and dialogue about COVID -19 prevention. The series is not only in English but is also being developed in local Ghanaian languages.
Mr. Kofi Baah-Boakye, Business Development Manager of Stratcomm Africa says, "the role of effective communication in fighting this pandemic is clear; we all have to get the message  and understand the personal and collective benefit to us of practising the behaviours – hand washing, sanitizing, social distancing, wearing face masks, avoiding stigma and discriminatory behaviours, and so on. Let us really make these behaviours part of our way of life now. COVID-19 is real and we need to act and stand together to overcome!"
All persons interested in using the material for public education including social  behaviour development/change purposes may contact Stratcomm Africa via e-mail at Stratcomm@stratcomm-africa.com or by whatsapp on  (+233) 559327333. A thirty minute orientation on in the use of the material is also available on request.
Gospel Musician Efua Black Celebrates Birthday With Father's Home
Takoradi-based gospel artiste, Mrs. Ellen Tsibuah also known in the music circles as Efua Black has donated assorted food items to the Father's Home Care Ministry at Anto Aboso in the Shama District as part of the celebrations marking her birthday.
Although Efua Black's birthday fell on Tuesday, 12 October, for the purpose of convenience, she chose to celebrate the occasion on Saturday, 16th of October to extend love to the orphans at the children's home.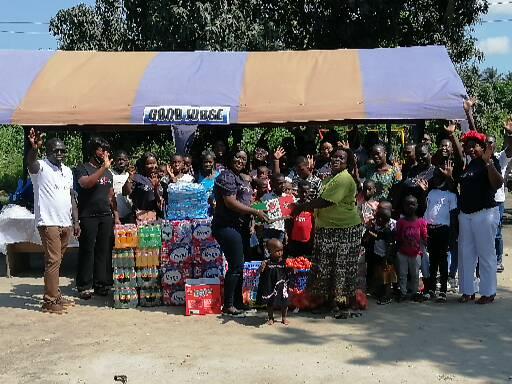 She donated numerous food items including fresh tomatoes, tomatoes pastes, pepper, frozen chicken, fish, onions biscuits, and drinks among others.
The children of the Home were engaged in numerous fun and exciting activities to put smiles on their faces and to give them a sense of belonging.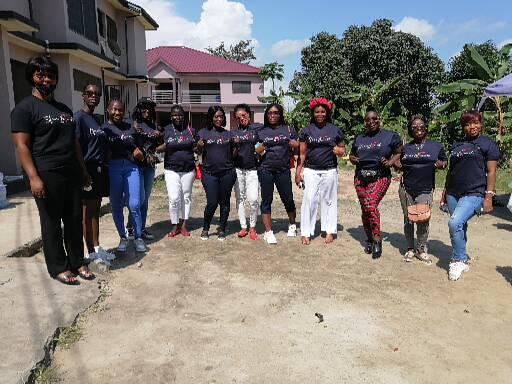 According to Efua, orphans also yearn for the presence of their parents when they see other kids in society with theirs and this phenomenon could affect their self-esteem when they don't get similar care and love.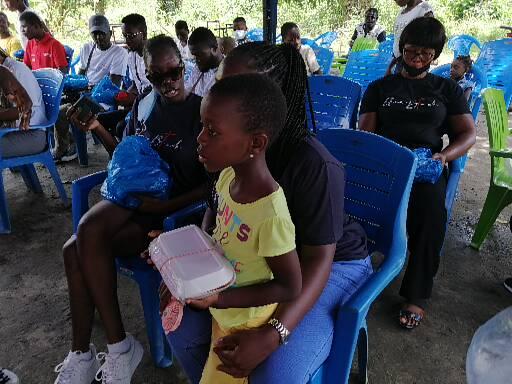 She added that spending her birthday through the extension of the love of Christ to the children was timely and a step in the right direction for her ministry.
"As a gospel artiste, my main purpose is to preach Christ through my music and extend the love of God to these children. I am here, to make them feel part of a bigger society. These children may feel some sense of loneliness when they see other children with their parents, this could affect their self-esteem, therefore, it's our responsibility as a society to enhance their sense of belonging and continue to show them, love  ".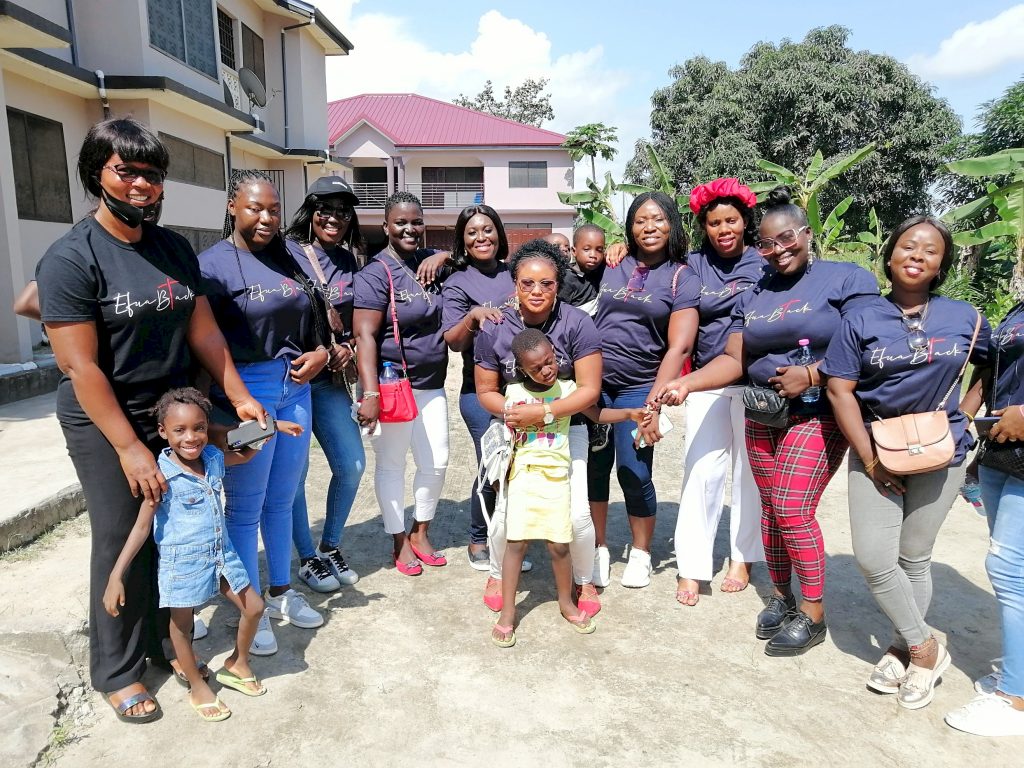 Efua expressed her heart warm gratitude to the caretakers of the Home for their services and advised them to continue doing more towards uplifting the plight of every child at the Home as there are more blessings in such work but could equally turn out to be a curse when the children are not managed well.
"The Bible says love to orphans and widows is one of the greatest blessings, if they are not well managed, it could be a curse for the caretakers, so it behooves on us to do our maximum best to secure the happiness of the children for God to also bless us", she stated.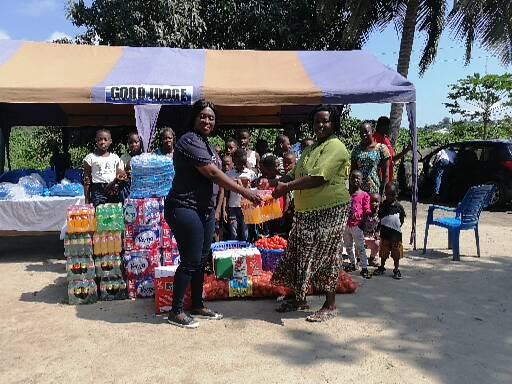 Efua black called on well-meaning Ghanaians, benevolent organizations, and the Government to extend helping hands to the Home.
She hinted at the   release  of  her second  single, title "Reign", a contemporary worship song  come Monday 18th October 2021.
Receiving the items on behalf of Father's Home Ministry, Janet Anderson, a parent at the children's home expressed gratitude and for the love and kind gesture of Efua Black and friends in considering to celebrate her birthday in the home since she could have chosen to mark it at any place of her choice.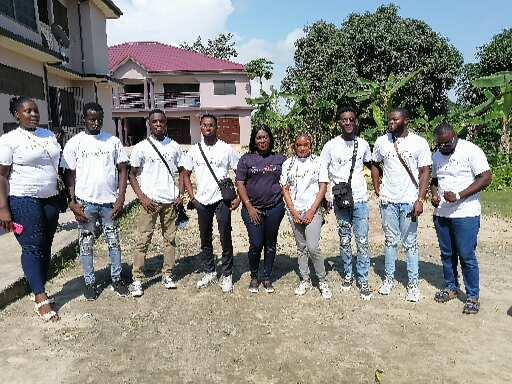 She thanked the team and prayed for God to replenish anything that had been lost through the sacrifice to put smiles on the faces of the children.
The Father's Home Care Ministry currently has 100 children who are being catered for with some in primary, Junior, and Senior High school as well as others in numerous Tertiary Institutions across the country.
Story by Kwame Offei