Female emcees, Remy Ma and Nicki Minaj have been trending on social media and here is why!!! Remy Ma claps back at Nicki Minaj on a new diss track titled "ShETHER", and she went in hard!!
Nicki Minaj hopped on Gucci Mane's "Make Love" track and threw tons of shade and subliminals at Remy Ma. Now, Remy is responding and she straight ethers the Young Money rapper.
Rapping over the beat of Nas' 2001 Jay Z diss "Ether," Remy fired several shots at the bootylicious rapper. The diss track opens with a clip of Nicki Minaj yelling, "Free Remy!"
Then, Remy went in on Nicki for allegedly getting a** shots.
She spits:
I told you I wasn't talking about your dumb a**

You look stupid. You literally got a dumb a**

Talking cray, and we all know you dumb as

You get Donkey of the Day. Yeah you, dumb a**

Let's be honest you stole that line about b*tches being your sons

How you take my '09 jail tweet and run

Talking about bringing knives to a fight with guns

When the only shots you ever took was in your buns
Sheesh!
Remy then dropped bars about chatting it up with Nicki's ex-boyfriend Meek Mill during the NBA All-Star festivities last weekend. She said Meek told her he couldn't have sex with Nicki for three months because her "a** dropped" and had to get it plumped back up.
She raps:
I don't think y'all understand how bad her ass got

The implants that she had put in her ass popped

I was like damn 90 days and you couldn't have box

Did she at least compensate by giving you mad top

Her name Minaj right? She ain't throw you some mad thots.

He said 'Nah' That's when I knew you were a trash bot
Remy also went in on Nicki for allegedly having a ghostwriter rapping:
No to be the Queen of Rap you can't have a ghostwriter

And that's why this is my house, Flo-Rida

N*ggas done seen Drake penning Wayne penning

And since your first boyfriend left bitch ain't winning
The Bronx MC even went in on Nicki supporting her brother Jelani Maraj, who has been charged with the rape of a 12-year-old child. She accused Nicki of sleeping with Gucci Mane, Lil Wayne, HOT 97's Ebro Darden and singer Trey Songz. Rem even implied she has footage of Nicki sniffing cocaine.

Lawdt!  Twitter is cutting all the way up on this good Saturday.  After Remy Ma snapped on this new Nicki Minaj "ShETHER" diss track, Nicki responded with lukewarm IG posts (one she ended up deleting):
Nicki also had some words for Trey Songz, just minutes after Remy spilled hot tea about Trey and Nicki smashing.
Trey responded first with a video denying the accusations:
But Nicki didn't care.  She lashed all the way out (and deleted it) after she thought Trey was taking sub-shots at her on Twitter: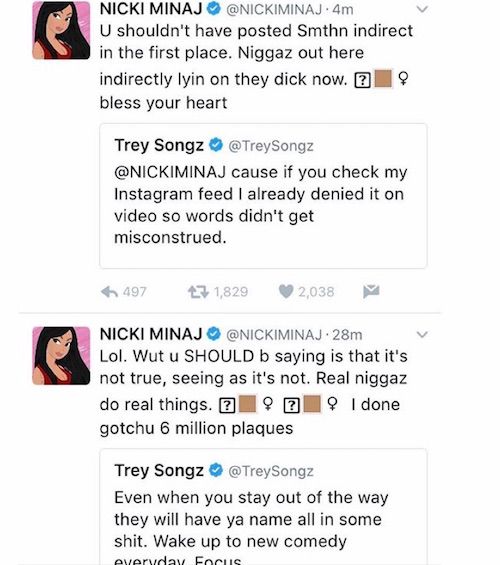 Trey told her she needs to be mad at Remy, not him.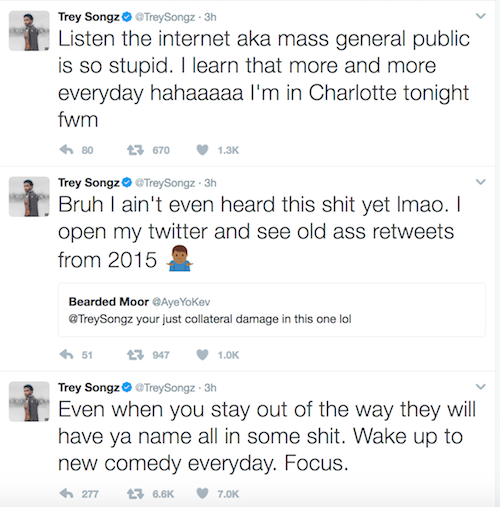 Issa Rae summed it up for all of us:
Northern Nights Music Festival Announces Phase One Lineup for 10th Anniversary
Today, Northern Nights Music Festival has announced the phase one lineup for its 10th anniversary, taking place in Northern California's iconic Redwood Forest this July 14-16. With an eclectic music lineup, top-tier cannabis and wellness programming, and serene natural landscapes, Northern Nights remains one of North America's most unique boutique festival experiences.
Northern Nights' penchant for discovery continues to make it one of the West Coast's staple summer music festivals. It all begins with the music, where the picturesque backdrop of Cook's Valley Campground provides the ideal setting for fans to discover their new favorite artists alongside performances from some of electronic music's freshest names.
Northern Nights' phase one lineup marks its biggest and brightest effort yet, offering something for all fans of electronic music and beyond. The ten-year celebration billing is topped by the much anticipated Northern Nights debut of live multi-instrumentalist duo Big Gigantic and returning favorite G Jones, the bass music icon whose epic sound design was bred from the coastal forest landscapes of Northern California. The lineup continues with a slew of additional Northern Nights firsts from GRAMMY-winning producer Mura Masa, multi-genre producer and Young Art label head TOKiMONSTA, and house hitmaker Dr. Fresch setting the vibes in the Redwoods.
The lineup veers into more eclectic soundscapes with emotionally-charged singer and songwriter Bipolar Sunshine, stylish twin sister DJ duo Coco & Breezy, house maven Nala, live performance duo Elephant Heart and introspective live electronic duo Night Tales.
Festival scene icons past and present complete the lineup, featuring electro-soul-hop producer Daily Bread and next-generation breaks riser Mary Droppinz alongside Random Rab, Forester, Megan Hamilton, EAZYBAKED, Moontricks, Dos, and Lapa.
In 2019, Northern Nights became the first music festival to have legal onsite cannabis sales and consumption, establishing the event as a pioneering force in the legalization force that has swept the country. In 2022, Northern Nights became the first music festival to have dispensaries located at stages and the first music festival to have multiple on-site dispensaries, which were showcased in both Humboldt and Mendocino counties. For its 10th anniversary in 2023, Northern Nights will continue its reputation as an innovator in the space by becoming the first music festival to create its own in-house cannabis strain.
Following a multi-year process of pheno-hunting for the best cannabis qualities, Northern Nights will have seeds and samples of its own custom creation at the festival's farmers market. Created in collaboration with world-renowned breeder Humboldt Seed Company, the new "Northern Nights" strain furthers the commitment of the organizers to revolutionize the ways that cannabis culture can be showcased in a music festival format while supporting local curators. Not to be confused with the infamous "Northern Lights" strain, the festival will be the only place to purchase and consume this very limited batch of Emerald Triangle grown products.
The renowned Tree Lounge cannabis consumption area remains a bedrock of the Northern Nights experience, hosting the industry's premier cannabis brands, medicated experiences, bespoke yoga and wellness programming, and more. The Tree Lounge will have a new, central location within the festival footprint to bring further attention to this best-in-class experience.
All of the magic happens at the remote yet easily accessible location of Cook's Valley Campground, set behind the Redwood Curtain in the fertile crescent of the Emerald Triangle. The festival grounds feature a river where attendees can float or swim by day, the largest Redwood grove campground in the world, and plenty of space to explore the great outdoors. Throughout the day and into the night, the present and future of electronic music will shine at the various stages – Main, River, Grove, Silent Disco, and Bunker.
Chart your journey now to one of the most unique festival experiences of the year. Tickets for Northern Nights Music Festival are available now on the festival's website.