<![CDATA[
Female emcees, Remy Ma and Nicki Minaj have been trending on social media and here is why!!! Remy Ma claps back at Nicki Minaj on a new diss track titled "ShETHER", and she went in hard!! Nicki Minaj hopped on Gucci Mane's "Make Love" track and threw tons of shade and subliminals at Remy Ma. Now, Remy is responding and she straight ethers the Young Money rapper. Rapping over the beat of Nas' 2001 Jay Z diss "Ether," Remy fired several shots at the bootylicious rapper. The diss track opens with a clip of Nicki Minaj yelling, "Free Remy!" Then, Remy went in on Nicki for allegedly getting a** shots. She spits:
I told you I wasn't talking about your dumb a** You look stupid. You literally got a dumb a** Talking cray, and we all know you dumb as You get Donkey of the Day. Yeah you, dumb a** Let's be honest you stole that line about b*tches being your sons How you take my '09 jail tweet and run Talking about bringing knives to a fight with guns When the only shots you ever took was in your buns
Sheesh! Remy then dropped bars about 
chatting
 it up with Nicki's ex-boyfriend 
Meek Mill
 during the NBA All-Star festivities last weekend. She said Meek told her he couldn't 
have sex
 with Nicki for three months because her "a** dropped" and had to get it plumped back up. She raps:
I don't think y'all understand how bad her ass got The implants that she had put in her ass popped I was like damn 90 days and you couldn't have box Did she at least compensate by giving you mad top Her name Minaj right? She ain't throw you some mad thots. He said 'Nah' That's when I knew you were a trash bot
Remy also went in on Nicki for allegedly having a ghostwriter rapping:
No to be the Queen of Rap you can't have a ghostwriter And that's why this is my house, Flo-Rida N*ggas done seen Drake penning Wayne penning And since your first boyfriend left bitch ain't winning
The Bronx MC even went in on Nicki 
supporting
 her brother Jelani Maraj, who has been charged with the rape of a 12-year-old child. She accused Nicki of 
sleeping
 with Gucci Mane, Lil Wayne, HOT 97's Ebro Darden and singer Trey Songz. Rem even implied she has footage of Nicki sniffing cocaine. Lawdt!  Twitter is cutting all the way up on this good Saturday.  After Remy Ma snapped on this new Nicki Minaj "ShETHER" diss track, Nicki responded with lukewarm IG posts (one she ended up deleting): Nicki also had some words for Trey Songz, just minutes after Remy spilled 
hot tea
 about Trey and Nicki smashing. Trey responded first with a video denying the accusations:
But Nicki didn't care.  She lashed all the way out (and 
deleted
 it) after she thought Trey was taking sub-shots at her on Twitter: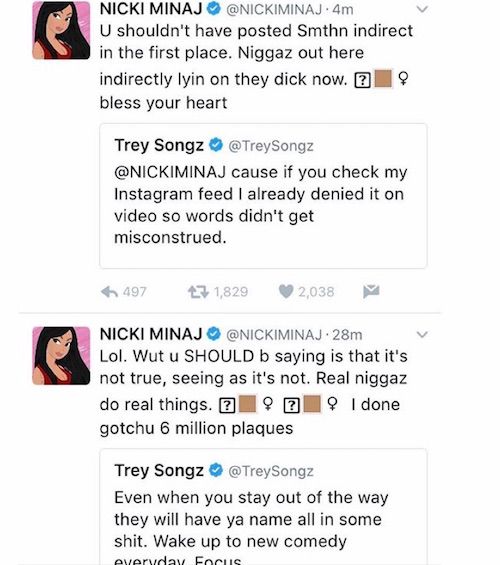 Trey told her she needs to be mad at Remy, not him.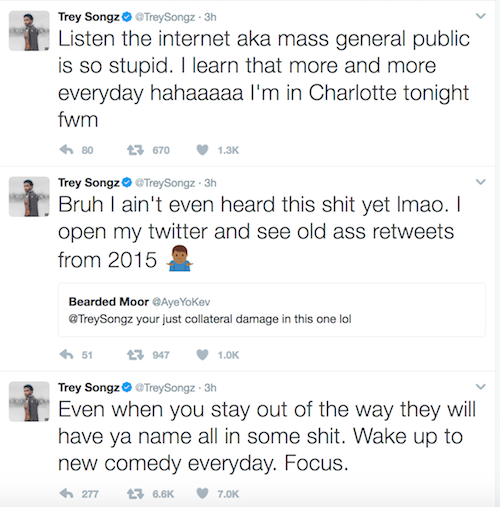 Issa Rae summed it up for all of us: ]]>
From Apple Music With Love: DJ Khaled's Ultimate 2022 MegaMix in Spatial
Apple Music is getting into the giving spirit this holiday season with the return of From Apple Music With Love, a special countdown to the holidays. Each day at 8:00a PST from November 25 – 30, Apple Music subscribers will receive exclusive gifts from some of the biggest and brightest names in music, stamped with love and ready for unwrapping. This year, gifts range from live concert recordings, new renditions of favorite songs, a classic album rerelease alongside a brand new holiday album, and party-crushing mixes to close out the year. Do yourself a favor and enjoy the musical experiences we've put together with Apple Music listeners in mind.
Today's exclusive gift comes from DJ Khaled. Following up 2021's year-ending MegaMix, Khaled returns with a final holiday gift for Apple Music subscribers. "I was just thinking of this year and all the great hits that came out," he tells Apple Music. "It was real special because this was the first year in a while that we all been back outside! Know what I'm saying—from the pandemic, and dodging all this corona and all that. First of all, God is the greatest, and we blessed—so when I got this opportunity to make this MegaMix, I was like, 'It's only right that we do it big and play nothing but all the hits of the whole year,' know what I'm saying?"
Look back at all of the From Apple Music With Love gifts this year, and hear Khaled's MegaMix now, which includes smashes from Taylor Swift, Jack Harlow, Lizzo, and Beyoncé—plus a couple of Khaled's own highlights from 2022 HERE