Was Ginuwine high? Watch the TGT performance that has America talking
<![CDATA[]]>
<![CDATA[So...what do we have here?  Tank, Ginuwine & Tyrese brought their TGT act to Long Island to perform on the local CBS-WLNY morning show "The Couch" recently.  And some interesting ish transpired.  Mainly, Ginuwine's suspect behavior.  Check out the situation that's causing  controversy around the net…. It's been like, 10 minutes, and R&B's newest boy band guy group seems to already be running into issues. Maybe it Ginuwine's extra sweaty skin, the bad vocals, the sketchy eye movements, him touching himself, or those deathly side eyes Black Ty kept shooting his way. WE aren't saying he was in that ish. But the Internet streets are saying it. And it doesn't help that Tyrese posted one of his usual Rants right after. No telling if he's speaking about Giunwine directly. But dude seemed MAD.  Tank and Ginuwine each chimed in with their own jabs….blaming the doomed performance on everyone but themselves.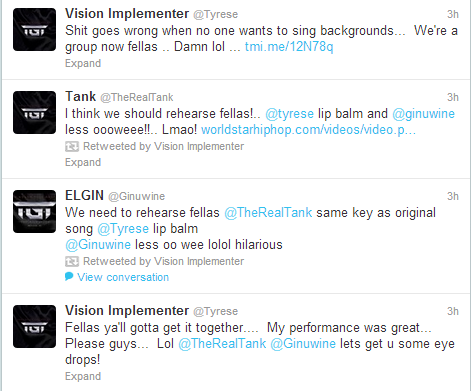 culled from theybf.com]]>
Headie One Releases "Bigger Than Life" Featuring Dutch Rapper Frenna
Today, UK drill pioneer Headie One releases brand new track, "Bigger Than Life," along with an official music video. Take a listen to the track at all DSPs HERE.
Featuring the Dutch multi-platinum artist Frenna and production from Spanker, "Bigger Than Life" is the third track to be taken from Headie's forthcoming European tape, following "22 Carats" with French rapper Gazo and "Cloud" featuring German rapper Luciano.
Frenna comments on the collaboration "I always respected Headie and think he's a great artist, we linked and it just clicked in the studio. We made a lot of shit happen and eventually 'Bigger Than Life' was born."
Frenna made his breakthrough in 2014 as part of the rap formation SFB (Strictly Family Business) and has had numerous #1 in the Netherlands including 'Francis' and ''t Album Onderweg Naar 'Het Album''. His fifth solo album 'Highest' featuring breakthrough hit 'Come Thru' had a host of international artists on including Nigerian superstar Yemi Alade, British rapper Young Adz (D-Block Europe) and King Promise.
Headie's as yet untitled new tape will be released over the summer and features rappers from a number of different European countries including France, Germany and the Netherlands. Each have their own unique story behind them and proves the King Of Drill's ever increasing influence outside of his native UK.