Watch: 8 acts that stole the show on "East Africa's Got Talent" first episode
Kenya's Jeff Koinange, Tanzania's Vanessa Mdee, Rwanda's DJ Contact Makeda and Uganda's Gaetano Kagwa are judges of the first ever edition of East Africa's Got Talent show which premiered over the weekend.
Jugglers, acrobats, singers and dance crews all came out with one purpose – bringing out their A-game to prove to the judges, that they had what it takes to bag the Ksh5 Million grand prize. I knew East Africa has got talent but I wasn't prepared for what was presented.
The first act of the night was a dance crew 'All Eyes On Us' from Uganda, which left the crowd screaming after their jaw-dropping stunts.
Safi Theatre Group from Tanzania performed an inspiring cultural dance. All through the act, they had smiles plastered on their faces, signalling that they were enjoying themselves on stage, which particularly caught Judge Koinange's eye.
Mariam, also from Tanzania, dazzled the judges when she juggled her drum using her feet. She even switched from the drum to a small table and got the judges to say Yes to her.
Also making it through to the next round were, Fidel, a smooth guitarist from Burundi; Uruyange, A traditional dance troupe from Rwanda; and Gloria & Vincent (a contemporary dance couple from Kenya).
The moment of the night must have been when Seven-year-old Leyna Kagere, from Uganda, took the stage. Poised, oozing with confidence and exhibiting control in her voice, like that of a professional singer, she belted out a powerful ballad by the name, "One Day At a Time."
Not only did she enchant everyone with her angelic voice, but she also made history as the first golden buzzer act of #EAGT.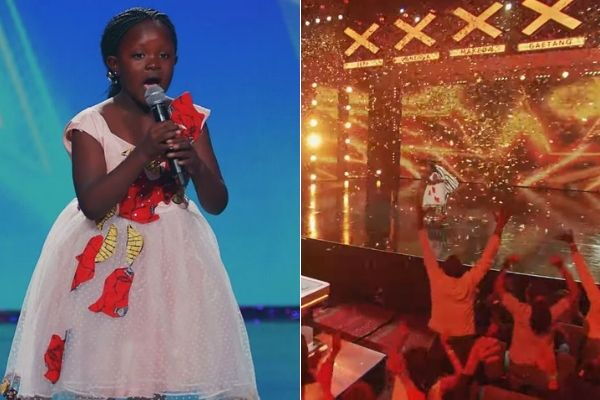 Watch the full episode below
South Africa's Lerato Molapo becomes the first African to have a Barbie doll in her honour
Kofi Adjorlolo and Shatta Wale's mother reportedly set to wed
According to multiple reports, Ghanaian actor, Kofi Adjorlolo is set to wed Madam Elsie, the mother of popular dancehall artiste, Shatta Wale. (more…)