WO1 Ashitey Hammond Donates To The Royal Commonwealth Ex-Service League
Warrant Officer Class One (WO1) Joseph Ashitey Hammond, has made a donation to the Royal Commonwealth Ex-Services League (RCEL) to provide relief for vulnerable veterans.
In early May 2020, WO1 Hammond embarked on a 14 mile walk to raise funds for essential workers fighting the COVID-19 pandemic, as well as providing relief for vulnerable veterans within the Commonwealth. This fundraising effort was successful and garnered considerable financial support.
Speaking on the donation, WO1 Hammond stated:
"The financial and moral support I have received during this initiative has been overwhelming and incredibly unexpected. My donation today could not have been possible without the generous contributions from the public. I am truly grateful to all who have supported me on this journey and I know the RCEL will utilize the funds efficiently.'
In acceptance, Secretary General of the RCEL, Lieutenant Colonel CF Warren added:
"I want to take this opportunity to thank you for all that you have done for the league and for donating the funds generated from your walk in support of vulnerable veterans across Africa. We are grateful that you believe the RCEL is your chosen organization to carry out this vital task. Your achievements have been remarkable and you are an inspiration to us all."
WO1's fundraising initiative has gained international recognition and acknowledgement. He was recently promoted from a Private to Warrant Officer Class One by His Excellency Nana Addo Dankwa Akufo-Addo, the President of Ghana and given a Commonwealth Points of Light Award by Her Majesty Queen Elizabeth II. Endorsement messages have also been received from His Royal Highness Charles, the Prince of Wales, Prince Harry and General Sir Mark Carleton-Smith as well as Sir Tom More who was the inspiration behind WO1 Hammond's walk.
The Forces Help Africa and GUBA Enterprise on behalf of WO1 Hammond, express great gratitude for the generous support, donation and overall receipt of this initiative. The funds will continue to positively impact the society.
—
About GUBA Enterprise
GUBA Enterprise is a social enterprise organisation dedicated to the advancement of diaspora Africans and Africans back home through various socio – economic programs and initiatives. The organisation currently has various brand activities namely GUBA Awards, GUBA Foundation, GUBA Expo, GUBA Careers, GUBA Diaspora Card, GUBA Tours and GUBA Talks. Our goal is to provide an engaging network for promoting greater cultural diversity globally, as well as raising the profile of the African continent. GUBA Enterprise supports and engages the African diaspora, and aids in attracting investments into the African continent.
Contact: Claudia Andrews
Email: claudia@gubaawards.co.uk  Website: www.gubaenterprise.co.uk
About Forces Help Africa
We are a support to all pre independence veterans who served the crown or under the British command within all the commonwealth countries in Africa before their country gained independence who have become sick injured or fallen on hard times as a result of serving their country, and Ex-British African soldiers who are looking at relocating back home to the various African countries within the commonwealth.
Gospel Musician Efua Black Celebrates Birthday With Father's Home
Takoradi-based gospel artiste, Mrs. Ellen Tsibuah also known in the music circles as Efua Black has donated assorted food items to the Father's Home Care Ministry at Anto Aboso in the Shama District as part of the celebrations marking her birthday.
Although Efua Black's birthday fell on Tuesday, 12 October, for the purpose of convenience, she chose to celebrate the occasion on Saturday, 16th of October to extend love to the orphans at the children's home.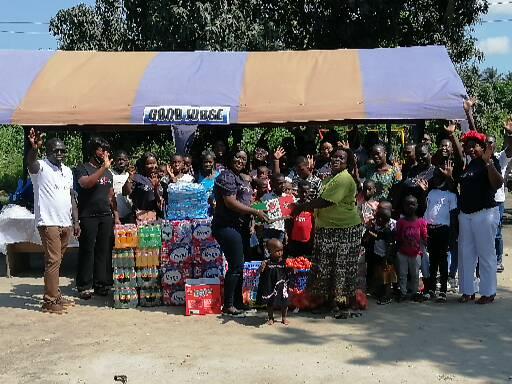 She donated numerous food items including fresh tomatoes, tomatoes pastes, pepper, frozen chicken, fish, onions biscuits, and drinks among others.
The children of the Home were engaged in numerous fun and exciting activities to put smiles on their faces and to give them a sense of belonging.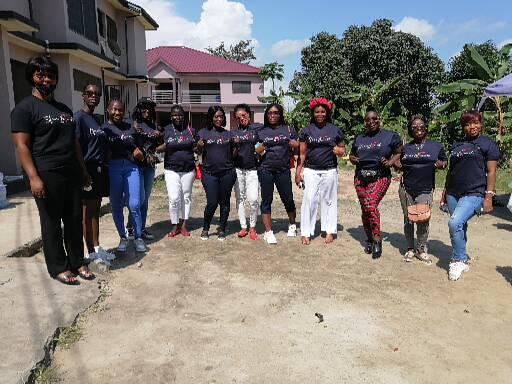 According to Efua, orphans also yearn for the presence of their parents when they see other kids in society with theirs and this phenomenon could affect their self-esteem when they don't get similar care and love.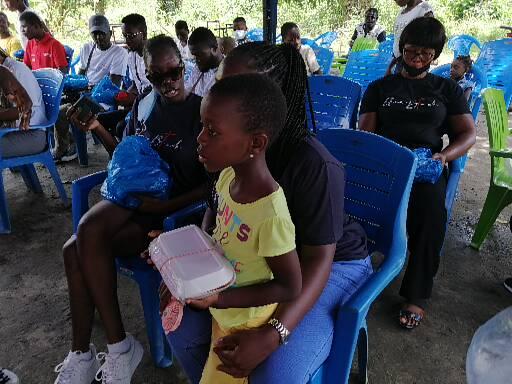 She added that spending her birthday through the extension of the love of Christ to the children was timely and a step in the right direction for her ministry.
"As a gospel artiste, my main purpose is to preach Christ through my music and extend the love of God to these children. I am here, to make them feel part of a bigger society. These children may feel some sense of loneliness when they see other children with their parents, this could affect their self-esteem, therefore, it's our responsibility as a society to enhance their sense of belonging and continue to show them, love  ".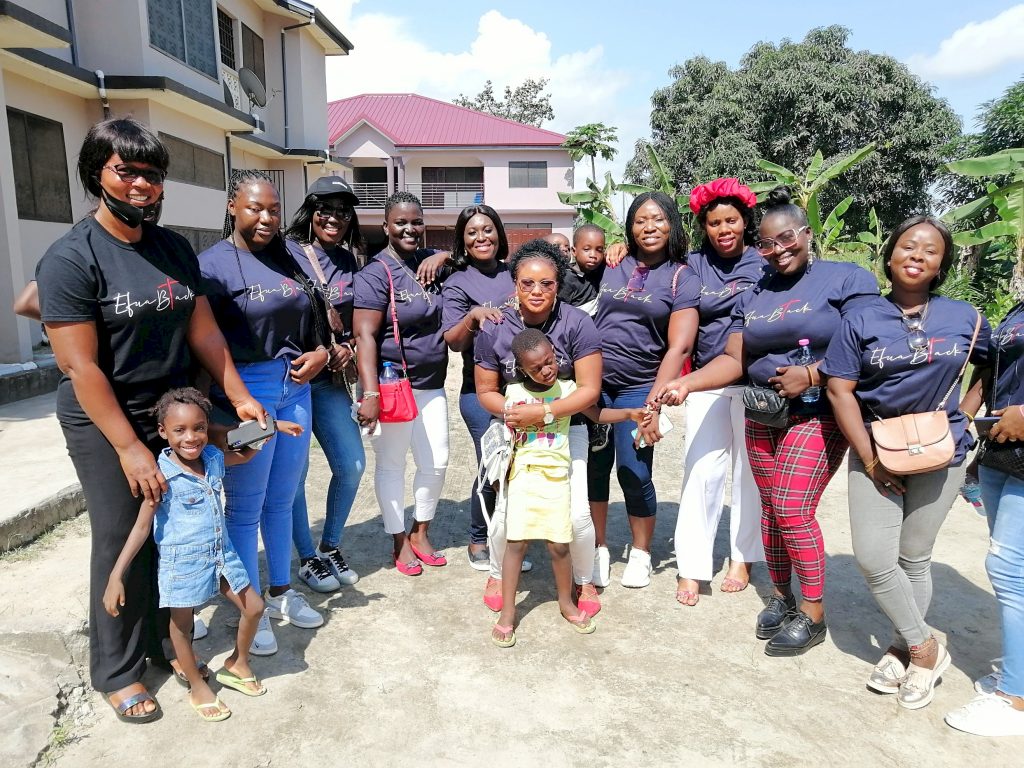 Efua expressed her heart warm gratitude to the caretakers of the Home for their services and advised them to continue doing more towards uplifting the plight of every child at the Home as there are more blessings in such work but could equally turn out to be a curse when the children are not managed well.
"The Bible says love to orphans and widows is one of the greatest blessings, if they are not well managed, it could be a curse for the caretakers, so it behooves on us to do our maximum best to secure the happiness of the children for God to also bless us", she stated.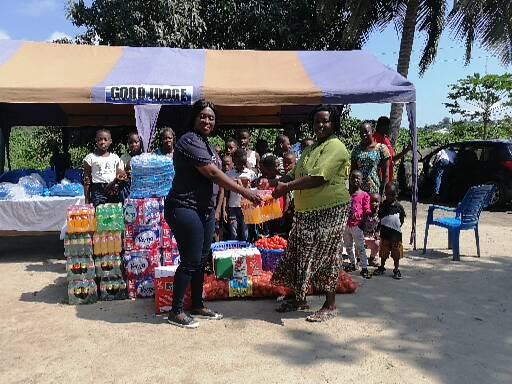 Efua black called on well-meaning Ghanaians, benevolent organizations, and the Government to extend helping hands to the Home.
She hinted at the   release  of  her second  single, title "Reign", a contemporary worship song  come Monday 18th October 2021.
Receiving the items on behalf of Father's Home Ministry, Janet Anderson, a parent at the children's home expressed gratitude and for the love and kind gesture of Efua Black and friends in considering to celebrate her birthday in the home since she could have chosen to mark it at any place of her choice.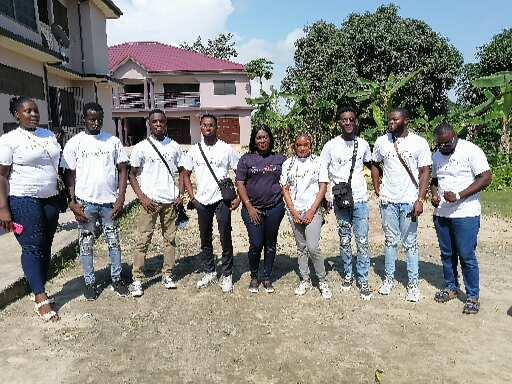 She thanked the team and prayed for God to replenish anything that had been lost through the sacrifice to put smiles on the faces of the children.
The Father's Home Care Ministry currently has 100 children who are being catered for with some in primary, Junior, and Senior High school as well as others in numerous Tertiary Institutions across the country.
Story by Kwame Offei