Kreek Africa – Finding Meaningful Work Through Freelancing
Over the years, the method of working has experienced various changes, and so have the reasons for doing so. Finding and engaging in meaningful work has also become popular as many different employment options are springing up; freelancing is one of them.
Meaningful work simply explains having a genuine connection between the work you do and your life's purpose, and with freelancing platforms like Kreek Africa, it's possible. Very often, it is assumed that one has to be a part of an organization for them to engage in meaningful work. But for those interested in having full control of their careers, or those who aren't 'fortunate' enough to be a part of a company, freelancing can still be rewarding with the right platform. According to the Harvard business review, there are six drivers that made work meaningful for freelancers, and Kreek Africa offers these.
The first driver of meaningful work is balance, and this refers to freelancers having the time for other things outside of work. And a freelance website like Kreek Africa means freelancers can work from any location and at any time. It also gives them the liberty to schedule their work life and their personal life. Right next to balance comes autonomy, where freelancers have control over their careers. On the Kreek Africa platform, you decide what work to participate in based on reviews of clients that have already gone through a rigorous authentication process as a way of ensuring safety. That means freelancers can participate in online jobs that add value to their work while earning an income. There is nothing like office politics to get in the way, and professionals can give off their best with no interference.
Apart from these two, advancement is another important driver of meaningful work. And with a wide pool of projects with different levels, freelancers have the opportunity to engage in those that challenge them and put their qualifications to good use. It allows them to take more responsibly in their work as there will be no red tape processes. The accountability for their work is also a great way to gain some credibility, independence, and status in their field. Freelancers can also benefit from the variety of projects on the platform as well, which will help them grow in their chosen fields.
The last two drivers, service and affiliation, also make work more meaningful for freelancers as it gives a sense of being part of something bigger. Kreek Africa is dedicated to projecting the talent that Africa has by creating a platform for its citizens. With foreign or Western platforms, many African freelancers may face one form of discrimination or the other, which makes work challenging and slow. Kreek Africa eliminates this and, in the process, redefines the African economy. The platform makes it easier for those who prefer working for themselves, which is a large portion of Africans to achieve their goals and dreams.
Meaningful work isn't only good for freelancers, and companies that use the platform can also benefit. They can choose their freelancers, pay for work that they are satisfied with, and get things done the smart way. This saves money and time, and in times like these, where human contact is quite challenging yet important to business, gives organizations a way out.
So, why is meaningful work important? The long and short of it all is that engaging in meaningful work provides a sense of fulfillment that promotes giving off your best and going the extra mile. It positively affects the way you go about things and improves overall satisfaction with work. And while finding meaningful work by yourself is great as a freelancer, it will be even better to have a platform that makes this simpler, and that is where Kreek Africa comes in.
Media contact
Contact Person: Wilfred Attipoe (Brand Communication Manager)
Email: media@kreekafrica.com
Contact number: +230-58690130
Website: https://kreekafrica.com/
Signup: https://kreekafrica.com/register
LinkedIn: https://www.linkedin.com/company/kreekafrica/
Twitter: https://twitter.com/africakreek
Facebook: https://www.facebook.com/KreekAfrica/
Gospel Musician Efua Black Celebrates Birthday With Father's Home
Takoradi-based gospel artiste, Mrs. Ellen Tsibuah also known in the music circles as Efua Black has donated assorted food items to the Father's Home Care Ministry at Anto Aboso in the Shama District as part of the celebrations marking her birthday.
Although Efua Black's birthday fell on Tuesday, 12 October, for the purpose of convenience, she chose to celebrate the occasion on Saturday, 16th of October to extend love to the orphans at the children's home.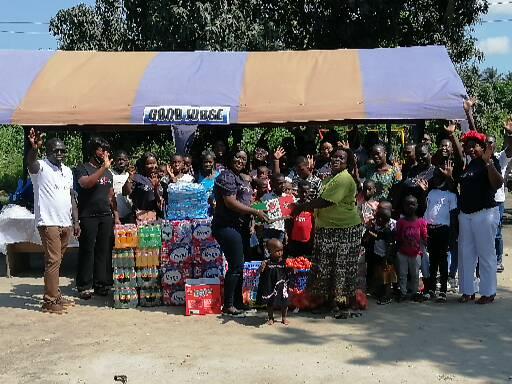 She donated numerous food items including fresh tomatoes, tomatoes pastes, pepper, frozen chicken, fish, onions biscuits, and drinks among others.
The children of the Home were engaged in numerous fun and exciting activities to put smiles on their faces and to give them a sense of belonging.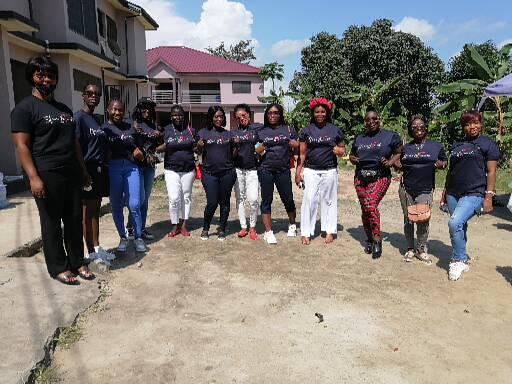 According to Efua, orphans also yearn for the presence of their parents when they see other kids in society with theirs and this phenomenon could affect their self-esteem when they don't get similar care and love.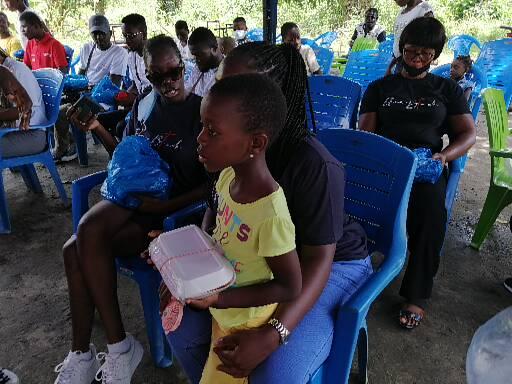 She added that spending her birthday through the extension of the love of Christ to the children was timely and a step in the right direction for her ministry.
"As a gospel artiste, my main purpose is to preach Christ through my music and extend the love of God to these children. I am here, to make them feel part of a bigger society. These children may feel some sense of loneliness when they see other children with their parents, this could affect their self-esteem, therefore, it's our responsibility as a society to enhance their sense of belonging and continue to show them, love  ".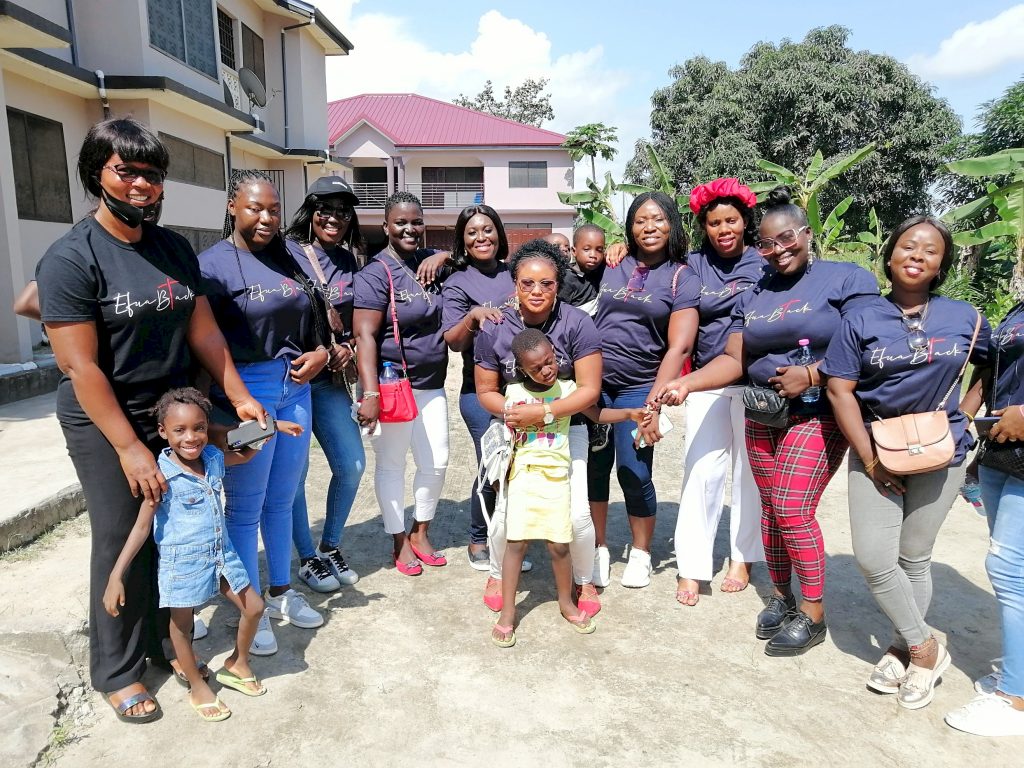 Efua expressed her heart warm gratitude to the caretakers of the Home for their services and advised them to continue doing more towards uplifting the plight of every child at the Home as there are more blessings in such work but could equally turn out to be a curse when the children are not managed well.
"The Bible says love to orphans and widows is one of the greatest blessings, if they are not well managed, it could be a curse for the caretakers, so it behooves on us to do our maximum best to secure the happiness of the children for God to also bless us", she stated.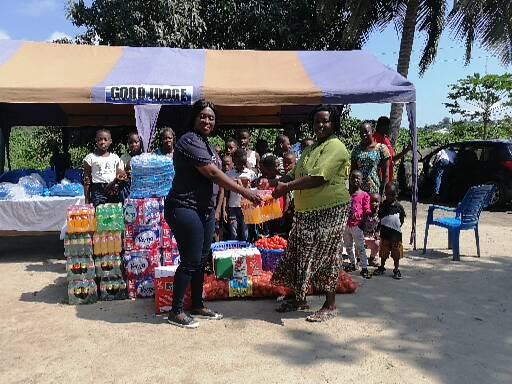 Efua black called on well-meaning Ghanaians, benevolent organizations, and the Government to extend helping hands to the Home.
She hinted at the   release  of  her second  single, title "Reign", a contemporary worship song  come Monday 18th October 2021.
Receiving the items on behalf of Father's Home Ministry, Janet Anderson, a parent at the children's home expressed gratitude and for the love and kind gesture of Efua Black and friends in considering to celebrate her birthday in the home since she could have chosen to mark it at any place of her choice.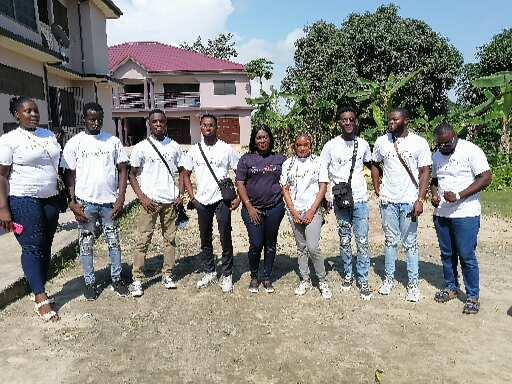 She thanked the team and prayed for God to replenish anything that had been lost through the sacrifice to put smiles on the faces of the children.
The Father's Home Care Ministry currently has 100 children who are being catered for with some in primary, Junior, and Senior High school as well as others in numerous Tertiary Institutions across the country.
Story by Kwame Offei