This is one of the most powerful ways to make $50,000 online
I have always wanted to get the freedom of being anywhere and still making money but not through any  illegal means or anything that goes against my christian faith like sports betting. This dream has kept me for over 7 years not to give up in my freelancing quest.
Making Money Online at your own pace is a dream of many but not many get it. Because making money online is not an easy thing to do, and more importantly if you live in this part of the world , there isn't enough people who have done this to show you how.
In 2013 I was introduced to Fiverr by a friend on Skype. I created an account and did all things possible to see how i could make money but i didn't make a dime.
On a daily basis as I go to work, I often times look for guides and videos that teaches how one can do freelancing work online and make a living out of it so to put a stop to this boring 9 to 5 work.
Eventually I ended up buying online courses more just to understand how to make money online, that in total was more than $800.
Early part of  2019, i felt it so strong I had to take a leave from full time work and try out some of the hacks I have paid money to learn, from April to June, I concentrated all my efforts on this but the breakthrough started in July 2019 when i sold my first Gig for $15 and had a good review from someone in USA on Fiverr.
As I write this , I am on my way to make $60,00 from Fiverr and I want more. The Joy of making working online in my bedroom and in my boxer shorts is wow, truth is now i understand the whole strategy of how to make money online in Ghana without paying anything to anyone .
Last week when i got to $50k i shared a screenshot of my dashboard with a friend and he mistakenly shared it on our secondary school group. Since then I have had lots of calls even from strangers on how I can teach them to also start making money online
I'm happy to share this news and skill for two reasons:
Obvious reason no. 1: Yes, I'm happy myself for crossing this mark on Fiverr. It's been a great journey and it's going on good at the moment.
Reason 2: This may inspire or give hope to people who have created talent in Ghana and it's all going waste. I know that it's not easy, it takes a lot of parameters in-check to achieve this success, but it's possible, if you remain focused and few other things.
I have a course that you can watch all the videos at your time to learn how to use this platform to also earn for yourself or if you want me to guide you or hold your hand and support i will be willing to do that, afterall Fiverr is not for my father.
You can access my online course here and if you want my mentorship click here
But for those who can't afford my class which is just 85 cedis or my one month mentorship which is 300 cedis i am going to share some great tips here that you can use to start your money making online journey
How Does Fiverr Work?
Do you have a special talent or skill that others would find useful? Maybe you're good at designing logos, websites, or wedding invitations. Or perhaps you can help businesses with their social media or HR strategy.
Whatever your talent is, Fiverr gives you the opportunity to share those skills with the rest of the online world. And best of all, you can make money while doing what you love.
The process to find a gig through Fiverr is fairly straightforward. But first, it's important to understand the two different parties involved in the transaction.
Sellers: If you are a freelancer looking for work, then you are what Fiverr considers a "seller". A seller can list any type of service they want, along with how much they would like to be paid. Your chances of being hired depend on your experience in your industry, and your experience on Fiverr.
Buyers: If you are looking to purchase a service, you are the "buyer". A buyer has something they need to be completed, whether it's a specific task, job, or project. They can be businesses, companies, or even individual people. On Fiverr, buyers hire sellers in order to help them accomplish this work.
Fiverr is a two-way communication platform, which means both buyers and sellers have the opportunity to find each other. A buyer can browse through the profiles for sellers that meet their requirements. Or, a seller can look through buyer requests for tasks that match their skills.
Once a buyer and seller find each other, they'll agree on a set goal, time frame, and price. Then it's up to the freelancer to do what they do best — work, work, work!
How to Get Started on Fiverr
Making money as a Fiverr seller is easier than ever. By completing the following steps, you can be up and running (and hopefully making money) with Fiverr in no time.
Register for a New Account
1.    Create a Seller Profile
2.    Create a Gig
3.    Send Offers to Buyers
How Much Does Fiverr Cost?
Creating an account with Fiverr is completely free. This is one of the best features of the website. It won't cost you a penny to browse or see what gigs are available.
As a buyer, you pay Fiverr upfront for the cost of the gig, as well as administration fees. And the fee will depend on how much you're paying for the gig. The fee for gigs under $40 is $2, or 5% on gigs above $40. For example, if you are willing to pay $10 for a blog article, you will pay $2 to Fiverr before hiring a seller.
As a seller, you will be paid after the gig has been successfully completed. It's important to note that you will only be paid 80% of the total order value. Fiverr keeps the other 20% as a commission fee. For example, a buyer offers $10 for a blog article. Once completed, you will be paid a final amount of $8.
Fiverr has a job for almost every kind of skill and talent. In fact, there are over 200 different job categories on the site! Here are just of few of the best ways to make money on Fiverr.
Website Development Jobs
Pay:  $100 – $2,000 per gig
Graphic Design Jobs
Pay: $10 – $1,000 per gig
Copywriting
Pay: $50 – $2,000 per gig
Video Marketing
Pay: $100 – $10,000 per gig
Translation Services
Pay: $100 – $1,000 per gig
Pay: $50 – $2,000 per gig
Influencer Marketing
Pay: $10 – $1,000 per gig
Voice Overs
Pay: $10 – $500 per gig
Illustration
Pay: $10 – $300 per gig
Virtual Assistant
Pay: $5 – $100 per gig
Pros & Cons of Fiverr
Although you have a world of freelance jobs at your fingertips, Fiverr has its advantages and disadvantages. So let's take a more in-depth look to see if learning how to make money on Fiverr is worth your time and effort.
Pros:
Freedom: Most freelance jobs come with a certain degree of freedom, but Fiverr takes that to a whole new level. Unlike many jobs, you have the opportunity to take on the gigs that fit your needs and your schedule. And in most cases, the buyer is not monitoring or setting your hours. Therefore, you can complete the job at your pace.
Confirmation of Payment: Because all buyers must pay up beforehand, you're 100% guaranteed to be paid for your work. You don't have to worry about working with dodgy individuals or unverified businesses.
Potential to Earn Tips: Fiverr allows, and even promotes, their buyers to leave a tip for their sellers. We've heard that over 50% of clients tip with an average amount of around 20%.
Good for Beginners: Since most jobs are quick, easy, and priced low, you shouldn't have a problem snagging a couple in the beginning. You might not earn what you want or be doing the type of gigs you excel at, but it's easy to make a little extra cash while building up your Fiverr reputation.
Working with Different Clients: One of the best things about working with Fiverr is working with a variety of clients and projects. You really get to experience different types and styles of work, which is great for someone who is more entry-level. And you'll meet a ton of new people, which only helps your networking skills in the future!
Cons:
Fiverr Commission: Although it's not uncommon for a job service to take a cut from your fee, Fiverr's 20% commission is high in our opinion. It's important to note that this 20% also applies to tips you earn from your buyers.
High Competition: Compared to other freelance sites, Fiverr is known (and named) for offering gigs at a very low price. If a buyer is purely looking for a good deal, they'll find plenty of sellers who are willing to do a particular job for just $5, regardless of the quality. You'll have to prove your worth in order to earn a higher amount.
Ready To Start Making Money On Fiverr?
As you now know, Fiverr is an excellent opportunity to start earning extra cash. With the right skills, some dedication, and a positive work ethic, you can easily find online gigs that fit your talents and lifestyle. Take this course and learn how to make money online
Gospel Musician Efua Black Celebrates Birthday With Father's Home
Takoradi-based gospel artiste, Mrs. Ellen Tsibuah also known in the music circles as Efua Black has donated assorted food items to the Father's Home Care Ministry at Anto Aboso in the Shama District as part of the celebrations marking her birthday.
Although Efua Black's birthday fell on Tuesday, 12 October, for the purpose of convenience, she chose to celebrate the occasion on Saturday, 16th of October to extend love to the orphans at the children's home.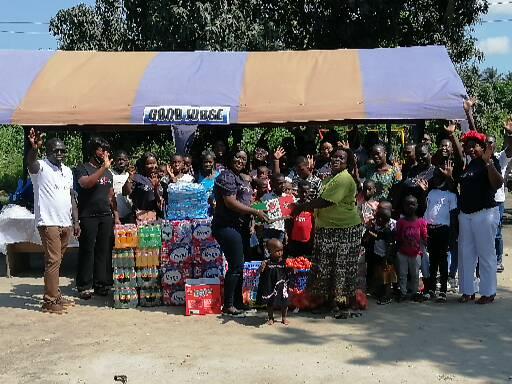 She donated numerous food items including fresh tomatoes, tomatoes pastes, pepper, frozen chicken, fish, onions biscuits, and drinks among others.
The children of the Home were engaged in numerous fun and exciting activities to put smiles on their faces and to give them a sense of belonging.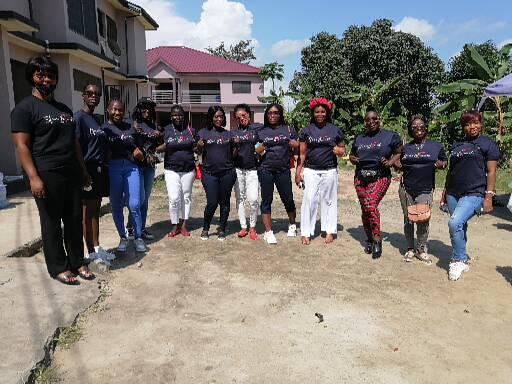 According to Efua, orphans also yearn for the presence of their parents when they see other kids in society with theirs and this phenomenon could affect their self-esteem when they don't get similar care and love.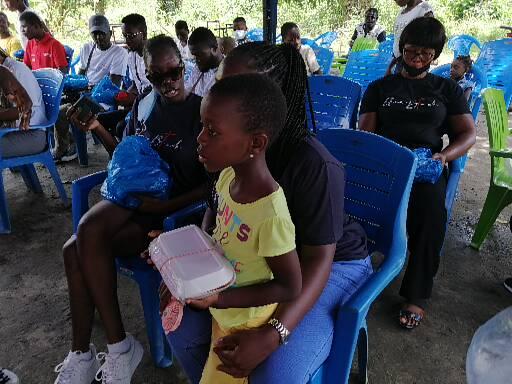 She added that spending her birthday through the extension of the love of Christ to the children was timely and a step in the right direction for her ministry.
"As a gospel artiste, my main purpose is to preach Christ through my music and extend the love of God to these children. I am here, to make them feel part of a bigger society. These children may feel some sense of loneliness when they see other children with their parents, this could affect their self-esteem, therefore, it's our responsibility as a society to enhance their sense of belonging and continue to show them, love  ".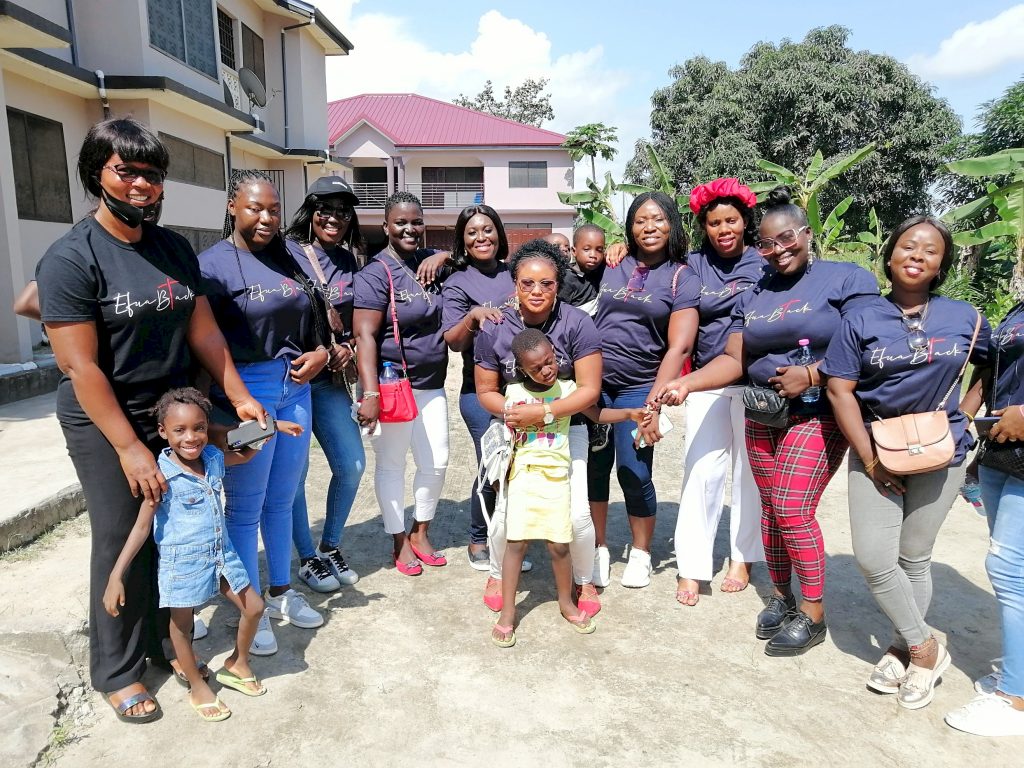 Efua expressed her heart warm gratitude to the caretakers of the Home for their services and advised them to continue doing more towards uplifting the plight of every child at the Home as there are more blessings in such work but could equally turn out to be a curse when the children are not managed well.
"The Bible says love to orphans and widows is one of the greatest blessings, if they are not well managed, it could be a curse for the caretakers, so it behooves on us to do our maximum best to secure the happiness of the children for God to also bless us", she stated.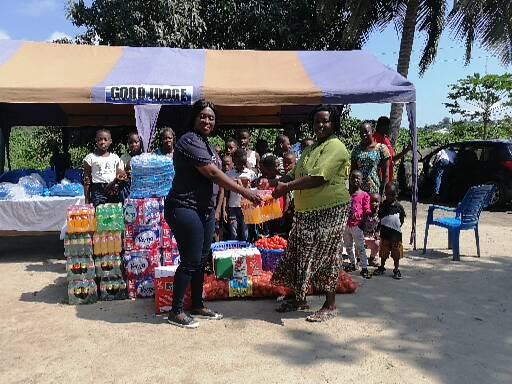 Efua black called on well-meaning Ghanaians, benevolent organizations, and the Government to extend helping hands to the Home.
She hinted at the   release  of  her second  single, title "Reign", a contemporary worship song  come Monday 18th October 2021.
Receiving the items on behalf of Father's Home Ministry, Janet Anderson, a parent at the children's home expressed gratitude and for the love and kind gesture of Efua Black and friends in considering to celebrate her birthday in the home since she could have chosen to mark it at any place of her choice.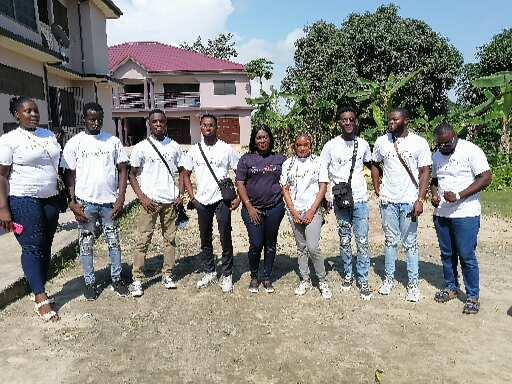 She thanked the team and prayed for God to replenish anything that had been lost through the sacrifice to put smiles on the faces of the children.
The Father's Home Care Ministry currently has 100 children who are being catered for with some in primary, Junior, and Senior High school as well as others in numerous Tertiary Institutions across the country.
Story by Kwame Offei