Women's History Month Art Event Honors the Eco-Feminist Artist Mira Lehr at the Kimpton EPIC Hotel Miami through April 20th
Celebrating the 60th anniversary of Mira Lehr founding "Continuum," one of the country's first-ever women artist collectives
Featuring all new works by Lehr never exhibited before, on view now through April 20th at the Hotel's new 16th floor gallery space
Panel discussion event about Women in the Arts will premiere the worldwide release of new 400-page international volume about Mira Lehr by Skira Editore, one of the world's leading art book publishers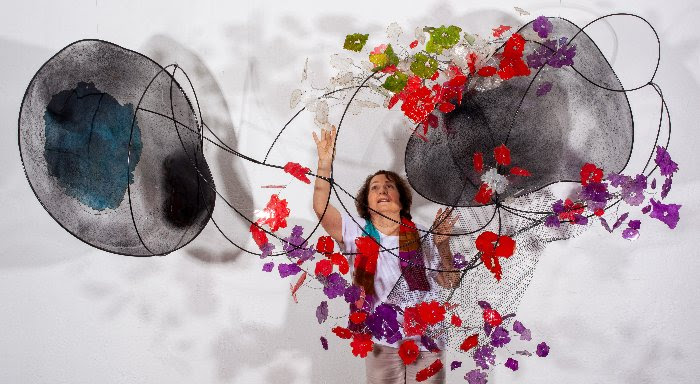 The eco-feminist artist Mira Lehr (photo by Michael E. Fryd).
The Kimpton EPIC Hotel, one of Miami's leading boutique hotels, presents a new art exhibition celebrating Women's History Month titled Mira Lehr: Continuum, on view now through April 20th.
The nationally acclaimed, eco-feminist artist is celebrated for co-founding Continuum in 1961, one of America's first art collectives for women artists. It thrived for more than 30 years, and her vision to kickstart the local art scene influenced the evolution of the visual arts in Miami.
The Hotel created its new EPIC Art initiative to advance the works of local artists and provide its visitors an insider's look into the destination's vibrant art scene.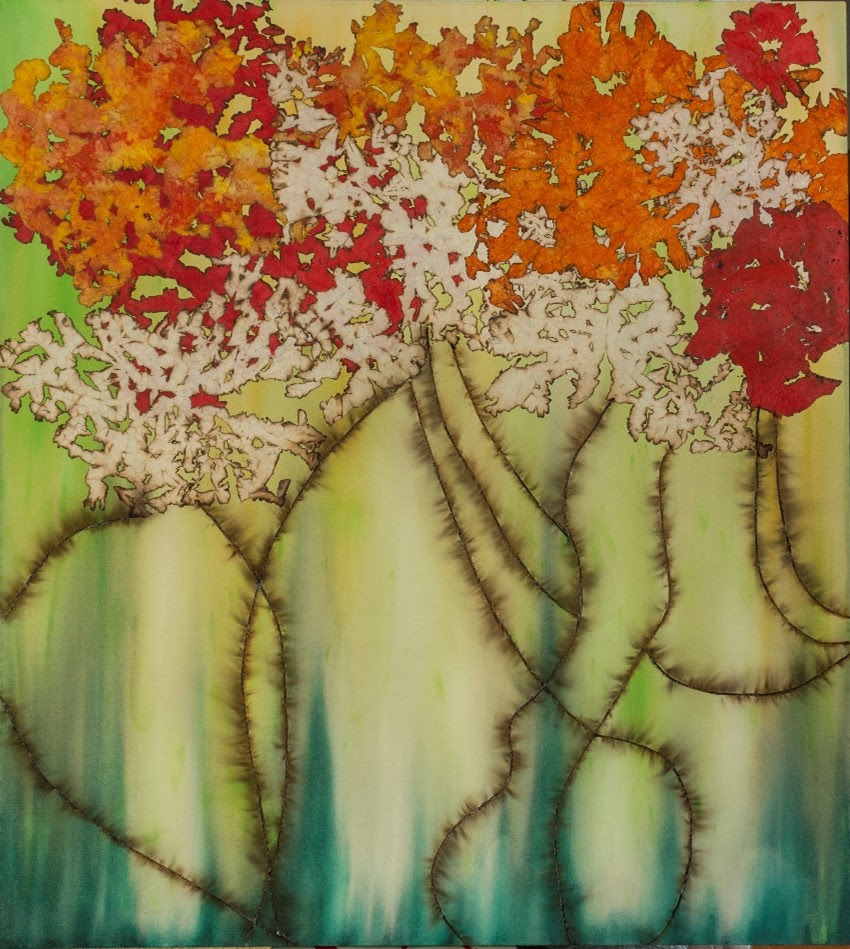 Sunkissed from Within, by Mira Lehr (2022) Burned and dyed Japanese paper, handwriting, ink, and ignited gun powder on canvas (48" x 60").
Critics praise Mira Lehr as the real-life Marvelous Mrs. Maisel of the male-dominated art scenes in 1950s New York and 1960s Miami. 
Now, at the bold age of 87, Lehr is creating more new work now than ever before in her six decades of artmaking. The all-new works in this exhibition have never been exhibited before and were created by Lehr in 2022 and 2021.
Lehr is now gaining even more national and international acclaim, and she is the subject of a major new 400-page artist monograph book by Skira Editore, celebrating its worldwide release in April.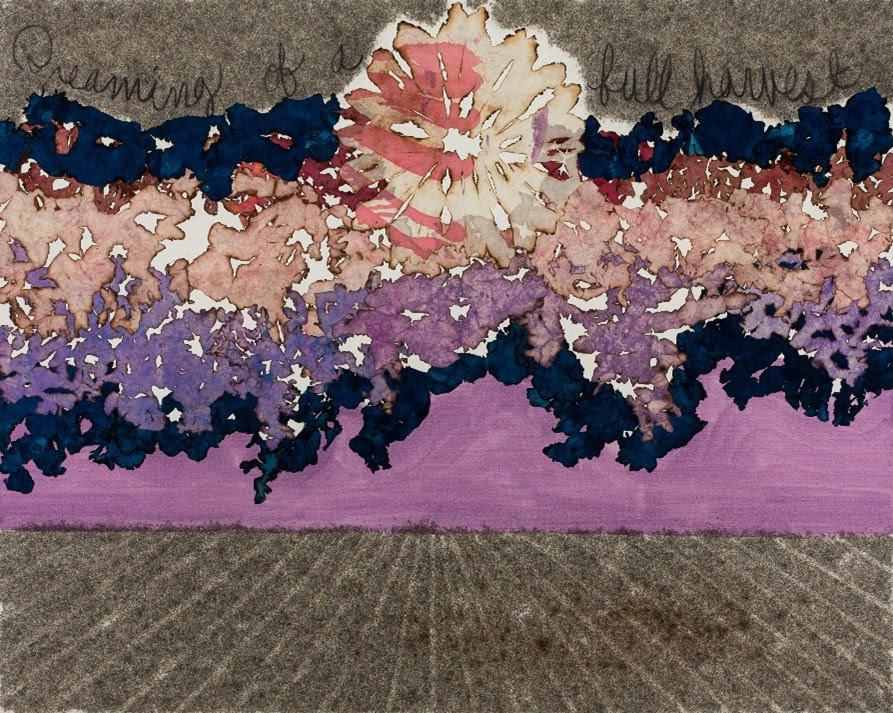 Reproductive Genesis, by Mira Lehr (2021) Burned and dyed Japanese paper, handwriting, ink, and ignited gun powder on canvas (48" x 60").
The exhibition is on view through April 20th, and will feature a panel discussion event about the role women artists played in the evolution of Miami's art scene.
The moderator of this event will be The Miami Herald's Jane Wooldridge, and the panel features some of South Florida's groundbreaking cultural leaders, including: Lorie Mertes (Executive Director of Locust Projects, formerly of the National Museum of Women in the Arts); Melissa Diaz(Cultural Arts Curator of the Deering Estate); Vivian Donnell Rodriguez (former Director of Miami-Dade County Art in Public Places, now on the Palm Beach County Public Art Board); Diane Robinson (filmmaker); and Ombretta Agro (curator, environmental activist, and Executive Director of ARTSail).
The public will have the opportunity to meet the artist at this panel discussion, where she will sign advance copies of the new 400-page book by Skira Editore, the renowned art book publisher. Learn more about this major new international monograph honoring Mira Lehr at skira.net/en/books/mira-lehr-arc-of-nature-the-complete-monograph.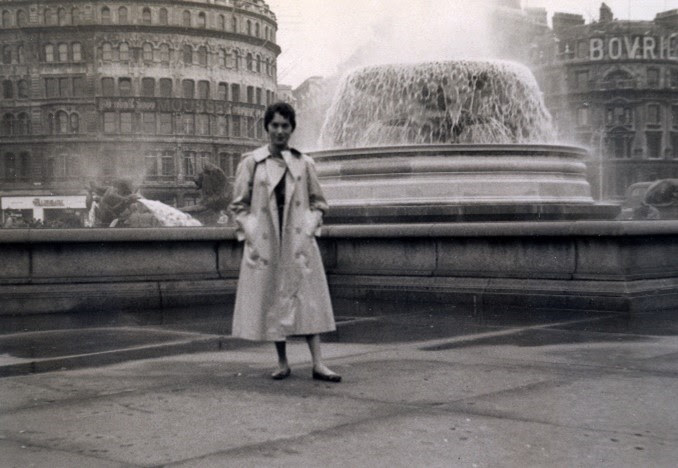 The marvelous Mira Lehr in the 1950s (Rome)
"Mira Lehr blazed trails as a woman artist in the 1950s during the male-dominated art scenes in New York and Miami during the mid-century era," says Ericka Nelson, general manager of Kimpton EPIC Hotel and director of operations for Kimpton's Florida hotels.
"Today, sixty years later, Lehr is recognized as one of the early influencers who helped Miami become an epicenter of creativity and diversity, and her new art continues to inspire new generations throughout her six decades of propelling the art movement forward. The launch of our Hotel's EPIC Art initiative has infused the visual arts into the guest experience ‒ paying homage to the extraordinary creative talent that has served to make our city a cultural destination," adds Nelson.
"I feel the urgency of both our global climate problems and our
continuing need for progress for women in the arts," says Mira Lehr.
"It is a privilege to be on the Earth and I believe we are
meant to be a success on the planet."
"If we can expand our thinking to cross borders and transcend places,
our united vision for the planet can raise our awareness.
It is this sense of hope and purpose
that calls me to action through my art," adds Lehr.
From 1956 to 1960, Mira Lehr had her art studio at Carnegie Hall in New York while she also raised a young family. She had just graduated from Vassar College in 1956 with a degree in Art History, under the mentorship of Linda Nochlin, the renowned feminist art historian.
While in New York, Lehr studied painting within the Hans Hofmann circle, and met many of the great American artists of that famed time in New York ‒ including Helen Frankenthaler, Joan Mitchell, Lee Krasner, James Brooks, Ludwig Sander, and Robert Motherwell.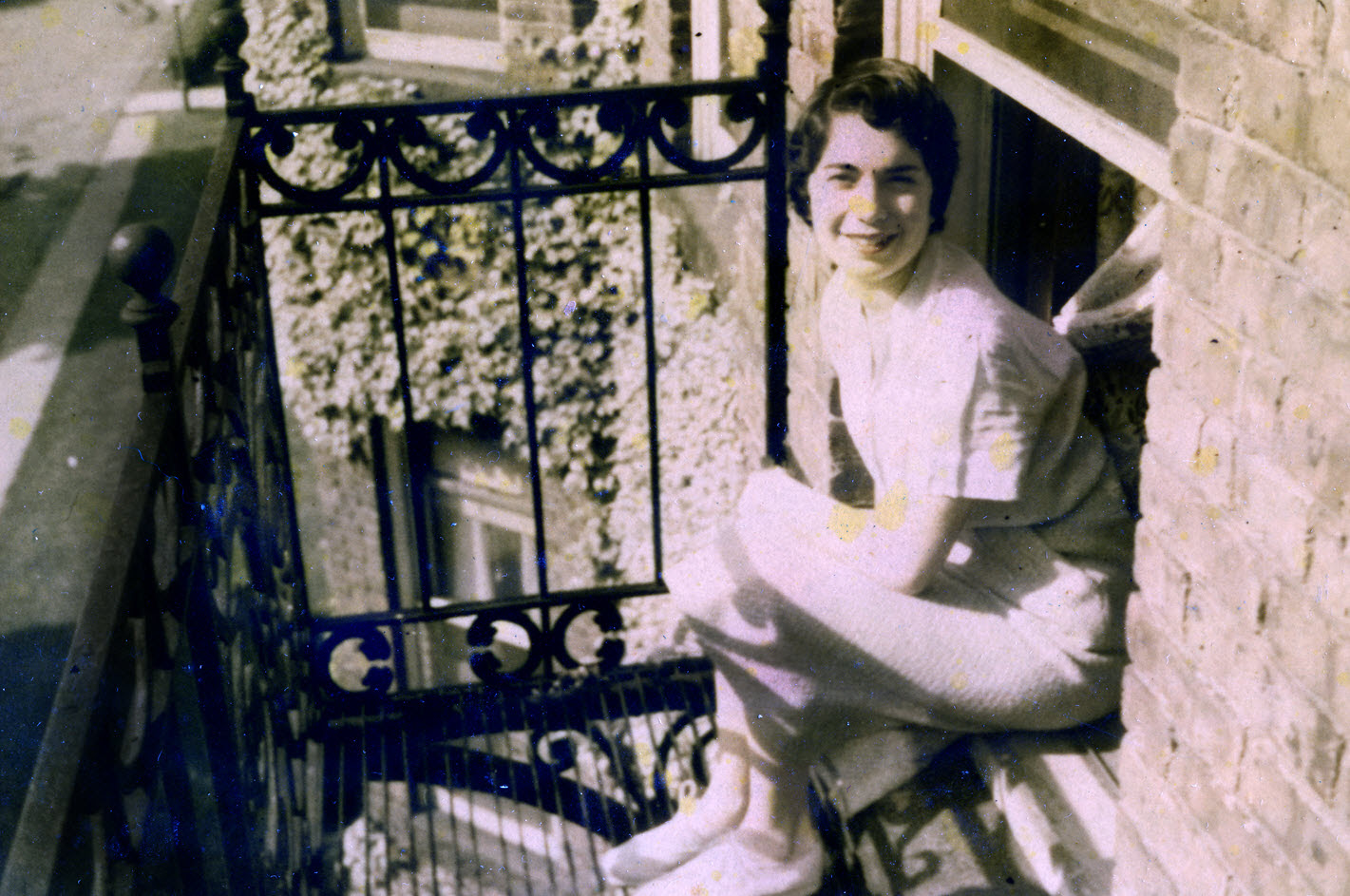 The marvelous Mira Lehr in the 1950s (New York)
Then, in December of 1960, she moved her family back to Miami Beach. "I was shocked at the lack of an art scene in Miami in 1960, especially for women artists," said Mira Lehr.
"So we decided to take matters into our own hands and banded together our group of women artists to form Continuum as a working co-op to showcase women artists when no one else would, and it thrived for more than 30 years," adds Lehr.
"We learned on our own how to create opportunities for ourselves, to display our work via DIY exhibitions throughout the 1960s, the 1970s and 1980s, an era in the art world that would be difficult for today's young artists to imagine."
Historic photo of the Continuum group of women artists in Miami, circa 1970. Lehr is standing on the balcony, top-right.
In honor of Women's History Month, one of the new paintings in this exhibition is titled Julia's Prophecy (for Julia Tuttle). Known as "the mother of Miami," Tuttle was pivotal in pioneering the City of Miami in the 1890s.
The Hotel is located near the very spot where Julia Tuttle first settled.
The term Continuum is equated with being limitless
and with the idea of boundlessness, and this current time
has been a powerful period of creativity for Lehr.
Installation image of the exhibition at the Kimpton EPIC Hotel Miami
New techniques and discoveries have paved the way for new visions and experiments in her art, and this exhibition thrives on that sense of newness for Mira Lehr.
"I am grateful to have been selected for this art exhibition honoring Women's History Month, and to share this new series of works, some definitely representing a departure point," says Mira Lehr.
"I no longer feel as though I have those Masters of art history sitting on my shoulders, watching what I am doing. I am more of an explorer now. I can now create in a more powerful way. I find that this realization often comes late in life, after a long career and I believe my sixty years of work has made me, in Hans Hofmann's words, 'search for the real' in a more profound way," says Mira Lehr.
The eco-feminist artist Mira Lehr (photo by Michael E. Fryd).
To emphasize the peril of climate change that we are now experiencing, Lehr experiments with the use of fire. "This natural element of fire, often controlled and abused by man, is a major medium in my work and my interest in the environment has become a driving force."
"Drawing with fuses and loose gunpowder on top of subtle hand drawing, I set the entire work ablaze, embracing the risk that such a gesture could destroy my entire painting. Afterward, only a trace of the flame's path remains, bringing an exciting energy to the work and the suggestion of destruction," says Lehr.
In her essay for Skira Editore's new book about Mira Lehr, the art historian Eleanor Heartneystates: "The 20th century opened with a burst of optimism, as advances in art, science and technology seemed to presage the birth of a marvelous new reality."
"In the first two decades of the 21st century, by contrast, the news has been relentlessly grim at times. It takes a brave person these days to hold onto hope for a better future ‒ yet Lehr is not, however, a starry-eyed romantic," adds Heartney.
"She is well aware of the challenges that face us, and she has the advantage of a long perspective. In the over sixty years that she has been active as an artist, Lehr has lived through any number of social upheavals," says Heartney.
Installation image of the exhibition at the Kimpton EPIC Hotel Miami
"These paintings reflect Lehr's conviction that the current crises are planetary in scale, and she has shifted her work into new, more activist directions and explorations that push the limits of painting, experimenting with a wide range of new techniques and materials," says Heartney.
"Such innovations have allowed Lehr to reach out to new audiences, to create whole new worlds that draw viewers into an awareness of their relationship with the natural world. But like all her works, they resist literal readings, instead inviting viewers to create their own narratives about the worlds they conjure."
"She leavens her message with a seductive beauty that is designed to inspire contemplation about what is at stake," adds Heartney.
The artist Mira Lehr (photo by Michael E. Fryd).
"I feel the urgency of both our global climate problems and our
continuing need for progress for women in the arts," says Mira Lehr.
"It is a privilege to be on the Earth and I believe we are
meant to be a success on the planet."
"If we can expand our thinking to cross borders and transcend places,
our united vision for the planet can raise our awareness.
It is this sense of hope and purpose
that calls me to action through my art," adds Lehr.
My Love Letters, by Mira Lehr (2021). Burned and dyed Japanese paper, handwriting and ink on canvas (60" x 72").
HUAWEI showcases next generation of cutting-edge products for Smart and Healthy Living
Huawei Consumer Business Group (BG) featured a variety of HUAWEI's cutting edge hardware products at the just ended Milan – "Huawei Flagship Product Launch 2022" event including: HUAWEI WATCH GT 3 Pro, HUAWEI Mate Xs 2, HUAWEI P50, HUAWEI WATCH D, HUAWEI Band 7 and HUAWEI WATCH FIT 2 which aims to further simplify the daily lives of consumers.
Along with its hardware products, HUAWEI also features its world-renowned Health App which has aided consumers all around the world lead a healthy lifestyle.
Huawei Consumer Business Group always puts consumers at the centre of what it does. At the launch event, Richard Yu, CEO of the Consumer Business Group, highlighted Huawei's continuous dedication to optimising user experience to fulfil its strategy and vision of an All-Scenario Seamless AI Life.
HUAWEI WATCH GT 3 Pro – Elegance on your wrist: An everlasting masterpiece
The HUAWEI WATCH GT 3 Pro comes with a "moon phase collection" interface design, premium materials, an ultra-clear large screen and a range of watch faces to choose from. Huawei's latest flagship smartwatch makes it easy to support a healthy lifestyle and HUAWEI TruSeen™ 5.0+ data monitoring technology, allows accurate heart health measurement and blood oxygen monitoring.
To ensure comfort and durability, the HUAWEI WATCH GT 3 Pro uses a sapphire glass lens and a ceramic back case. The skin-friendly materials allow for automatic detection of any change in temperature.
HUAWEI WATCH GT 3 Pro Titanium Edition brings a fresh look and feel with a minimalist design. To ensure uniformity and delicacy of the lines, the watch adopts luxury-grade polishing, which is complicated and time-consuming, just to create the premium finish. It is equipped with a titanium metal case, sapphire glass lens and ceramic back case. HUAWEI WATCH GT 3 Pro Ceramic Edition adopts a ceramic body design and has a soft natural gloss that highlights its elegant look. It also features an exclusive flower dial with dynamic effects; the five different dial effects show various shapes of the flower with time. The vivid blossoming of flowers not only symbolises the passage of time in a fascinating way but also adds a fun twist to its presentation.
HUAWEI WATCH GT 3 Pro Titanium Edition comes with a 14 days battery life and 7 days of battery life in intense usage scenarios, while the HUAWEI WATCH GT 3 Pro Ceramic Edition comes with 7 days of battery life in typical scenarios and 4 days of battery life in heavy usage scenarios. Thanks to wireless fast charging, you can charge up the watch for a full-day day of use in just 10 minutes.
Users of the HUAWEI WATCH GT 3 Pro have access to over 100 workout modes paired with an AI Running Coach and personal running planning feature based on an individual's physical, running history and personal goals.
HUAWEI Mate Xs 2: Perfection Expanded
Introducing the HUAWEI Mate Xs 2, HUAWEI's brand-new flagship foldable smartphone. With a weight of only 255g and a thickness of only 5.4mm, the phone features the first 3D Fibreglass Design to achieve a fusion of aesthetic colours and textures. To achieve an ultra-flat surface which is minimalistic and natural, the phone uses the Falcon Wing Design. Through that, the movement of the hinge and screen is precisely synchronised via the fixed-length linkage control. For the phone's screen, the use of HUAWEI's self-developed innovative industry-first composite screen to absorb all shock and buffer makes the HUAWEI Mate Xs 2 ultra-reliable.
To further enhance user-quality, the HUAWEI Mate Xs 2 is equipped with HUAWEI's flagship products such as a 7.8-inch True-Chroma foldable display to deliver high resolution content, Silicon-Based Anode battery for higher density and larger capacity, 66W HUAWEI SuperCharge that allows a 90% charge within 30minutes, and an Anti-Reflective Nano Optical layer to help reduce glare.
And to top that all off, the HUAWI Mate Xs 2 incorporates innovative interactions with multitasking capabilities and Floating Window Swipe Gestures to provide a seamless control while operating the multi-window.
HUAWEI P50 – The Ultimate Camera Phone with aesthetic design
Staggering True-Form Dual-Matrix Camera
It compromises the powerful Main Camera Matrix and SuperZoom Matrix. The hardware is integrated with the HUAWEI XD Optics and HUAWEI XD Fusion Pro image engine, resulting in high-resolution images that are brighter and cleaner with more details. Huawei went the extra mile to glean a better understanding of colours. It created a comprehensive solution and tweaked over 2,000 colours in the full colour gamut. There is a new super colour filter system with True-Chroma Image Engine and Super HDR technology that provides comprehensive enhancements to details, colours and dynamic range. The HUAWEI P50 is outstanding in videography as it is in photography. The True-Form Dual-Matrix Camera supports 4K video recording on both the front and rear, providing vivid clear footage from every angle.
Moreover, the periscope zoom lens supports a maximum zoom range of up to 80 times. The HUAWEI P50 also supports a new generation of AIS Pro True-Steady Shot technology and is complemented by all-new OIS hardware to offer vastly improved stabilisation experiences
An iconic Dual-Matrix Camera Design
It is the perfect combination of form and function. The double ring setup is visually striking and instantly recognisable while incorporating the most advanced smartphone camera hardware.
It incorporates a stunning display with a single punch hole camera. With the HDR display supporting the full P3 colour gamut, it can deliver an impressive visual experience for both video entertainment and gameplay alike. The HUAWEI P50 features a 6.5-inch display with a high refresh rate and 300 Hz touch sampling rate to provide fast response times. With an IP68 rating, you can be sure you will be protected from the elements when out and about.
Large battery with HUAWEI SuperCharge
Whether for gaming, recording, working or simply browsing the Internet, the HUAWEI P50 delivers excellent battery life with a large and long-lasting 4100mAh battery, which is supported by 66W HUAWEI SuperCharge.
Furthermore, the trusted innovative and secure AppGallery is available on the HUAWEI P50 where users can download a wide range of high-quality apps.
HUAWEI WATCH FIT 2 – Fashion on your wrist
With fashionable characteristics, the HUAWEI WATCH FIT 2 connects style and functionality together. The HUAWEI WATCH FIT 2 is equipped with a 1.74-inch AMOLED HD HUAWEI FullView that displays 336PPI and 336 x 480 resolution to deliver an excellent visual experience and is accompanied by a screen-to-body ratio as high as 72.2%. The watch also features a new chessboard launcher design and the tap to Transfer feature that provides users with an interactive experience.
HUAWEI WATCH FIT 2 now comes with a speaker, in addition to the microphone. Calls can be pushed from users' smartphone to their smartwatch via Bluetooth, so they can chat on the go, wherever they are. Users can answer and hang up calls with ease by tapping on the smartwatch's button and add frequently used contacts in the HUAWEI Heath App. They can also play music directly on the smartwatch with offline music playback and manage music playback through mobile apps. Gain access to HUAWEI Assistant today on the smartwatch to quickly check the weather, flights, and other information. Despite the compact body, HUAWEI WATCH FIT 2 manages to fit in a large battery. Under typical usage scenarios, the smartwatch can be used for 10 days, and 7 days under heavy usage scenarios.
HUAWEI Band 7: Ultra-thin FullView smart Band with long battery life
Standing out amongst its competitors, the HUAWEI Band 7 provides professional functions in the field of scientific health and fitness. The band features the thinnest fitness tracker at less than 10mm in thickness, and weights 16g. Equipped with AMOLED display consisting of a screen-to-body ratio of 64.88%and 194 x 368 resolution bringing vivid content and visuals. Users can personalise their watch face with different colours to match their outfits.
In a typical scenario, HUAWEI Band 7 offers a 14-day battery life which ensures users can wear it all day long with continuous use, monitor various body indicators, even when sleeping. Customise the watch face with 3 different modes, including AOD Watch Faces with default watch faces which show hpw content is displayed on the watch face; Moon Phase Watch Face that displays sunrise and sunset timings along with 8 moon phases and tidal change in real time; as well as over 4,000 themes with matching colours to fit the user's personal style.
With HUAWEI's new running measurement system, Running Ability Index (RAI), users can evaluate their running ability objectively and find out their progress in real time.
While working out, users can use the HUAWEI TruSeen™4.0 to track their heart rate continuously, quickly, and accurately with two 3-in-1 LED and one photodiode for a higher light intake.
HUAWEI WATCH D: Wrist Blood Pressure Monitor
The HUAWEI WATCH D is the first wrist-type blood pressure monitoring device providing accurate blood pressure measurement anytime and anywhere for hypertensive patients.
At 1/6 size and weight of a traditional blood pressure meters, the HUAWEI WATCH D also uses a mini pump to measure blood pressure accurately anytime and anywhere. Using an innovative mini pump, the pressure of the air pump can reach to 40kPa, ensuring blood pressure can be measured up to 230mmHg. This is equivalent to the range of traditional blood pressure meters.
HUAWEI WATCH D is not only a blood pressure sensor but is also a smartwatch that supports heart rate measurement. HUAWEI WATCH D is placed with an ECG high-performance sensor module that supports recording ECG data and immediately generating ECG reports.
It has multiple workout modes and health monitoring functions. HUAWEI WATCH D also supports blood pressure measurement, heart rate monitoring, scientific sleep monitoring, automatic SpO2 monitoring, skin temperature detection, stress monitoring, etc., and is equipped with more than 70 workout modes. Combined with the smart mode, it offers 7 days of long battery life, which ensures users can wear and use it continuously without having to charge frequently.
HUAWEI Health App
HUAWEI Health App covers all aspects of a healthy lifestyle, including Fitness, Nutrition and Wellness. Users can enjoy a wide range of features of the HUAWEI Health App to stay fit for both physical and mental health. With HUAWEI Health+, Huawei is introducing a new premium paid subscription service for users who are looking for more advanced health & fitness features.
Creating a regiment to stay health is not easy but with the help of the HUAWEI Health App+'s Stay Fit Plan, users can create workouts and eating plans with automatic reminders for individuals base on their personal training days, exercise goals and favourite foods. Use the Nutritional Analysis to input nutrition data for each meal and calculating highly accurate calorie counts that can help users meet their goals.
Lastly, to help with breathing, HUAWEI's Breathing Training allows users to create and develop their own breathingexercise routine which encourages consistency and ensures that the practice fits into the user's daily life.  The HUAWEI Health+ will be firstly released in Germany and Italy.
HUAWEI continues to strive to enable users' lead healthy lifestyles with new innovations. These new and unique hardware and functions will allow users track and motivate themselves as they embark on the journey to finding their best self.