9 Ways to Make Your House More Child-Friendly
Kids can be too playful and active at times, and that makes us worry about their safety. If you have kids who love to run around the house or have toys littering around every room, it's a must that you make your home more child-friendly to avoid any accidents that might happen.   
You should see that you combine interior aesthetics with function and precaution. That way, this ensures that your house is beneficial to your children's safety, comfort and growth development.  If you own hazardous materials or sharp objects, be sure to keep them out of children's reach. So here are a few ways how to make your home more kid-friendly. 
Go for a Multi-Functional Storage
Creative storage ideas are important if you have children at home. Storage is essential to control the clutter and to ensure the safety of your kids by storing the things that should be kept out of their reach. 
If you think it's an eyesore to see toys getting scattered all around the house, you can have an ottoman with a removable lid to put these toys in their proper place. You can also choose a table with drawers or a double-tiered coffee table as storage solutions to declutter things in your house. 
Build a Playroom
Play is vital to children as it develops their physical, mental, and social skills. There should be space in your house, such as a playground or playroom, where your kids can play and socialize with their friends. 
Be creative when building the playroom of your children. For instance, choose a fun color scheme and practical flooring for it. You can paint the wall with a fun mural, or you can hang paintings on the wall. It's also great to install slides, climbing frame or wall, and toy storage. 
Creating a playroom or a playground is also great to prevent accidents in your home or damage to other parts of your house. 
Consider Vinyl Flooring
It's indeed a pain in the neck to see your hardwood flooring get damaged because your kids drag across a piece of furniture throughout the living room or smash a heavy object on the floor. That's why you should consider high-quality vinyl flooring at your house. Durable vinyl floors can enhance the interior of your abode and will last long for a while.
Store Your Guns in the Right Place
If you're in possession of guns in your house, make sure that they're stored in a properly sealed compartment that your children won't have access to. One of the best gun storage solutions is to put them in a gun cabinet that not only keeps it out of their reach but is also efficient in organizing your guns to keep them tidy and in place.
Place Plants Inside and Outside the House
Plants are an excellent source of oxygen, and they beautify your home without you paying for a costly renovation. But aside from these advantages, there's also scientific proof that plants are good for you and your children's well-being. For instance, plants enhance brain power, boost physical health, and increase happiness.
So, if you want your house to be conducive for your children's health, make sure that you have plants in your home. You can put plants in your backyard, garden area, or even inside your house. You can also teach your kids the proper way of planting and tending for plants. Just make sure, though, that your plants are not poisonous for your kids' safety. 
Choose Rounded Furniture
Furniture pieces that have sharp corners are dangerous for your kids. Just imagine them running around and accidentally bumping into these furniture pieces! 
That's why if you don't want any accidents involving your children in your house, you should consider rounded furniture in it. You can find a lot of rounded furniture pieces with great designs nowadays. 
Install Accessible, Easy-to-Use Closets in Your Kid's Room
Built-in drawers and closets are not a very smart option to install in the kid's room. Choose a more accessible, easy-to-use cabinet so that your kids can just pick out their favorite clothes with no hassle. You can have a set of drawers or hooks in the room that can be easily accessed by your kids. 
Create a Reading Corner
Education doesn't only happen in school, but also in your house. At an early age, you should teach your children the importance of reading books. Adding a corner in your room where they can read and chill is essential to their intellectual development. Make sure that it has a bookshelf and comfortable cushions. 
Keep Electrical Stuff Out of Your Children's Reach
You should observe electrical safety in your house, especially if you have children. You should see to it that you unplug electrical appliances when they're not in use and use power-point covers on unused electrical outlets. Have a cord organizer to make sure that electrical cords are correctly organized, and you should replace worn-out electrical appliances and cords. 
It's also crucial to install smoke detectors to alert yourselves of any developing fire in your house. Hire a licensed electrician to make the installation of any electric-related stuff safe. 
Takeaway
Now you know the ways to make your home an excellent environment for your children. Just keep in mind the things mentioned on this list to prioritize their safety, comfort, and development in your home. 
Gospel Musician Efua Black Celebrates Birthday With Father's Home
Takoradi-based gospel artiste, Mrs. Ellen Tsibuah also known in the music circles as Efua Black has donated assorted food items to the Father's Home Care Ministry at Anto Aboso in the Shama District as part of the celebrations marking her birthday.
Although Efua Black's birthday fell on Tuesday, 12 October, for the purpose of convenience, she chose to celebrate the occasion on Saturday, 16th of October to extend love to the orphans at the children's home.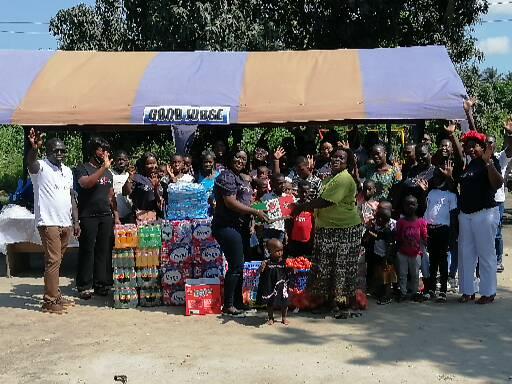 She donated numerous food items including fresh tomatoes, tomatoes pastes, pepper, frozen chicken, fish, onions biscuits, and drinks among others.
The children of the Home were engaged in numerous fun and exciting activities to put smiles on their faces and to give them a sense of belonging.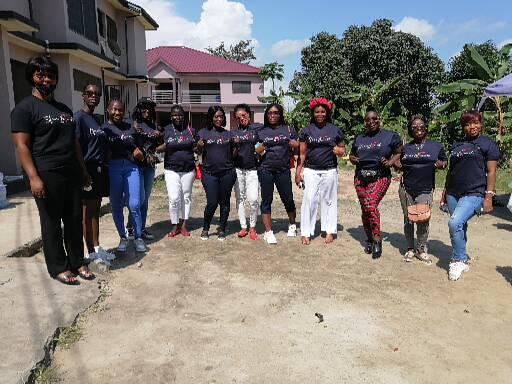 According to Efua, orphans also yearn for the presence of their parents when they see other kids in society with theirs and this phenomenon could affect their self-esteem when they don't get similar care and love.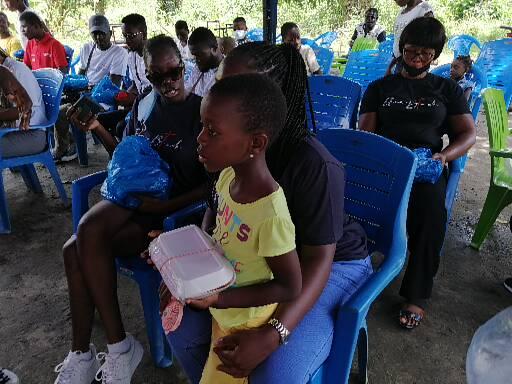 She added that spending her birthday through the extension of the love of Christ to the children was timely and a step in the right direction for her ministry.
"As a gospel artiste, my main purpose is to preach Christ through my music and extend the love of God to these children. I am here, to make them feel part of a bigger society. These children may feel some sense of loneliness when they see other children with their parents, this could affect their self-esteem, therefore, it's our responsibility as a society to enhance their sense of belonging and continue to show them, love  ".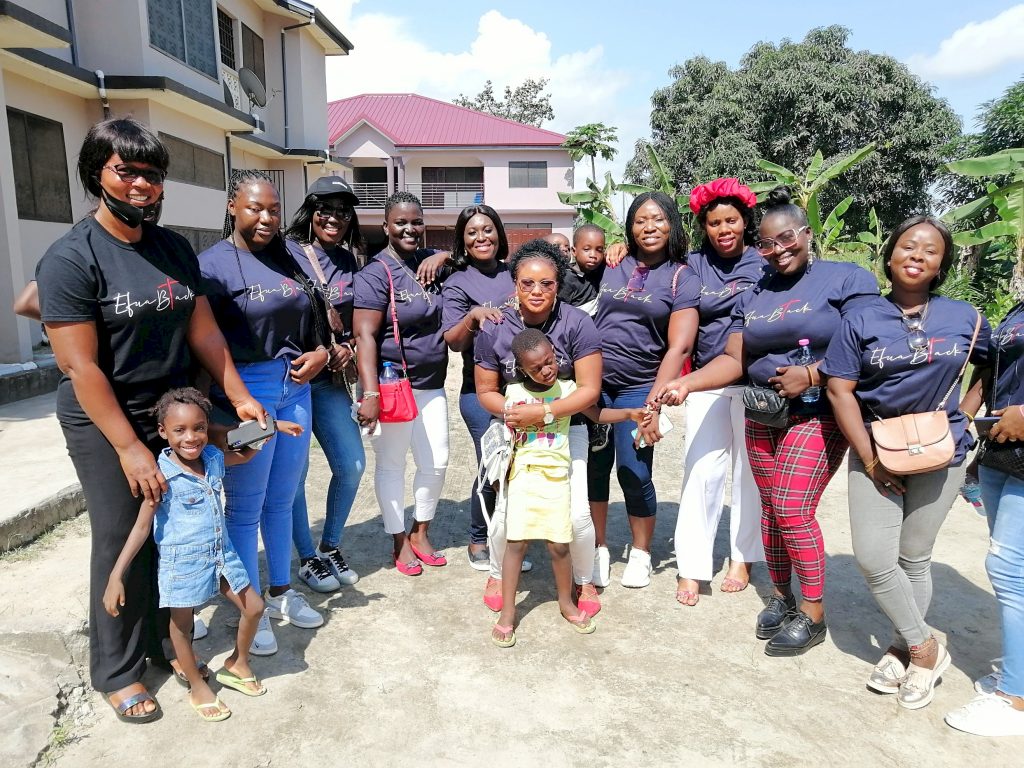 Efua expressed her heart warm gratitude to the caretakers of the Home for their services and advised them to continue doing more towards uplifting the plight of every child at the Home as there are more blessings in such work but could equally turn out to be a curse when the children are not managed well.
"The Bible says love to orphans and widows is one of the greatest blessings, if they are not well managed, it could be a curse for the caretakers, so it behooves on us to do our maximum best to secure the happiness of the children for God to also bless us", she stated.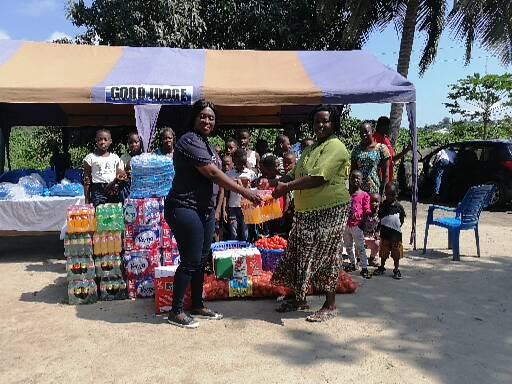 Efua black called on well-meaning Ghanaians, benevolent organizations, and the Government to extend helping hands to the Home.
She hinted at the   release  of  her second  single, title "Reign", a contemporary worship song  come Monday 18th October 2021.
Receiving the items on behalf of Father's Home Ministry, Janet Anderson, a parent at the children's home expressed gratitude and for the love and kind gesture of Efua Black and friends in considering to celebrate her birthday in the home since she could have chosen to mark it at any place of her choice.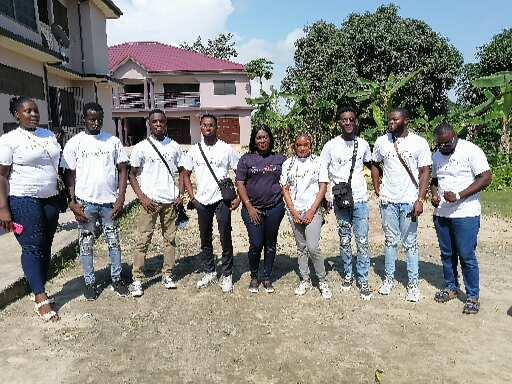 She thanked the team and prayed for God to replenish anything that had been lost through the sacrifice to put smiles on the faces of the children.
The Father's Home Care Ministry currently has 100 children who are being catered for with some in primary, Junior, and Senior High school as well as others in numerous Tertiary Institutions across the country.
Story by Kwame Offei