Leaked Twitter DM: Basketball star, J.R. Smith asks college student, 'You Trying To Get The Pipe?
<![CDATA[]]>
Notorious heartthrob 
J.R. Smith
 is making headlines for flirting with a high school chick on twitter and offering her 'the pipe'.   J.R. just got 
put on blast
 for flirting via DM with a chick who's a senior in high school.
Now before you start giving him that 
R. Kelly
 side-eye, reports state the chick in question lives in Pennsylvania.   Remember that the age of consent vary from state to state, for example
age of consent in Ohio
is 16 just like Pennsylvania.
And since we know the Knicks played the Philly 76ers the night of the 26th, we have to wonder if the chick followed through.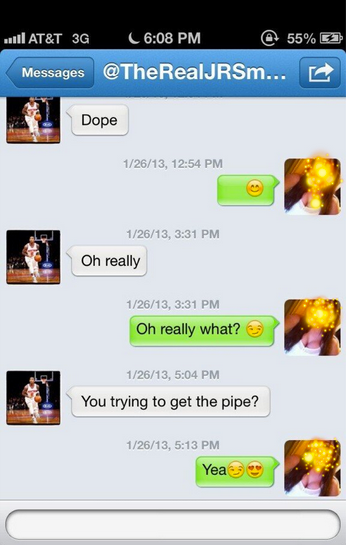 After the private conversation went viral…
J.R. posted this pic to his Instagram account.  Because it's clear from the conversation, he was simply offering the student a choice of pipes that he apparently sells. Even ballers could have a side hustle….
United Africa Organization and 5,315 hopeful immigrants sue Biden administration
On Tuesday, Chicago-based
United Africa Organization
and over five thousand Diversity Visa (DV) Lottery applicants filed a lawsuit against the Biden Administration in the District Court for the Northern District of Illinois, challenging the unlawful withholding of Diversity Visas. (Complaint available upon request.)
As part of their legal challenge, Plaintiffs attack the lawfulness Secretary Antony Blinken's policy changes implemented through a
November 2021 cable
with the subject line, "Recalibration of Consular Services Prioritization at Posts Abroad."
Immigrant plaintiffs all entered the FY-2022 lottery in late 2020 and were selected in May 2021 from a pool of millions of entries through a computer-generated random drawing. They should each be eligible 55,000 visas that should be issued in FY-2022 (between October 1, 2021 and September 20, 2022).
[1]
Immigrant plaintiffs followed the rules and submitted their applications. They made plans to build a new life in America. Yet, the Biden administration, still beholden to restrictive immigration policies adopted during the Trump administration, stands in their way.
"The administration's decision to make the DV lottery program a low priority for visa issuances is decreasing African immigration to the U.S, and that outcome is not consistent with the country's values."
Alexandra George, Chicago-based co-counsel for Plaintiffs, said:
"President Biden campaigned on promises to support the DV lottery, but the administration's own policies are the biggest hurdle for African winners. These broken promises harm thousands of real people and tarnish Biden's legacy."
Jana Al-Akhras, co-counsel for Plaintiffs, said:
"The DV Program, its selectees, and its recipients are a vital aspect of our country's immigration process — the importance of which cannot be overstated. The Biden Administration's attempt to undermine this program harms our nation and runs contrary to the express will of Congress. We urge the Biden Administration to consider the harm that incurs as a result of their deprioritzation of these very worthy applicants."