Naomi Campbell, Iman and Bethann Hardison hit at Top Designers for ignoring models of colour
<![CDATA[]]>
<![CDATA[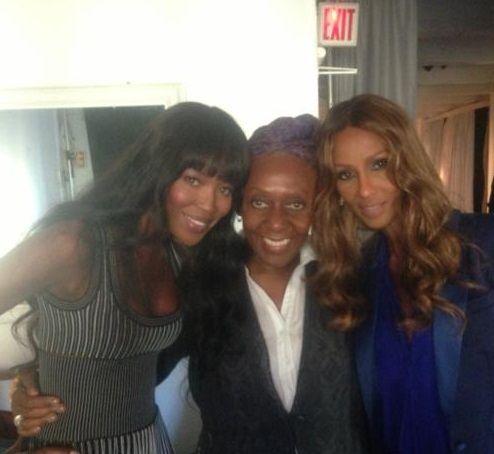 Supermodels
Naomi Campbell
and
Iman
joined activist
Bethann Hardison
in calling out some of the nation's top fashion designers for a lack of diversity on the runway….and they NAMED names. A few weeks ago,  Bethann Hardison and Iman were working as part of an advocacy group called "Diversity Coalition" that were
making plans to address the lack of diversity found on runways
during fashion week. Well….the ish hit the fan this morning! During a taped segment on
"GMA"
that aired this morning, the ladies were joined by supermodel Naomi Campbell as they took on some of the world's top designers and called them out for using just
"one or no models of color"
in their fall shows.  And they're calling it a
"racist act."
I don't like it….Where's the others?" Naomi said. "I'm very outspoken, as we know. The statistics, it's really shocking. Heartbreaking. Your body and beauty, it doesn't matter what color you are. If you've got the right talent, you should be there having the opportunity to do the job."
Iman, who rose to fame in the 1970s, gave a startlingly observation during her interview.  
"There were more black models working then than it is happening in 2013. There is a time when silence is not acceptable at all. And if the conversation cannot be had publicly in our industry, then inherently there is something wrong with the industry."
So who were some of the big designers on the list of folks being put on blast?  They
named
heavyweights like Calvin Klein, Donna Karan, Armani among those they want to see make a better effort to cast women of color.  On the other side of the coin, Diane von Furstenberg (who cast Naomi in her most recent show) and Tom Ford were praised by the group. Speaking of Tom, Iman said,
"He has diversity because he sees the beauty in diversity."
But Bethann (and the DC) stopped short of calling the designers (or the fashion industry racist). She said,
"I think they're ignorant and they're arrogant, and I think it's not even about racism. I think it's a sense of laziness and they've told themselves a story."
]]>
Irishman, 'one of world's largest facilitators' of Child abuse images, jailed for 27 years in US
An Irish man described by the FBI as the world's largest facilitator of online child sex abuse has been sentenced to 27 years in prison by a US court.