R&B Diva Feuds: Ciara vs Rihanna
<![CDATA[]]>
<![CDATA[
A few days ago, Ciara chatted with 
The Qdeezy Show
 on Philly's Hot 107.9 where she discussed the making of 
One Woman Army
, but most importantly, she opened up about rapper Future and the issues with Rihanna.  It was a rare moment of "openness" from the famously private singer. Here are the highlights:
On why she's finally being open about her life/relationships: Relationship wise, I use to be really private and protective over a lot of stuff and I feel like now, it's like why be afraid? Live your life. Somebody is going to judge you, no matter what, one way or another so just live your life and be comfortable in it. On meeting Future and how they began dating: We actually met working at first and our relationship was very organic. He is an amazing guy. Like, he is really a gentleman and I don't want to say too much and then he's like, 'Babe, you're saying a whole lot,' but he really is just an amazing man. It's like when we were working on the personal side of things, I really saw an amazing person and the way that he approached me since day one is just the way a man is supposed to be from my perspective. It just really organically happened that way. I didn't expect anything to come from us working together. I didn't even know what to expect from going into the studio with him and then we began to meet each other and everything just began to flow. He is really cool, like he is my friend too. So I felt something really unique from the beginning and then it just organically went this way. On what she likes about Future: I think it was a collection of things [but] I'm going to try and keep this really short. He is just a true gentleman like whether it's just naturally opening the door for you or like…. I never had to ask him to do that. I hope he doesn't kill me but just little things like he pays attention to the things you say. And then he and I are both Scorpios, so we share a lot of things [in common] and so when we are having conversations, a lot of things were really clicking and I'm like 'Yo!' I just felt it. I can't even explain everything but it was a combination of things because it can't just be one day, great conversation and then boom, like it was a series of events and experiences with a person. And again, it's the small things that really matter. […] When people ask me what I like, I say 'I like a guy that can be tough on the outside but they have to have a heart on the inside' and the one thing you'll know about him is that he has a heart and he is just super cool. On her relationship with Rihanna: There is no relationship… On if she has an issue with Rihanna: If something is supposed to happen, it'll happen. But even when it pertains to her I never had an issue with her. So I don't know what it is, I can't figure it out. I guess I don't care to figure it out. But I always came from a place of love and support for her ever since we hung out a little bit, or whatever it is. So she's on whatever she's on, and it is what it is.
And in response, Rihanna threw some SHADE.  Shortly after the interview went viral, Rihanna responded to a NAVY fan who posted a photo about the interview.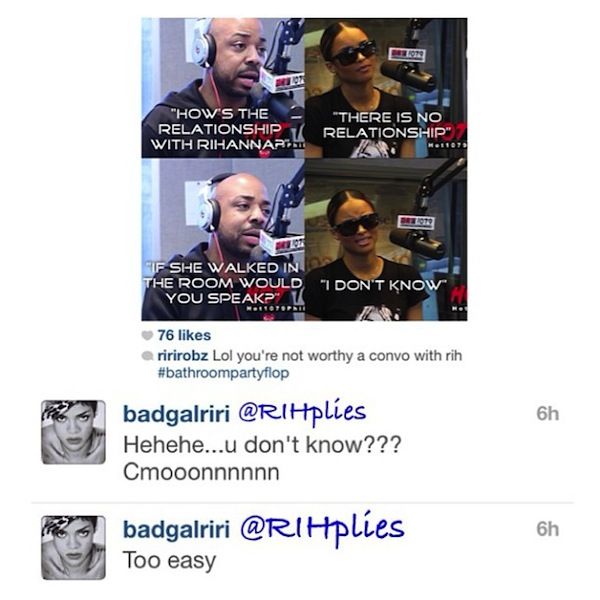 That Rih Rih. Then, Rihanna posted a few photos of herself looking glammed up.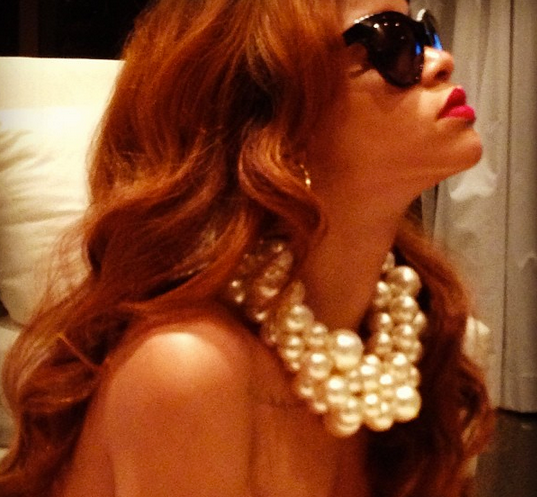 Because she added the caption, 
"I don't think about you at all #cccertified" 
One could assume she is making a statement towards Ciara.  Or she could just be proud that she's rocking Chanel non stop these days…. Watch Ciara's interview here:
Photos: RihPlies' Twitter
]]>
From Apple Music With Love: Listen To Sam Smith's Royal Albert Hall Set In Spatial
Apple Music is getting into the giving spirit this holiday season with the return of From Apple Music With Love, a special countdown to the holidays. Each day at 8:00a PST from November 25 – 30, Apple Music subscribers will receive exclusive gifts from some of the biggest and brightest names in music, stamped with love and ready for unwrapping. This year, gifts range from live concert recordings, new renditions of favorite songs, a classic album rerelease alongside a brand new holiday album, and party-crushing mixes to close out the year. Do yourself a favor and enjoy the musical experiences we've put together with Apple Music listeners in mind.
Today's exclusive gift comes from Sam Smith, and features their stunning October 2022 performance at London's Royal Albert Hall.
"I definitely wanted this to be different to my other shows," Sam Smith tells Apple Music. "I come from a theatre background and really missed that feeling on my last tour. It takes a village of talent to put on my shows, and it's important for me now to showcase and celebrate the artists around me." In Live From Royal Albert Hall, which arrives to Apple Music listeners as part of the From Apple Music With Love series, Smith celebrates their body of work with a curated selection of songs from the evening.
Though Smith was mostly performing songs from their catalogue, the singer says the set was imbued with the spirit of their fourth studio album Gloria, scheduled to release in January 2023. "With this show it was about adding a little Gloria to all my songs," Smith says. "I always want to change all the songs a little to fit the mood and the tones of whatever project I'm currently releasing. But I am also passionate about playing the songs the way people love them." One listen to Live From Royal Albert Hall and you're sure to have found that Smith couldn't lose either way.
Tune in every day at 8am PST to keep counting down the holidays with an exclusive gift on Apple Music and check out Sam Smith's October 2022 performance at London's Royal Albert Hall HERE