The 2020 Back2Africa Festival & Tour, A Celebration of Black History Month
The Adinkra Group, an African Cultural Edutainment Resource and Consulting company based in Washington, DC, is set to host its annual Back2Africa Festival and Tour from the 5-8th March, 2020 to celebrate Black History Month in Accra and Koforidua. The festival now in the 3rd year, is held to bridge the gap between continental Africans and African diaspora audiences through artistic collaborative performances, discussions and African heritage tours. Highlights of Back2Africa include performances from artists travelling to Ghana for the first time: DJ Alizay (DC), DJ Bimshire (Barbados), Kweku Sumbry (DC) along with Ghanaian artists DJ Manni,  DJ Mic Smith and No Bad Songs .
 "We are proud to continue the Back2Africa Festival for its 3rd year in Ghana. Moving beyond the Year of Return, we are excited not only to continue to introduce more people to Ghana as we have for the past four years and contributing to Ghana with initiatives like The Year of Return but to deepen our ties with the people in a real and tangible way. We're just getting started," shares Diallo "Daheart" Sumbry, Founder of The Adinkra Group, a founding member of the Year of Return Steering Committee and Ghana's first African American Tourism Ambassador.
The Back2Africa festival will launch on the 5th of March with the Dancehall Thursday, a traditional Caribbean styled dancehall party at  BBnZ Live. The pre-independence day celebration will feature DJs Alizay, Bimshire and  DJ Manni on the turntables paying homage to reggae and dancehall legends.
Samples, Originals and Remixes, SOAR, a musical event for music lovers who will appreciate the evolution of the different genres of music including Hip Hop, R&B, Afrobeats with a surprise DJ will be held on the 6th of March to climax Ghana's Independence Day celebrations.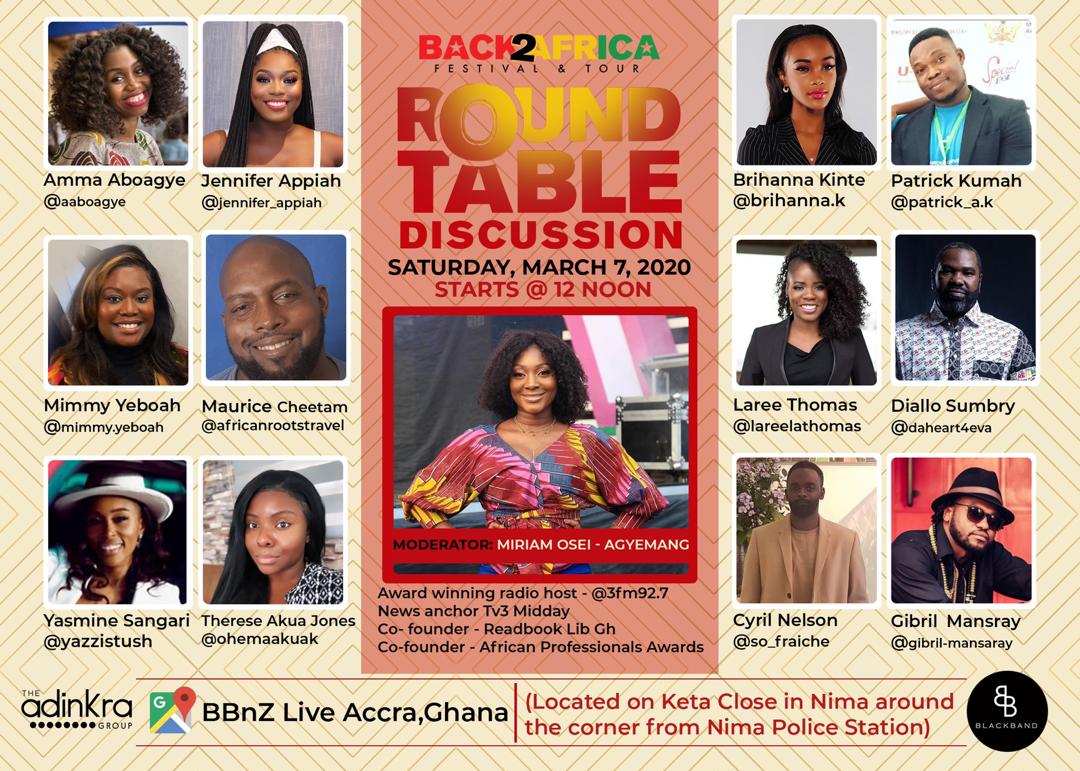 The festival will continue on the 7th of March with the Roundtable Discussions featuring Ghanaian and African diasporan leading thought leaders to be held in 3 sessions with panelists focusing on various topics surrounding Pan Africanism and the African Diaspora.
Panel 1:  Nkrumah'ish: Pan Africanism & Securing the Bag
Panelists include C.E.O. of Appiah Group Enterprises, Jennifer Appiah, Renowned Ghanaian Fashion Designer, Mimmy Yeboah, Director of Operations at Roots Travel, Maurice Cheetam, and Founder of WaxPrint Festival, Amma Aboagye.
Panel 2: The African Birthright: Uniting the African Diaspora for Africa
Panelists include Beauty Queen, Brihanna Kinte, Founder of SugarKoated, Yasmine Sangari, Entrepreneurs, Therese Akua Jones and Gibril Mansray.
Panel 3:  Beyond the Return: What's Next for Ghana and Africa
Panelists include Patrick Kumah, Musician and Social Activist, Laree Thomas, Founder of The Adinkra Group, Diallo Sumbry, and  Cyril Nelson.
Roundtable Discussions will conclude with the Enjoyment Reception featuring a live performance from No Bad Songs and DJ Alizay, DJ Bimshire, DJ Manni and DJ Mic Smith on rotation.
The Back2Africa Festival and Tour will culminate on Sunday, 8th of March with  Sunday Service, a charity cause, at Nyame Bekyre School in Akuapim. Volunteers will partner with residents of Akuapim traditional area to refurbish, renovate and paint the school. In 2019, Back2Africa collaborated with the International Partnership for Economic and Sustainable Development to kickstart the fundraiser to raise funds and break grounds for the establishment of a library and borehole in the community.
Since its inception in 2018, the Back2Africa Festival and Tour has reconnected hundreds of African Americans and African diasporans to the culture and traditions of Africa through its specially curated birthright journey and activities.  Back2Africa is produced in support of WaxPrint Media, Ghana Tourism Authority, BBnZ Live, Black Band and African Ancestry.
---
Back2Africa Festival Schedule
Thursday, March 5, 2020
Dancehall Thursday featuring DJ Alizay ( DC), Dj Bimshire ( Barbados), DJ Manni ( Ghana/UK)
9 pm – 2 am
BBnZ Live
Friday, March 6, 2020
SOAR: Samples, Originals and Remixes
9 pm – 2 am
BBnZ Live
Saturday, March 7, 2019
Roundtable Discussions
12pm-6pm
BBnZ Live
Saturday, March 7, 2020
Enjoyment featuring  No Bad Songs (performing live), DJ Alizay ( DC), Dj Bimshire ( Barbados)
9 pm – 2 am
BBnZ Live
Sunday, March 8, 2019
Sunday Service – Nyame Bekyre School Renovation
Koforidua – Transportation & Lunch Provided for all volunteers
CIMG Launches 33rd Annual National Marketing Performance Awards
The Chartered Institute of Marketing, Ghana (CIMG), has launched the 33rd CIMG Annual National Marketing Performance Awards, which was held at the Coconut Grove Hotel in Accra. The event took a hybrid form with virtual and in-person attendees.
In his welcome address, the Registrar of the CIMG, Mr. Kwabena Agyekum said, "The success of these awards has gone beyond the event itself. Many businesses have now redeveloped their corporate strategies and significantly changed their business operating models, enabling them to be marketing-oriented by meeting the key requirements of market focus, integrated marketing, long term profitability, and customer and competitor orientation."
In his opening remarks, the National Vice-President of CIMG and Chairman of the Awards Planning and Selection Committee, Mr. Theodore Osae, lauded the CIMG for its historic accomplishments in previous awards ceremonies.
Read Also: CIMG Launches Ghana Customer Satisfaction Index 2021 Report
"There is no denying that the scheme has incredibly evolved into what could be considered Ghana's benchmark awards scheme. As we take delight in the successes achieved by our awards, I wish to boldly say that the CIMG takes pride in the several landmark accomplishments, which have greatly contributed towards improvements in organisational and professional performances, and especially, for practicing Marketers," Mr. Osae said.
Being mindful of these achievements, the Institute has resolved to keep the stakes as high and as relevant as possible so that the standards, by which CIMG assesses individual and corporate performances, are not compromised.
The institute, for the past few years, has adopted the online system of completing the awards questionnaire by nominees as well as online assessment for the judges, who are chosen from various sectors of the corporate world. This set up has made it easy for CIMG to continue to drive a rigorous process whilst maintaining its stringent standards.
The Awards cover six major competitive areas, namely: Hall of Fame, Personality, Media and Marketing Communications organisations, Business organisations, Products, and Not-for-Profit organisations.
There is a non-competitive award category known as the CIMG President's Special awards which are given to noticeable female and male achievers in any endeavour, or a business entity or product or service that has positively contributed to national progress.
Mr Osae indicated that "the judges and assessors for the year's event will devote time and attention to ensure the success of the 33rd CIMG Awards, as it represents Ghana's benchmark awards ceremony."
The criteria for selecting the winners and benchmarking their performance will include:
Marketing Metrics including awareness, numeric distribution (where appropriate) and others
Marketing Innovation
III.       Technological Innovation
Segmentation, Targeting and Positioning (STP)
Social Impact
Contribution to National Development
VII.      Public Image
VIII.     Success in the Market Place
Market Share
Customer Service Orientation
Ecological and Ethical Issues
XII.      Competitor Orientation
Launching the awards ceremony, the National President of CIMG, Dr. Kasser Tee, urged organisations "to refrain from cutting marketing budgets in hard times, as effective deployment of marketing communications is necessary for stimulating demand for their products."
Dr. Kasser Tee added that organisations must re-examine their marketing mix elements and ensure an optimal blend for organisational success. He explains that "in the same way that you cannot do without products, or pricing, or distribution, so must you not cut promotion or marketing communications budget. You must however spend in critical areas, using the most critical, influential and most cost-effective media vehicles. You must differentiate your corporate and product brands to enable them stand out in the midst of intense competition and low consumption."
He further encouraged all corporate organisations "to pay attention to some of the very key pillars of marketing that guarantee effective performance, by way of growing market shares, revenues and profits in these difficult times."
For 32 years, CIMG has consistently held the Annual National Marketing Performance Awards with the upcoming one being the 33rd edition