The 2020 Back2Africa Festival & Tour, A Celebration of Black History Month
The Adinkra Group, an African Cultural Edutainment Resource and Consulting company based in Washington, DC, is set to host its annual Back2Africa Festival and Tour from the 5-8th March, 2020 to celebrate Black History Month in Accra and Koforidua. The festival now in the 3rd year, is held to bridge the gap between continental Africans and African diaspora audiences through artistic collaborative performances, discussions and African heritage tours. Highlights of Back2Africa include performances from artists travelling to Ghana for the first time: DJ Alizay (DC), DJ Bimshire (Barbados), Kweku Sumbry (DC) along with Ghanaian artists DJ Manni,  DJ Mic Smith and No Bad Songs .
 "We are proud to continue the Back2Africa Festival for its 3rd year in Ghana. Moving beyond the Year of Return, we are excited not only to continue to introduce more people to Ghana as we have for the past four years and contributing to Ghana with initiatives like The Year of Return but to deepen our ties with the people in a real and tangible way. We're just getting started," shares Diallo "Daheart" Sumbry, Founder of The Adinkra Group, a founding member of the Year of Return Steering Committee and Ghana's first African American Tourism Ambassador.
The Back2Africa festival will launch on the 5th of March with the Dancehall Thursday, a traditional Caribbean styled dancehall party at  BBnZ Live. The pre-independence day celebration will feature DJs Alizay, Bimshire and  DJ Manni on the turntables paying homage to reggae and dancehall legends.
Samples, Originals and Remixes, SOAR, a musical event for music lovers who will appreciate the evolution of the different genres of music including Hip Hop, R&B, Afrobeats with a surprise DJ will be held on the 6th of March to climax Ghana's Independence Day celebrations.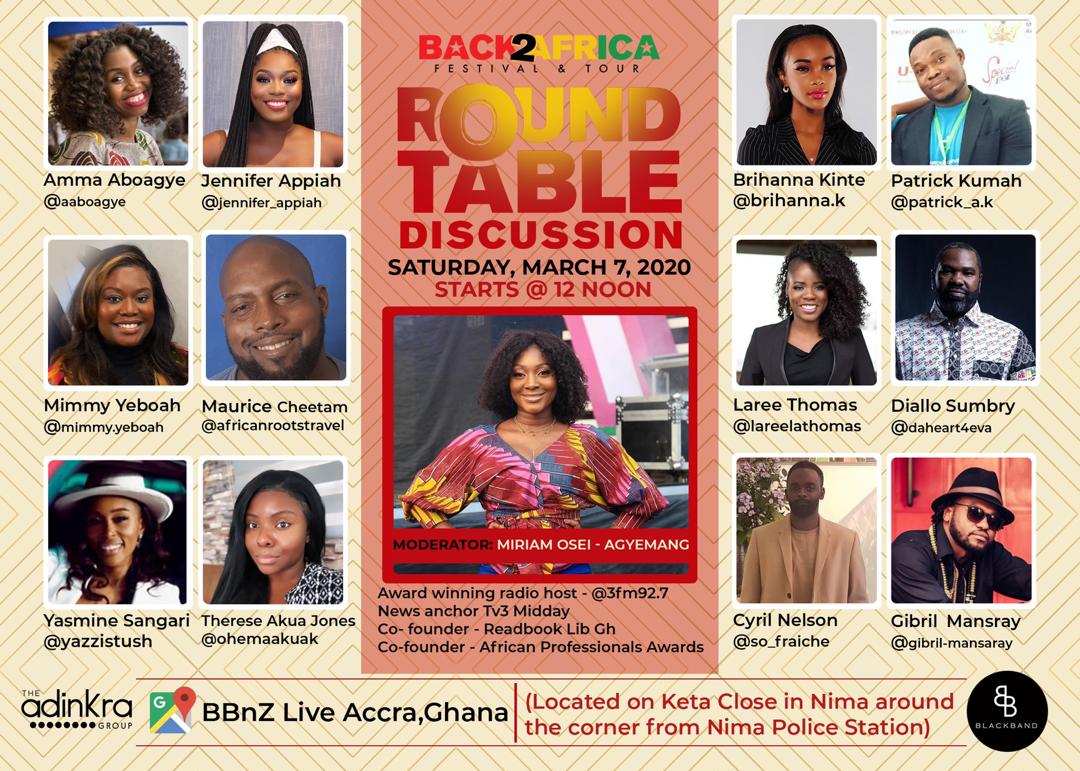 The festival will continue on the 7th of March with the Roundtable Discussions featuring Ghanaian and African diasporan leading thought leaders to be held in 3 sessions with panelists focusing on various topics surrounding Pan Africanism and the African Diaspora.
Panel 1:  Nkrumah'ish: Pan Africanism & Securing the Bag
Panelists include C.E.O. of Appiah Group Enterprises, Jennifer Appiah, Renowned Ghanaian Fashion Designer, Mimmy Yeboah, Director of Operations at Roots Travel, Maurice Cheetam, and Founder of WaxPrint Festival, Amma Aboagye.
Panel 2: The African Birthright: Uniting the African Diaspora for Africa
Panelists include Beauty Queen, Brihanna Kinte, Founder of SugarKoated, Yasmine Sangari, Entrepreneurs, Therese Akua Jones and Gibril Mansray.
Panel 3:  Beyond the Return: What's Next for Ghana and Africa
Panelists include Patrick Kumah, Musician and Social Activist, Laree Thomas, Founder of The Adinkra Group, Diallo Sumbry, and  Cyril Nelson.
Roundtable Discussions will conclude with the Enjoyment Reception featuring a live performance from No Bad Songs and DJ Alizay, DJ Bimshire, DJ Manni and DJ Mic Smith on rotation.
The Back2Africa Festival and Tour will culminate on Sunday, 8th of March with  Sunday Service, a charity cause, at Nyame Bekyre School in Akuapim. Volunteers will partner with residents of Akuapim traditional area to refurbish, renovate and paint the school. In 2019, Back2Africa collaborated with the International Partnership for Economic and Sustainable Development to kickstart the fundraiser to raise funds and break grounds for the establishment of a library and borehole in the community.
Since its inception in 2018, the Back2Africa Festival and Tour has reconnected hundreds of African Americans and African diasporans to the culture and traditions of Africa through its specially curated birthright journey and activities.  Back2Africa is produced in support of WaxPrint Media, Ghana Tourism Authority, BBnZ Live, Black Band and African Ancestry.
---
Back2Africa Festival Schedule
Thursday, March 5, 2020
Dancehall Thursday featuring DJ Alizay ( DC), Dj Bimshire ( Barbados), DJ Manni ( Ghana/UK)
9 pm – 2 am
BBnZ Live
Friday, March 6, 2020
SOAR: Samples, Originals and Remixes
9 pm – 2 am
BBnZ Live
Saturday, March 7, 2019
Roundtable Discussions
12pm-6pm
BBnZ Live
Saturday, March 7, 2020
Enjoyment featuring  No Bad Songs (performing live), DJ Alizay ( DC), Dj Bimshire ( Barbados)
9 pm – 2 am
BBnZ Live
Sunday, March 8, 2019
Sunday Service – Nyame Bekyre School Renovation
Koforidua – Transportation & Lunch Provided for all volunteers
Be Vigilant: WorldRemit issues statement on fraudulent money-doubling scheme in Ghana
WorldRemit has issued a statement following a warning from the Bank of Ghana for the general public to be wary of a money-doubling scheme operating in Ghana under the pseudo name "Worldremit", saying, the scheme is fraudulent and does not reward investors as promised.
The Central Bank made it clear that, this fraudulent scheme is distinct from the globally renowned Fintech, "WorldRemit" which is in the business of international fund transfers.  WorldRemit has since issued an official  statement on its website concerning the matter, as follows:
Dear WorldRemit partner,
We're aware of recent fraudulent attempts to impersonate our brand online in Ghana – using our name or pseudonyms like Worldremit or World Remit.
We aim to be ever-vigilant in our approach to cybersecurity and fraud prevention measures, and do our best to shut down these sorts of attempts when we see them. The reality is that there are many fraudsters on the lookout to scam customers out of their money or personal details. This is not unique to us, but is a very common tactic used by unscrupulous people who target our industry.
Ways we minimise the impact of fraudsters:
1. Educate our customers on security measures, including our most recently published Security Guide, which you can find online here: http://wrem.it/security
2. Report and remove fraudulent accounts that are active on the various social media sites where we operate
3. Only ever use secure connections through our website and app, which use a bespoke, in-house machine learning model to protect against fraud
4. Utilise a bounty programme which pays white hat hackers to find vulnerabilities in our system to then be patched and secured immediately
5. Implement next generation antivirus to keep our system secure from any fraudulent attempts to access our systems internally
6. Adhering to PCIDSS compliance to protect all cardholder data
As always, we seek to keep our customers safe from all online scams where our service is concerned. Some simple steps we would urge our audience in Ghana to adhere to are:
Check that they are visiting our official website www.worldremit.com (you will see a secure lock pad in the browser window next to our URL).
Check that you are downloading our official WorldRemit app before making any transactions. We will never ask for your personal details over our social media sites in a public forum, such as full name, address or bank details. We take your safety very seriously and request that if you do see any instances of people acting fraudulently that you join us in reporting them on whichever channel they appear.
Thank you for your help in this matter,
Your WorldRemit team
WorldRemit is a cross-border digital payments service that provides international money transfer and remittance services in more than 130 countries and over 70 currencies. It was founded in 2010 by Ismail Ahmed, Catherine Wines, and Richard Igoe.