Things to do when moving into a new home or room in Accra
The progress of Ghanaian economy will rely on the young professionals who are now at the early stages of their careers to drive the nation forward by providing the energy and entrepreneurial skills that all good economies require to grow. Yet most of these people find themselves living in deplorable conditions due to the lack of affordable accommodation.
The 2015 Ghana Government Housing Policy document states that affordable housing is when workers can afford 30 percent of their income as rent. So, let's assume that a bank teller or clerk will have a take home salary of between GHS1000 – GHS4000 based on experience. This would mean that for their accommodation needs to be deemed as affordable, they could only spend between GHS300-GHS1200 per month on rent (30% of the above-mentioned incomes). The current Accra market makes it very difficult to find suitable accommodation within these limits.
To compound the situation further, most landlords are still seeking one-year minimum advance payments for their properties, which is well above the legal requirement of 6months set by the Rent Act of 1963. Nevertheless, enforcing the 6months rental advance laws is difficult in a market where demand far outstrips supply for affordable units. Landlords will simply tell you to look elsewhere if you cannot pay.
When you do find the house you want in Accra, the question now is how to move in.  Where do you find reliable moving companies such as Los Angeles movers in Accra? Moving can be nerve-wracking, exhausting, and overwhelming. So it is advised to contact a professional moving company such as Vector Movers NJ. Well, there's just so much to do in one day, and that can be a recipe for disaster. Here is a guide to make it a little easy on you:
Get new locks
You don't want a stranger running around with a key to your front door or room if you are renting just a room, so changing the locks at your home is a natural step. Do it before moving in. Plus, getting the locks changed before you move in your belongings prevents them from being exposed during that brief window while your locks are getting switched over.
Check for leaks
When you're moving in and not yet using any water, check your water meter. Wait two hours, making sure no one uses any water, and then check your meter again. It should read exactly the same. If it doesn't, you have a plumbing leak.  You don't want to keep your Healthy Chews somewhere that leaks unknowingly.
Change the toilet seats
A simple toilet seat swap will help you feel like the home is really yours – and it will keep you from worrying about what happened in it before you got the keys. If you want to go the extra mile, consider choosing a detachable toilet seat. With a detachable seat, you can take the whole thing off and get every nook and cranny sparkling.
Clean the cabinets and closets
Before you unload your dishware and clothes, give everything a thorough wipedown. It will take you minutes if you do it now, but the task becomes much more onerous once it involves unloading everything off of each shelf.
Do all major maintenance tasks
First off, vacuum out the coils underneath or behind your fridge. Over time, these coils can get clogged with hair and dust. This makes it more difficult for them to release heat, ultimately forcing your fridge to work harder. After you vacuum, use a coil cleaning brush to get them thoroughly cleaned. While you're at it, flush your water heater to clear out any sediment and check if your air filters need to be replaced. Getting all of these tasks handled makes it easy to set a maintenance calendar from your move-in date, rather than having to remember a bunch of miscellaneous dates when each task was last completed.
Now that you've tackled the chores that will make it easy to get settled in your new home!
Gospel Musician Efua Black Celebrates Birthday With Father's Home
Takoradi-based gospel artiste, Mrs. Ellen Tsibuah also known in the music circles as Efua Black has donated assorted food items to the Father's Home Care Ministry at Anto Aboso in the Shama District as part of the celebrations marking her birthday.
Although Efua Black's birthday fell on Tuesday, 12 October, for the purpose of convenience, she chose to celebrate the occasion on Saturday, 16th of October to extend love to the orphans at the children's home.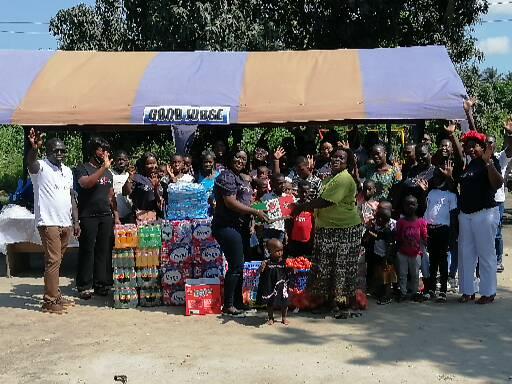 She donated numerous food items including fresh tomatoes, tomatoes pastes, pepper, frozen chicken, fish, onions biscuits, and drinks among others.
The children of the Home were engaged in numerous fun and exciting activities to put smiles on their faces and to give them a sense of belonging.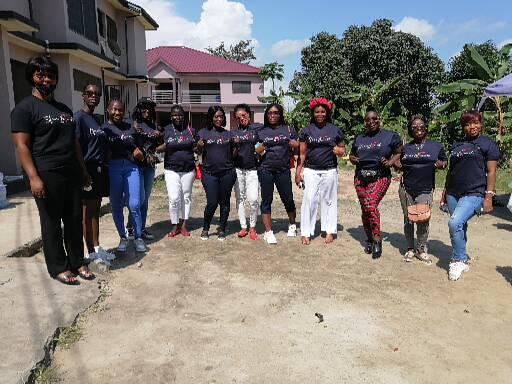 According to Efua, orphans also yearn for the presence of their parents when they see other kids in society with theirs and this phenomenon could affect their self-esteem when they don't get similar care and love.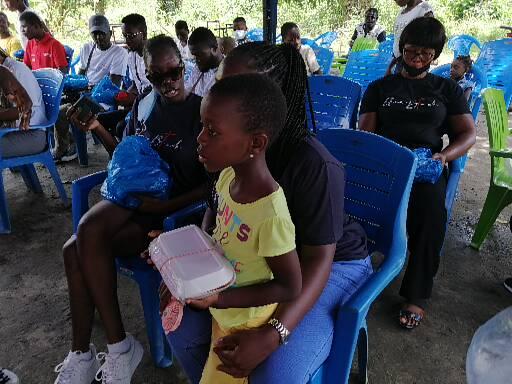 She added that spending her birthday through the extension of the love of Christ to the children was timely and a step in the right direction for her ministry.
"As a gospel artiste, my main purpose is to preach Christ through my music and extend the love of God to these children. I am here, to make them feel part of a bigger society. These children may feel some sense of loneliness when they see other children with their parents, this could affect their self-esteem, therefore, it's our responsibility as a society to enhance their sense of belonging and continue to show them, love  ".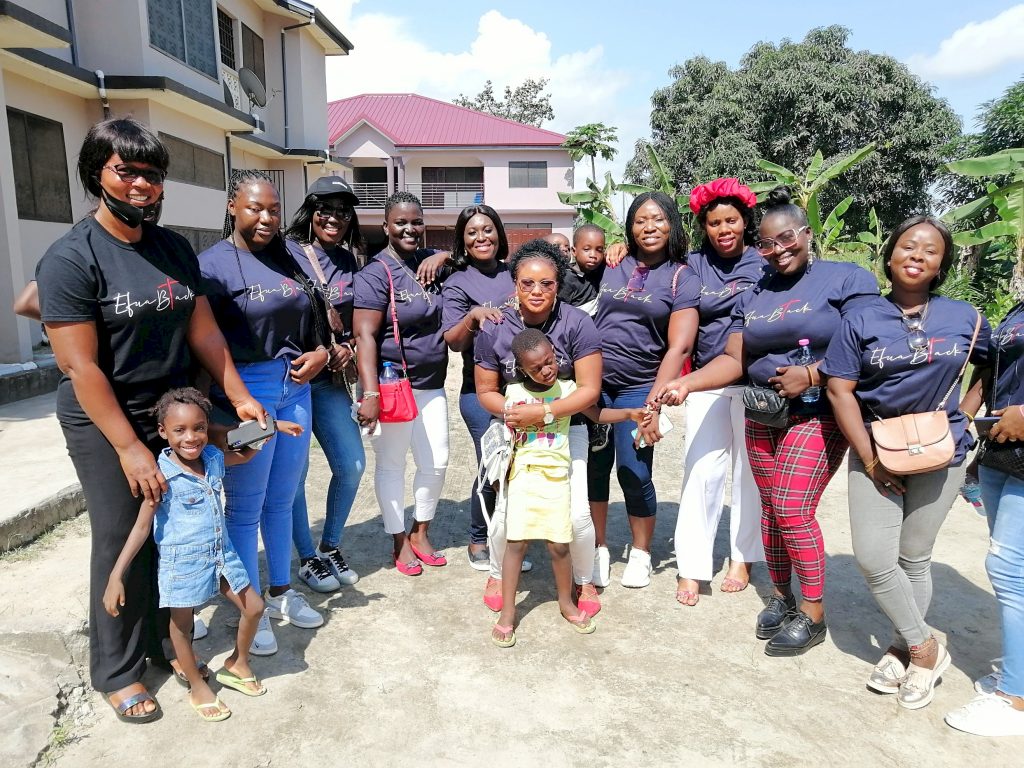 Efua expressed her heart warm gratitude to the caretakers of the Home for their services and advised them to continue doing more towards uplifting the plight of every child at the Home as there are more blessings in such work but could equally turn out to be a curse when the children are not managed well.
"The Bible says love to orphans and widows is one of the greatest blessings, if they are not well managed, it could be a curse for the caretakers, so it behooves on us to do our maximum best to secure the happiness of the children for God to also bless us", she stated.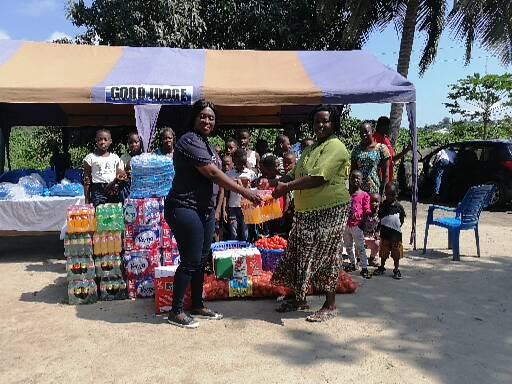 Efua black called on well-meaning Ghanaians, benevolent organizations, and the Government to extend helping hands to the Home.
She hinted at the   release  of  her second  single, title "Reign", a contemporary worship song  come Monday 18th October 2021.
Receiving the items on behalf of Father's Home Ministry, Janet Anderson, a parent at the children's home expressed gratitude and for the love and kind gesture of Efua Black and friends in considering to celebrate her birthday in the home since she could have chosen to mark it at any place of her choice.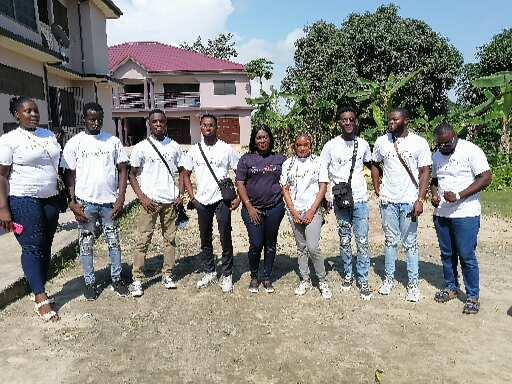 She thanked the team and prayed for God to replenish anything that had been lost through the sacrifice to put smiles on the faces of the children.
The Father's Home Care Ministry currently has 100 children who are being catered for with some in primary, Junior, and Senior High school as well as others in numerous Tertiary Institutions across the country.
Story by Kwame Offei