Acclaimed Malian guitarist, Vieux Farka Touré out with new single "Flany Konare"
Acclaimed Malian artist Vieux Farka Touré is premiering the new single "Flany Konare" from his forthcoming album Les Racines, out on World Circuit Records June 10. Of the track, Vieux says, "'Flany Konare' is a love song in the purest and most direct sense. It is about the tenderness and affection between lovers, the love that fuels everything else in life. It is a reminder to make time for love and to give your respect to love, for without it everything else we do loses its meaning." The single is accompanied by a kaleidoscopic new video created by U.K.-based animators Double Vision and Malian photographer Kiss Diouara.
Watch/share the video
HERE
.
Vieux is known as the "Hendrix of the Sahara" and is the son of the late "Desert Blues" pioneer Ali Farka Touré;
Les Racines
is Touré's debut album on the label and his first since 2017. The title, which translates as "the roots," represents a deep reconnection with the Songhai music of Northern Mali known as "Desert Blues," made famous by his father via his own World Circuit releases decades earlier. Listen to the album's previous single "Gabou Ni Tie," which includes guitar from Amadou Bagayoko of Amadou & Mariam, and preorder
Les Racines
HERE
.
In support of the record, Vieux will be on tour throughout the U.S. this spring and fall, including stops at New York's Le Poisson Rouge and Celebrate Brooklyn and Los Angeles' Lodge Room; see below for a list of dates.
The son of the late Ali Farka Touré, acclaimed as the finest guitarist Africa has ever produced, Vieux spent two years making Les Racines but the album had been gestating in his mind even longer. "I've had a desire to do a more traditional album for a long, long time. It's important to me and to Malian people that we stay connected to our roots and our history," Vieux explains. The lockdowns caused by the Coronavirus outbreak, which prevented him from touring, were turned to his advantage as he used the time to craft the most profound statement of his career to date.
Les Racines is Vieux's sixth solo album in a recording career that began in 2006 and which has taken in audacious collaborations with the likes of Dave Matthews and the jazz guitarist John Scofield, an album with the American singer-songwriter Julia Easterlin, and two records with the Israeli artist Idan Raichel as The Touré-Raichel Collective. "Early in my career people asked why I wasn't just following my father. But it was important for me to establish my own identity," Vieux says. "Now people know what I can do, I can return to those roots with pride and I hope a certain authority."
Recorded in Bamako in Vieux's home studio, the timeless grooves of the album are steeped in the traditional music of West Africa. But the fire of Vieux's guitar playing and the urgency of the messages in his songs add an entirely contemporary relevance. "We are nothing if we abandon respect for the past," Vieux notes. "But we can also marry modernity with the strength of our traditions."
The ten songs, all original compositions, address a range of topics, traditional and contemporary. "In Mali many people are illiterate and music is the main way of transmitting information and knowledge," Vieux explains. "My father fought for peace and as artists we have an obligation to educate about the problems facing our country and to rally people and shepherd them towards reason."
 "Returning to the roots of this music is a new departure for me and I've never spent so long or worked so hard on an album," Vieux says. "I knew it had to be deep and durable and powerful and so I took a lot of time to reflect on how to do it and put it together."
LES RACINES
TRACKLISTING: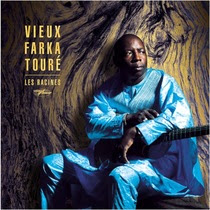 1. Gabou Ni Tie
2. Ngala Kaourene
3. Les Racines
4. Be Together
5. Tinnondirene
6. Adou
7. L'Âme
8. Flany Konare
9. Lahidou
10. Ndiehene Direne
VIEUX FARKA TOURÉ TOUR DATES:
April 30—Festival International de Louisiane—Lafayette, LA
May 1— Festival International de Louisiane—Lafayette, LA
May 4—UCSD The Loft—La Jolla, CA
May 5—Henry Miller  Library—Big Sur, CA
May 6—SLO Brew the Rock—San Luis Obispo, CA
May 7—Lodge Room—Los Angeles, CA
May 10—Jazz Alley—Seattle, WA
May 11—Jazz Alley—Seattle, WA
May 12—Star Theater—Portland, OR
May 13—Freight & Salvage—Berkeley,  CA
May 14—Center for the Arts—Grass Valley, CA
May 15—Felton Music Hall—Felton, CA
May 17—Musical Instrument Museum Theater—Phoenix, AZ
May 18—Dakota—Minneapolis, MN
May 19—SPACE—Evanston, IL
May 20—Le Poisson Rouge—New York, NY
May 21—World Café Live—Philadelphia, PA
May 22—Race Street Live—Holyoke, MA
June 8—Crystal Ballroom—Somerville, MA
June 10—Infinity Hall—Norfolk, CT
June 11—StageOne—Fairfield, CT
June 12—Afrika Nyaga Fest—Providence, RI
August 4—Celebrate Brooklyn—Brooklyn, NY
Grammy-Winning Artist Leon Thomas Reveals New Single & Music Video "X-Rated"
Entering what promises to be a massive era, GRAMMY® Award-winning singer, songwriter, and producer Leon Thomas unveils a new single and music video entitled "X-Rated" [feat. Benny The Butcher] today. Listen to it HERE, and watch the music video HERE.
The single marks Leon's debut music under multiplatinum artist, singer, songwriter, producer Ty Dolla $ign's newly inked EZMNY Records, a joint label venture with Motown Records. Ty shares his excitement, stating, "Leon's talent was just a higher level from every other singer or producer that I was hearing, and the fact that he was doing everything himself from playing bass to working Logic and Pro Tools. From the first song I heard, I knew he was one of them ones."
On Leon's "X-Rated" track, a glitchy beat holds down the groove beneath warbling loops, building a layered soundscape evocative of nineties hip-hop. His vocals glide over this backdrop as he celebrates female sexual freedom in the verses before a chantable chorus, "X-Rated girl, if these walls could talk." Meanwhile, Griselda spitter Benny The Butcher pulls up with a fiery feature. The strikingly cinematic visual, which Thomas directed, captures these vibes on-screen and includes a cameo appearance from Ty Dolla $ign.
Speaking on the inspiration behind the song, Leon shares, "X-Rated is an ode to my love of "Boom Bap" and early 90's instrumentals. Benny The Butcher brought authentic bars and helped further the theme of this record."
A prolific songwriter and producer, Leon's unique sound and writing wizardry can be found up and down the Billboard charts. He's contributed to anthems for everyone from Toni Braxton and Babyface –winning a Grammy for his writing credits on the duo's 2014 joint album Love, Marriage & Divorce—to Post Malone, Ariana Grande, Chris Brown, Kehlani, J. Cole, Rick Ross, Ella Mai, and more. As a co-writer and co-producer, he recently powered "Pipe Down," "Love All" [feat. JAY-Z], and "In the Bible" [feat. Lil Durk & Giveon] from Drake's global chart-topping Certified Lover Boy album.
Also, a true vocalist and artist in his own right, Leon unveiled his debut EP Genesis in 2018, which garnered tens of millions of streams and earned him critical acclaim. He continues to be a musical force of nature with the release of "X-Rated" and a highly anticipated project due out soon. Be on the lookout for more from Leon!
From writing and producing on #1 albums with chart-breaking artists to starring on hit television series, GRAMMY® Award-winning singer, songwriter, producer, and actor Leon Thomas has become one of the most watched multi-hyphenate talents in the entertainment industry today. He has written and produced with the likes of Post Malone, Ariana Grande, Kehlani, J. Cole, Rick Ross, and more, and won a Grammy for writing credits on Babyface and Toni Braxton's 2014 joint album Love, Marriage & Divorce. In 2021, Leon found himself contributing his writing and production skills to Drake's global chart-topping album Certified Lover Boy on "Pipe Down," "Love All" feat. JAY-Z, and "In the Bible" feat. Lil Durk and Giveon. Born in Brooklyn and raised by his vocalist mother, opera-singing grandfather, and stepfather who played guitar for B.B. King, Thomas' musical career began early. He appeared as Young Simba on Broadway's The Lion King at 10 years old and began working with Nickelodeon at 13, voicing The Backyardigans character Tyrone and starring in Victorious for the show's entire run. In 2018, Leon released his debut EP Genesis to critical acclaim. He continues to expand his artistry and venture into a new era of music under Ty Dolla $ign's EZMNY Records and Motown Records, with the release of "X-Rated" feat. Benny The Butcher and a full project due out soon.