Acclaimed Malian guitarist, Vieux Farka Touré out with new single "Flany Konare"
Acclaimed Malian artist Vieux Farka Touré is premiering the new single "Flany Konare" from his forthcoming album Les Racines, out on World Circuit Records June 10. Of the track, Vieux says, "'Flany Konare' is a love song in the purest and most direct sense. It is about the tenderness and affection between lovers, the love that fuels everything else in life. It is a reminder to make time for love and to give your respect to love, for without it everything else we do loses its meaning." The single is accompanied by a kaleidoscopic new video created by U.K.-based animators Double Vision and Malian photographer Kiss Diouara.
Watch/share the video
HERE
.
Vieux is known as the "Hendrix of the Sahara" and is the son of the late "Desert Blues" pioneer Ali Farka Touré;
Les Racines
is Touré's debut album on the label and his first since 2017. The title, which translates as "the roots," represents a deep reconnection with the Songhai music of Northern Mali known as "Desert Blues," made famous by his father via his own World Circuit releases decades earlier. Listen to the album's previous single "Gabou Ni Tie," which includes guitar from Amadou Bagayoko of Amadou & Mariam, and preorder
Les Racines
HERE
.
In support of the record, Vieux will be on tour throughout the U.S. this spring and fall, including stops at New York's Le Poisson Rouge and Celebrate Brooklyn and Los Angeles' Lodge Room; see below for a list of dates.
The son of the late Ali Farka Touré, acclaimed as the finest guitarist Africa has ever produced, Vieux spent two years making Les Racines but the album had been gestating in his mind even longer. "I've had a desire to do a more traditional album for a long, long time. It's important to me and to Malian people that we stay connected to our roots and our history," Vieux explains. The lockdowns caused by the Coronavirus outbreak, which prevented him from touring, were turned to his advantage as he used the time to craft the most profound statement of his career to date.
Les Racines is Vieux's sixth solo album in a recording career that began in 2006 and which has taken in audacious collaborations with the likes of Dave Matthews and the jazz guitarist John Scofield, an album with the American singer-songwriter Julia Easterlin, and two records with the Israeli artist Idan Raichel as The Touré-Raichel Collective. "Early in my career people asked why I wasn't just following my father. But it was important for me to establish my own identity," Vieux says. "Now people know what I can do, I can return to those roots with pride and I hope a certain authority."
Recorded in Bamako in Vieux's home studio, the timeless grooves of the album are steeped in the traditional music of West Africa. But the fire of Vieux's guitar playing and the urgency of the messages in his songs add an entirely contemporary relevance. "We are nothing if we abandon respect for the past," Vieux notes. "But we can also marry modernity with the strength of our traditions."
The ten songs, all original compositions, address a range of topics, traditional and contemporary. "In Mali many people are illiterate and music is the main way of transmitting information and knowledge," Vieux explains. "My father fought for peace and as artists we have an obligation to educate about the problems facing our country and to rally people and shepherd them towards reason."
 "Returning to the roots of this music is a new departure for me and I've never spent so long or worked so hard on an album," Vieux says. "I knew it had to be deep and durable and powerful and so I took a lot of time to reflect on how to do it and put it together."
LES RACINES
TRACKLISTING: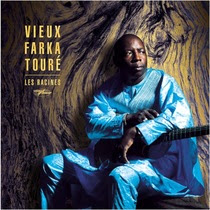 1. Gabou Ni Tie
2. Ngala Kaourene
3. Les Racines
4. Be Together
5. Tinnondirene
6. Adou
7. L'Âme
8. Flany Konare
9. Lahidou
10. Ndiehene Direne
VIEUX FARKA TOURÉ TOUR DATES:
April 30—Festival International de Louisiane—Lafayette, LA
May 1— Festival International de Louisiane—Lafayette, LA
May 4—UCSD The Loft—La Jolla, CA
May 5—Henry Miller  Library—Big Sur, CA
May 6—SLO Brew the Rock—San Luis Obispo, CA
May 7—Lodge Room—Los Angeles, CA
May 10—Jazz Alley—Seattle, WA
May 11—Jazz Alley—Seattle, WA
May 12—Star Theater—Portland, OR
May 13—Freight & Salvage—Berkeley,  CA
May 14—Center for the Arts—Grass Valley, CA
May 15—Felton Music Hall—Felton, CA
May 17—Musical Instrument Museum Theater—Phoenix, AZ
May 18—Dakota—Minneapolis, MN
May 19—SPACE—Evanston, IL
May 20—Le Poisson Rouge—New York, NY
May 21—World Café Live—Philadelphia, PA
May 22—Race Street Live—Holyoke, MA
June 8—Crystal Ballroom—Somerville, MA
June 10—Infinity Hall—Norfolk, CT
June 11—StageOne—Fairfield, CT
June 12—Afrika Nyaga Fest—Providence, RI
August 4—Celebrate Brooklyn—Brooklyn, NY
DAVIDO RELEASES POWERFUL CINEMATIC VISUAL FOR BREAKOUT TRACK "FEEL"
Today, The King of Afrobeats Davido extends his reign releasing visuals to his breakout album track "FEEL", the second track off his +1B streaming album "Timeless". "FEEL's" powerful and cinematic visuals come hot on the heels of his massive summer hit 'UNAVAILABLE' and its' several successful remixes including his recent chart-topping track with multi-platinum recording star Latto watch HERE.
The TG Omori directed visual comes following Nigeria's Independence Day and follows Davido and his love interest's journey to each other amid adversity. Of the visual David shares "Feel is a song that means so much to me. My Director TG Omori and I created a movie with this visual, and I'm excited for the world to finally see and experience it.  I hope everyone loves it." Watch HERE.
The award winning Nigerian superstar Davido, and the momentum surrounding his latest album "Timeless" continue to smash records and dominate the charts with Davido's record-breaking achievements on Apple Music setting new benchmarks for African artists. "Timeless" holds the prestigious title of being the biggest African album in Apple Music history, captivating audiences worldwide with its first day streaming records. Additionally, Davido made history by dominating Apple Music's Global Daily Top 100 with a groundbreaking nine simultaneous African songs. "Timeless" also reached an extraordinary #2 position on Apple Music's US Albums chart, making it the highest-charting African album to date.
Extending his sold out North American summer tour oversees, Davido recently delighted fans with another capacity crowd at Manchester's O2 Victoria Warehouse and will play a massive arena show at The O2, London on Sunday, January 28, 2024. Tickets are on sale now at livenation.co.uk
2023 continues to see the enormous international superstar cement his stature in the US, earning over 30 awards and nominations internationally including this year's 2023 MTV VMA Award Nomination "Best Afrobeats". Additionally on November 18, 2023, Davido will also launch his first annual A.W.A.Y Festival in Atlanta at the State Farm Arena. The Festival was conceived to promote and foster cultural exportation and collaboration between Africa and the world. Davido's level of collaboration with U.S based artists over the years has positioned him as a unique bridge between Africa and the world, a mantle that he has carried proudly.
A.W.A.Y Festival (Are We African Yet?)
November 18, 2023
State Farm Arena, Atlanta Georgia
For Tickets HERE