Angela Kyerematen-Jimoh becomes first first female and African IBM Regional Head for Africa
Technology giant, IBM Corporation has appointed Angela Kyerematen-Jimoh Regional Head for North, East and West Africa where she will be responsible for IBM operations in over 40 countries in Africa including Morocco, Nigeria, Kenya, Senegal, Uganda, Ghana and Tunisia. 
Before her appointment, Ms. Kyerematen-Jimoh was Chief of Staff to the Senior Vice President in charge of Global Markets and Sales in IBM's corporate headquarters in New York. Ms. Kyerematen-Jimoh who was previously Country Manager for Ghana joined IBM in 2011 as Marketing Manager for the West Africa Market Segment and rose through the ranks to become the Strategy Leader for Central East and West Africa.
Prior to joining IBM Ms. Kyerematen-Jimoh worked in banking, for UBS Investment Bank & ABN AMRO in London and GT Bank Ghana.
Chris Kirubi, East Africa Business Mogul and founder of Centum Investment said "I am exceptionally proud of Angela. Her dedication and commitment to her work is unwavering.  She has all our support and I know she will make this a huge success story. We welcome her back to Africa.
Ms. Halima Aliko Dangote, Executive Director of Dangote Industries commented, "This is indeed an inspiring story for our continent to have a woman lead this very important region and we look forward to her making great strides in this role."
Ms. Kyerematen-Jimoh's appointment marks another first in her career: She was IBM's first female country head and becomes the first woman and first African to be appointed Regional Head in Africa. This is a true testament to IBM's unwavering commitment to diversity and inclusion.
She has been named one of Africa's most influential women by Avance Media. Her awards include the US African Women Forum's Global Impact Leadership Award and the prestigious African Achievers Awards for Excellence in Business.
A mother of two boys, Ms. Kyerematen-Jimoh is an alumna of Harvard Business School.
By Prince Akpah
Gospel Musician Efua Black Celebrates Birthday With Father's Home
Takoradi-based gospel artiste, Mrs. Ellen Tsibuah also known in the music circles as Efua Black has donated assorted food items to the Father's Home Care Ministry at Anto Aboso in the Shama District as part of the celebrations marking her birthday.
Although Efua Black's birthday fell on Tuesday, 12 October, for the purpose of convenience, she chose to celebrate the occasion on Saturday, 16th of October to extend love to the orphans at the children's home.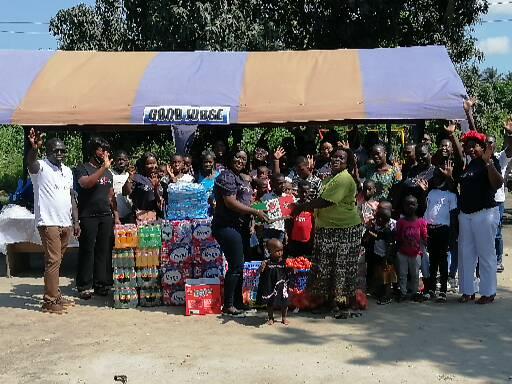 She donated numerous food items including fresh tomatoes, tomatoes pastes, pepper, frozen chicken, fish, onions biscuits, and drinks among others.
The children of the Home were engaged in numerous fun and exciting activities to put smiles on their faces and to give them a sense of belonging.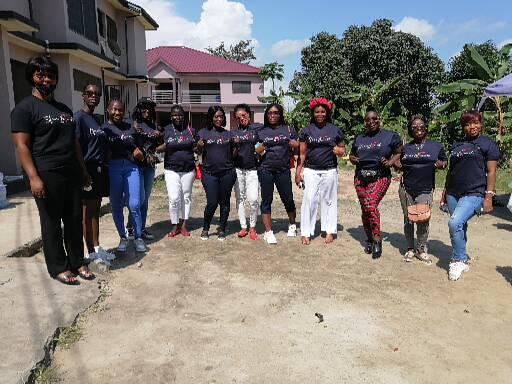 According to Efua, orphans also yearn for the presence of their parents when they see other kids in society with theirs and this phenomenon could affect their self-esteem when they don't get similar care and love.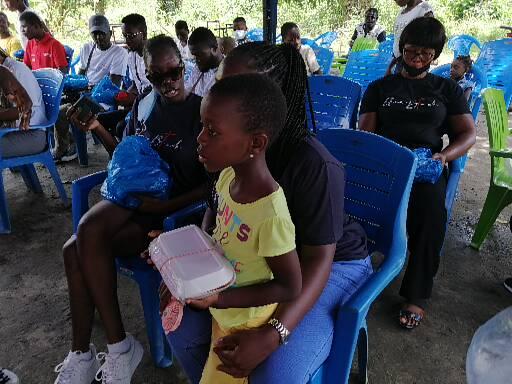 She added that spending her birthday through the extension of the love of Christ to the children was timely and a step in the right direction for her ministry.
"As a gospel artiste, my main purpose is to preach Christ through my music and extend the love of God to these children. I am here, to make them feel part of a bigger society. These children may feel some sense of loneliness when they see other children with their parents, this could affect their self-esteem, therefore, it's our responsibility as a society to enhance their sense of belonging and continue to show them, love  ".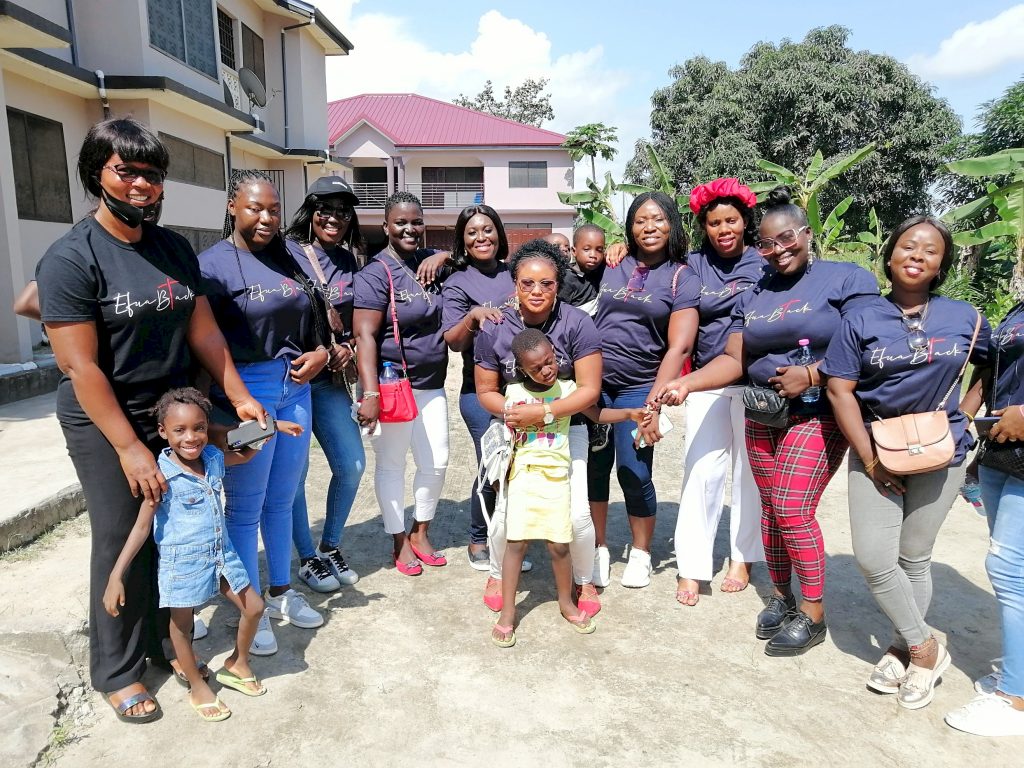 Efua expressed her heart warm gratitude to the caretakers of the Home for their services and advised them to continue doing more towards uplifting the plight of every child at the Home as there are more blessings in such work but could equally turn out to be a curse when the children are not managed well.
"The Bible says love to orphans and widows is one of the greatest blessings, if they are not well managed, it could be a curse for the caretakers, so it behooves on us to do our maximum best to secure the happiness of the children for God to also bless us", she stated.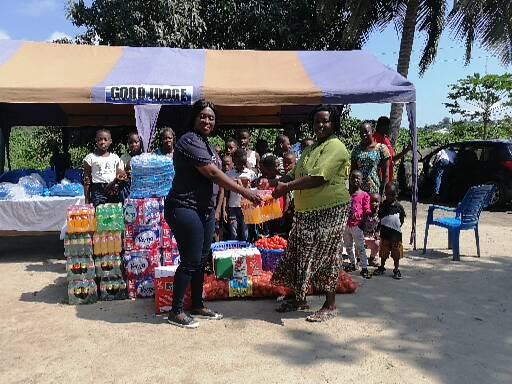 Efua black called on well-meaning Ghanaians, benevolent organizations, and the Government to extend helping hands to the Home.
She hinted at the   release  of  her second  single, title "Reign", a contemporary worship song  come Monday 18th October 2021.
Receiving the items on behalf of Father's Home Ministry, Janet Anderson, a parent at the children's home expressed gratitude and for the love and kind gesture of Efua Black and friends in considering to celebrate her birthday in the home since she could have chosen to mark it at any place of her choice.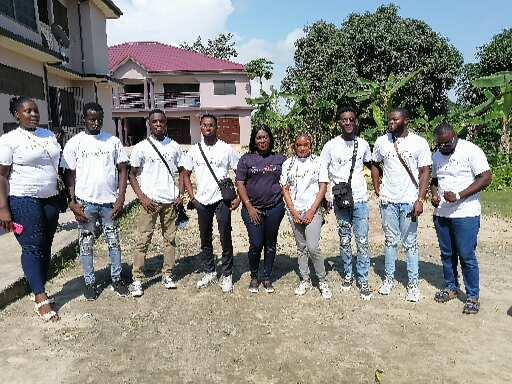 She thanked the team and prayed for God to replenish anything that had been lost through the sacrifice to put smiles on the faces of the children.
The Father's Home Care Ministry currently has 100 children who are being catered for with some in primary, Junior, and Senior High school as well as others in numerous Tertiary Institutions across the country.
Story by Kwame Offei