What Are Some Good Quality Comforters?
What Are Some Good Quality Comforters?
A comforter always makes your sleep so comfortable and cozy. The usage of comforters has long ceased to be just a method to get warm. Covered with duvets everyone feels more protected and therefore less stressful.
So, the right choice of a comforter is a step toward healthy and restful sleep.
There are a lot of great options on the market, but choosing the bedding you need to take into account that it should suit your individual preferences and needs. Thus, reversible duvets and solid comforters have their alluring advantages, which differ from each other. Therefore, there is a necessity to explore the features of the best comforters offered on the market and, of course, determine your own requirements.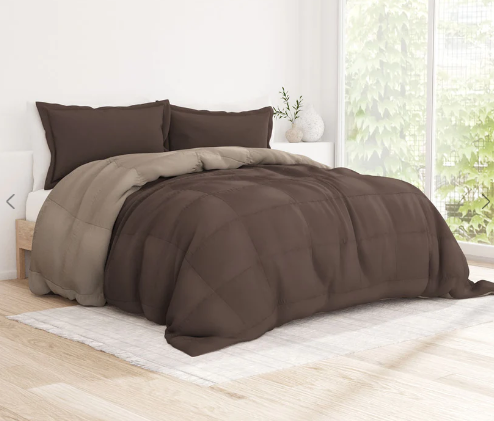 Wide Range of Good Quality Comforters 
The online store Linens & Hutch is exactly what you need when you are looking for a wide variety of comforters, affordable prices, and convenient service.
Linens & Hutch provides such categories of comforters as:
Solid. An ideal option for minimalism lovers. The main advantage of solid comforters is their universality inasmuch as they fit in any bedroom design. So, even after the total room renovation, you will be able to use your old favorite solid comforter. Patterned. Linens & Hutch offers a great diversity of patterns including striped, floral, geometrical, etc. So, it is possible to select something, which will look great in any design.
Reversible. This position offers two in one. If you are looking for a method to change your bedroom interior whenever you want without extra expenses, reversible bedding is the best choice. Just change the side of your comforter and get a completely new atmosphere in your room. 
In addition, the store provides a great range of comforter shell fabrics:
Cotton. This material is quite heavy, so, it keeps warm better than any other fabric. Also, cotton shells are soft and smooth against the skin.
Bamboo. An environmentally friendly fabric, which is breathable and super soft. Its main benefit is an anti-microbial quality, which prevents mildew and odors.
Silk. The choice of this material is an excellent long-term investment. One of the most durable fabrics is perfect for sensitive skin.
Wool. An ideal material for cold weather. Wool comforter shells are cozy and extremely warm.
Microfiber. A lightweight fabric, which is resistant to water. So, if you have to sleep in conditions of high humidity, this option is right for you.
There are also diverse comforter fillings:
Cotton. A great alternative with high breathability to other more expensive fillings.
 
Geese. The best natural insulator, which is ideal for cold winter nights.
Down-alternative. If you want a warm and heavy comforter, but are looking for something eco-friendly, consider this one. It is also appropriate for people with allergies.
 
Silk. The material is less bulky than other synthetic fabrics, which makes it more convenient to move and store.  
Wool. A great insulating feature makes this filling one of the best for the winter season.   
Comforters provided by Linens & Hutch are always a combination of quality, comfort, and great design.
Tips For Purchasing authentic Japanese Swords
Japanese swords are increasingly becoming popular in the market. These swords will make you a modern-day warrior. They will help you cultivate discipline in your life. They represent simplicity and determination. Owning a sword will make you strong and confident. However, there are certain things worth considering before investing in a Japanese katana sword. Keep reading to find the things you should know before investing in a Japanese sword.
 Law
Carefully review your local laws. Before purchasing a Japanese sword, it's imperative to ensure that your police department approves the ownership of such tools. In some instances, you may be required to obtain licensing to own an authentic sword. Alternatively, you may be asked to obtain an import permit from your governmental organization.
In case your sword gets confiscated for its misuse, your seller won't be held accountable for providing insurance or issuing any refunds. So, be sure to observe the purchase protocols.
Customs
If you decide to make an international order, you might have to pay customs fees on its arrival. Thus, it's important to consult your local customs office to find out how much you'll be charged.
Insurance
Determine if the seller offers adequate insurance. In most cases, the company will provide coverage if the swords were shipped by the Express Mail Service (EMS). The maximum amount of coverage is often equal to the sword's original price. And it'll only apply if your shipment gets lost or damaged.
Once you file your claim, you could receive compensation after EMS has carefully assessed your situation and proved that your sword got damaged during shipping.
Buying Your Sword Online
Purchasing a sword online can be quite tricky. And this is particularly true when it comes to antiques. Japanese swords have become increasingly popular nowadays. Because of this, other countries have been trying to imitate them while neglecting the level of care that the Japanese give their creations.
Katana
The katana swords are popular historical weapons. They're considered to be collectible items because they were invented 400 years ago. They're traditionally crafted with a unique type of steel known as tahamagane.
When combined with the meticulous smelting process, this will result in a tough weapon featuring a sharp edge. Before purchasing a katana sword, it's best to conduct extensive research to confirm its quality and authenticity.
 For online purchases, it's advisable to schedule a video chat to have a clear view of the swords. You want to make sure that you're purchasing the right sword.
Tachi
Tachi swords are much longer and curved. They were commonly utilized by armored samurais during the Muromachi period. They're older and feature a more prominent curve than katana swords. They were once believed to protect their samurai.
Tanto
Compared to wakizashi, tanto swords are much shorter and supplemental. They were commonly given to brides as gifts during traditional Japanese weddings. The Japanese believed that tanto offered sacred protection and kept evil spirits off.
Wakizashi
These swords were designed for use in small spaces. They offered protection to the samurai warriors when they entered castles where they were prohibited. The swords became more prominent during the Edo Period when people had to identify themselves as military officers.
Sword Maintenance
When shopping around for a Japanese sword, there are specific guidelines you should take into consideration. This will help you to properly care for your valuable antique blade. Scheduling a virtual meeting will provide you with a thorough understanding of the sword's functionality and how to preserve it.
What To Consider
Before purchasing a Japanese sword, be sure to check your local laws. Katanas aren't legal in all countries. Certain states have very tight restrictions regarding the use of katanas.
There are numerous restrictions placed on the use of katanas. That's exactly why true Japanese swords are extremely expensive and rare to find. Katanas are supposed to be sold with the correct paperwork, as well as, licensing documents. It's important to store them in a safe place and not to openly display them.
Online Purchase
Countless counterfeit Japanese swords are being sold online. So, don't be tempted to purchase them thinking that they're authentic swords. Of course, they're fabricated with steel and they could even be sharp but that doesn't mean they won't bend.
Traditional Japanese swords are created with a lot of attention and dedication. They're hand-crafted and feature the highest quality on earth. Make sure that you're getting exactly what you paid for. Most companies overprice their swords for nothing. They create counterfeit swords and sell them at exorbitant prices. Before making your final purchase, be sure to perform due diligence.
Becoming A Swordsmith
To become a seasoned swordsmith, you must undertake training with an experienced sword maker for about five months. Once you complete your apprenticeship, you'll have to pass a certification exam that lasts for eight days. And after being certified, you can start practicing as a sword maker for many years to make.
Depending on the quality of your work, you'll keep building your reputation until you become a renowned swordsmith. There are currently around 180 respected traditional Japanese sword makers.
Crafting Japanese Swords
Samurai swords are often designed with high-quality steel. The steel is recurrently heated, forged, and layered. It's then taken through a repeated cycle of folding and tempering. Thick layers of clay are then applied to serve as part of the differential hardening treatment which sharpens the blade and makes it shock-absorbent.
The layering process is repeated until the desired outcome is achieved. They won't stop until they're satisfied with the outcome. True swordsmiths are committed to creating high-quality swords that are both elegant and well-polished. It can take up to eighteen months to craft an authentic Japanese sword.
The Bottom-Line
Buying a Japanese sword is a nice decision. Besides decorating your home, a sword is a sign of strength and confidence. It shows that you are determined and focused on achieving your goals. Swords are simple but era effective. Purchase the right Japanese word. Use the above tips and tricks to purchase the best sword today!