Halle Berry and Olivier Martinez welcome baby boy!!!
<![CDATA[]]>
<![CDATA[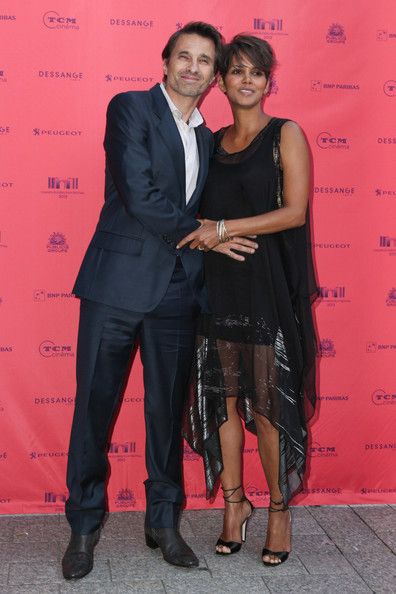 Halle Berry just gave birth to the first child with
new hubby
, actor Olivier Martinez! According to Halle's
rep
, the 46-year-old actress, who has a 5-year-old daughter name Nahla with her ex
Gabriel Aubrey
, delivered the couple's son at Cedars Sinai Medical Center in Los Angeles Saturday night. 
People.com
says that a source told them: "Olivier hasn't left Halle's side. Nahla visited her baby brother earlier today."
The rumors of the couple's first bundle of joy being on the way broke
back in April
.  And the twosome haven't seemed happier since.  Halle, who is set to star as the lead
in an upcoming CBS show
, didn't seem to miss a gorgeous step during her pregnancy. Halle
said
that this bouncing bundle of joy–especially at 46–was indeed a shocker.
"This has been the biggest surprise of my life, to tell you the truth….Thought I was kind of past the point where this could be a reality for me. So it's been a big surprise and the most wonderful."
culled from theybf.com
]]>
Do LaB Announces Learning & Culture and Music Lineups for The Compass at 20th Anniversary of Lightning in a Bottle
Today, Do LaB have announced the Learning & Culture and music lineups for The Compass at the 20th anniversary of Lightning in a Bottle, taking place Memorial Day Weekend at Buena Vista Lake in Southern California this May 24-29, 2023. Each year, the Compass provides LIB attendees the opportunity to gain life-changing lessons to bring back to their day-to-day lives through a series of talks, workshops, and performances from world-renowned visionaries and thought leaders across many important verticals close to the event's ethos.
In 2023, The Compass will welcome the return of renowned mycologist Paul Stamets as he explores How Psilocybin Mushrooms Can Help Save The World, an increasingly hot topic across the world that LIB has championed since Paul's debut at the festival in 2017. Forward-thinking programming continues with a Psychedelic State of the Union from MAPS, a talk on Womb Care Love with holistic health practitioner and wellness coach Queen Afua, and Tejon Tribe speaking on the Ancestral Homelands of the Tejon.
Festival-goers can also hear from Compass Director Isis Indriya as she unpacks The Oracle Divination Board and listen to water researcher Veda Austin explore The Secret Intelligence of Water, along with talks from the Center for Integrative Bee Research, Life Enhancement Institute (LEI) founder Kumu Ramsay Taum, and Jai Dev Singh on Kundalini & Tantra.
The Compass musical highlights include The Polish Ambassador who will perform a very special Sunday Service, capping off a weekend filled with splendors that will include performances from Tooker, Little Wolf, Yaarrohs, Mr. Wu, Daniela Riojas, Sweet Anomaly, Calvin Arsenia, FR33SOL, LAVVA, and more.
The Beacon, known as the lighthouse of The Compass, will also host a series of downtempo ambient sessions from artists like Equanimous, Ruby Chase, and more.
The theme for The Compass this year is Yin Phoenix, bringing together elements related to the rise of the Phoenix and Yin Water while highlighting prosperity consciousness and attunement to the intelligence of water as the guide. The phoenix is an immortal bird that cyclically regenerates or is otherwise born again. Associated with the sun, a phoenix obtains new life by rising from the ashes of its predecessor. These themes will be ever-present at The Compass as LIB celebrates its 20th anniversary.
The immersive Compass area offers a diverse array of educational opportunities to engage the senses, expand the mind, and inspire community action with topics that include indigenous cultures, psychedelic medicine, climate change, love & relationships, healthy eating, and more. Attendees can learn from the past and present in order to better integrate, collaborate, and thrive in our world's future.
More information about The Compass can be found on LIB's website. This includes details about the unique areas that make up the space including The Beacon, Crossroads, Learning Kitchen, Memory Palace, and more with each area adding to the overall experience and story behind the festival. Additional details about the programming at each location will be announced ahead of LIB.
For those looking for the joy of a camping festival with an elevated experience, LIB will return VIP offerings first introduced during the 2022 edition. VIP pass holders can find reprieve in backstage lounges at Lightning, Thunder, and Woogie, grab refreshments in these areas at exclusive bars, enjoy special pop-up interactive experiences, take advantage of access to the Atlaswyld Beach Club & Bar, and watch headlining performances at the elevated Lightning Stage or enclosed Thunder Stage viewing areas. For more info on VIP tickets, visit https://www.libfestival.org/tickets.
20 years ago, a lightning bolt struck and sparked something far greater than anyone could have ever anticipated. Do LaB have created a legacy from the ground up since – one with a loyal community of free spirits chasing the imaginative, boundary-breaking rush felt at its very first celebration. Now it's time to come together to set the tone for the next 20 years.
Learning & Culture Programming
Tejon Tribe – Ancestral Homelands of the Tejon
Paul Stamets – How Psilocybin Mushrooms Can Help Save The World
Queen Afua – Womb Care Love: From Trauma to Transformation
Veda Austin – The Secret Intelligence of Water
Kumu Ramsay Taum – E Ola Pono Piha: Live Fully w Ho'oponopono
Center for Integrative Bee Research – Keepers of the Bees: Ancient Future Wisdom
SupaNova Slom – The Science of Holistic Living
Snow Raven – Sakha Shamanism
MAPS – Psychedelic State of the Union
Jai Dev Singh – Kundalini & Tantra: Unlocking the Ancient Science
Calvin Arsenia – Beauty For Ashes
Nat Kelley & Special Guests – Land Back: Repatriation on Turtle Island
Adam Apollo – The Ancient Secrets of our Human Origins
Unify – 1000 White Lions Roaring: Global Meditation
An Offering to Ma'at – Rites of Lightning Ritual Theater
Daniela Riojas – Indigenous Curanderismo: Connecting to the Wisdom of Mother Earth
Judah Isvaran – A New Paradigm: Servant Relationships
Izumi Hamagaki – Magical Plant Medicine Elixers
Zach + Kayla of Beloved's Bread – Flatbreads & Vegan Caesar
Sunali Shanti Sikand – Food as Love: Edible Poetry
Talks & Discussions
The Oracle Divination Board
Our Role in the Soil Food Web
Panel on Ethics In Business
The Technology of Prayer and the Prayer of Technology
The Channeled Transmissions of 2020 Prophecies
Vedic Astrology
Workshops
The Codex of the Magician
Creating Healthy Interdependence
Fusion Bellydance
How to Say No to Cops
Human Design: The New Paradigm
Rose Alchemy: History & Distillation of Roses
Music Lineup
Sunday Service w The Polish Ambassador
Al Wadi
Andreas One
Black Sesame (Timo Granzotti x Little Dinosaur)
BOHEMIAN CRISTAL INSTRUMENT
Calvin Arsenia
D'rok THE menace
Daniela Riojas
DJ K Marie
DRĖĖĖMY
Elijah Badua
Elikenagi
FR33SOL
Free Creatures
Giselle World
Joey Greiner
LAVVA
Maria Tambien
Mr. Wu
Nii Tei
Raeya
Scarlett Dela Torre
Scott Nice
Sukira
Sweet Anomaly
Terrell Brooke
TOOKER (hybrid set)
Wild Choir
Yaarrohs
Yaima
Zeefellaz
Zuri Adia
Ambient Downtempo Sessions At The Beacon 
2Melo
Rob Noble
Equanimous
Häana
Jason Baker
Little Wolf
Mr. Wu
Mahzetar
Ruby Chase
Tropo