5 Greatest South African Batsmen of All Time
South Africa is the cradle for many outstanding athletes. In particular, it has produced some of the greatest batsmen in world cricket. Many of them already completed their professional careers, while others still have many sporting achievements to reach.
All South African batsmen are united by a passion for cricket, a desire to win, and incredible skill. Despite their natural talent, they reached the heights in sports, thanks to the diligence and hard work. The result was nationwide love and recognition. Cricketers from South Africa have achieved considerable results:
The conquest of many trophies;
Set a lot of world records;
Known for their athleticism and the will to win.
Counting all outstanding athletes will take a lot of time. Let's shorten the all-time list down to five. Each fan has their favorite batsmen, but the achievements of these athletes cannot be denied. Here are the top five of the Greatest SA batsmen of all time by Parimatch official website in Tanzania.
Herschelle Gibbs
It is an outstanding athlete who is popular far beyond his homeland. His career is like a roller coaster. But the world he will be remembered for his 175 in the famous 438-9 match against Australia. This game is still used as educational material for beginners.
Despite the eccentric tricks on the field and in life, this athlete has built an iconic career and has become one of the most popular cricket stars in CA. Now, this is a successful head coach of the Rotterdam Rhinos who transfers his knowledge and puts into practice tactics.
Hashim Amla
Hashim Amla is an iconic person for South Africa. He proved that even his awkward backlift would not be a problem on the road to sporting achievement. The fact is that since childhood, he trained on the cramped streets of his city. It affected his technique but did not affect sports achievements.
He is South Africa's sixth-highest run-scorer in Test cricket and first South African to score 300. His speed and technique hit opponents on the field. Now he has completed his career as a player and is a batting mentor.
Jacques Kallis
Jacques Kallis is known far beyond its homeland. First of all, it became possible thanks to his achievements. He is famous for 10,000+ runs and takes 250+ wickets (both ODI and Test); He spent a very bright career defeating eminent rivals in the composition of Cape Cobras, Royal Challengers Bangalore, and other teams.
Despite a considerable number of injuries, this batsman was able to become an indispensable part of the team and show a good game. Now he has resigned and is engaged in advising teams.
Shaun Pollock
It is a famous player in the past and is now a commentator. He took 10th place in all-time best-ever bowler rating (LG ICC Ratings). Shaun repeatedly became the best player in the match and always surprised opponents with impeccable technique.
During his bright career, Shaun Pollock set four world records, led the national team to significant victories, and became an example for most modern professional batsmen. His domestic and international career has developed as successfully as possible.
Gary Kirsten
This cricketer has established itself not only as a first-class player but also as a successful coach. Throughout his career, Gary Kirsten has received many awards and has performed internationally. He is remembered for his match-winning 76 in the final innings. He excelled at home games and the international stage and always dedicated his victories to South Africa.
All of the mentioned players showed their talents and proved the right to be called stars of South African cricket. They are remembered and appreciated for their contribution to the development of sports and the demonstration of beautiful skills.
Gospel Musician Efua Black Celebrates Birthday With Father's Home
Takoradi-based gospel artiste, Mrs. Ellen Tsibuah also known in the music circles as Efua Black has donated assorted food items to the Father's Home Care Ministry at Anto Aboso in the Shama District as part of the celebrations marking her birthday.
Although Efua Black's birthday fell on Tuesday, 12 October, for the purpose of convenience, she chose to celebrate the occasion on Saturday, 16th of October to extend love to the orphans at the children's home.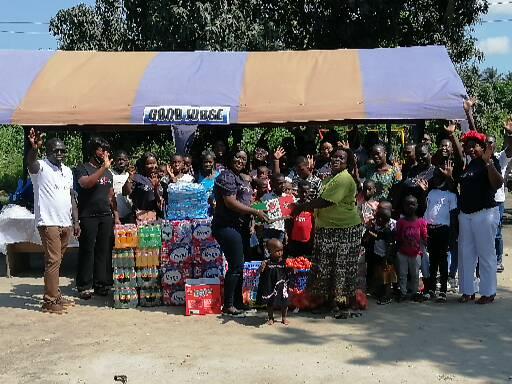 She donated numerous food items including fresh tomatoes, tomatoes pastes, pepper, frozen chicken, fish, onions biscuits, and drinks among others.
The children of the Home were engaged in numerous fun and exciting activities to put smiles on their faces and to give them a sense of belonging.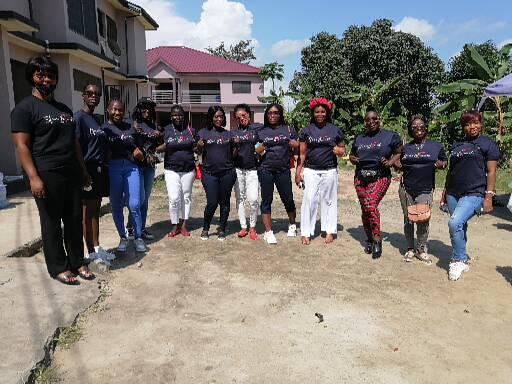 According to Efua, orphans also yearn for the presence of their parents when they see other kids in society with theirs and this phenomenon could affect their self-esteem when they don't get similar care and love.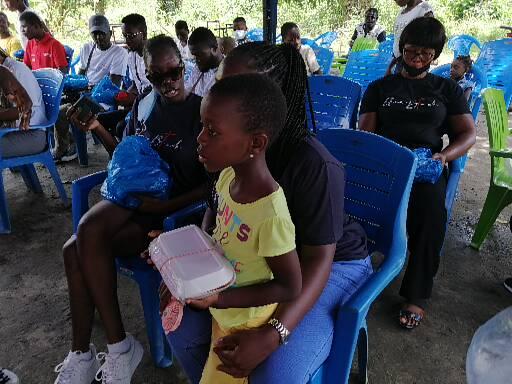 She added that spending her birthday through the extension of the love of Christ to the children was timely and a step in the right direction for her ministry.
"As a gospel artiste, my main purpose is to preach Christ through my music and extend the love of God to these children. I am here, to make them feel part of a bigger society. These children may feel some sense of loneliness when they see other children with their parents, this could affect their self-esteem, therefore, it's our responsibility as a society to enhance their sense of belonging and continue to show them, love  ".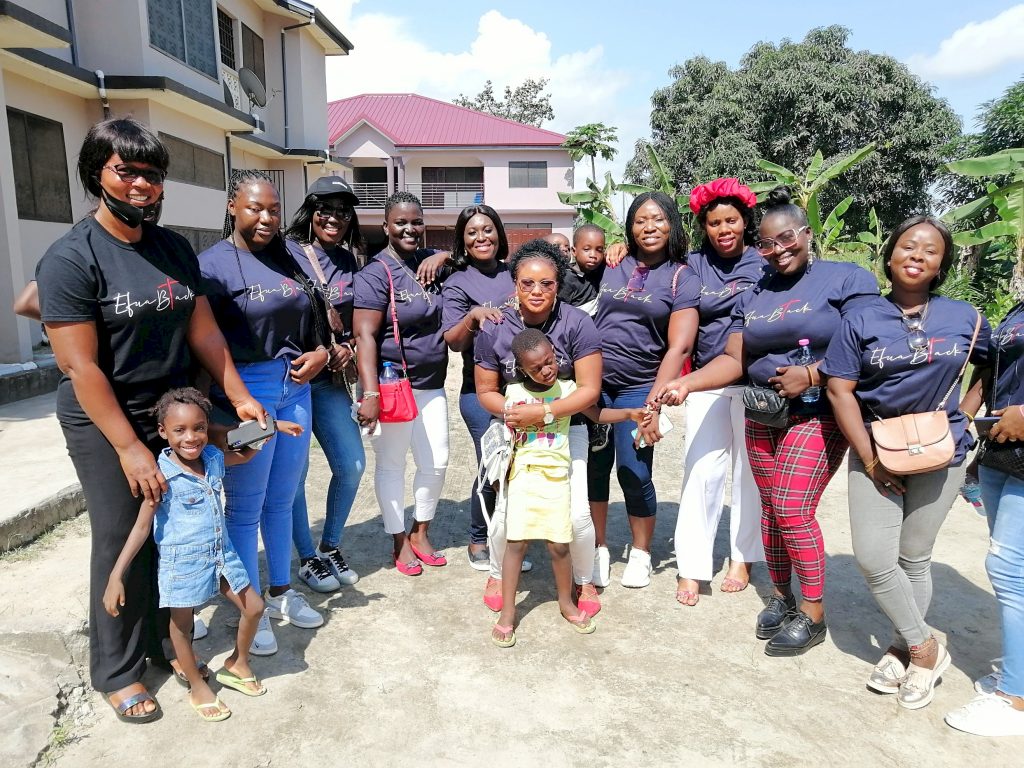 Efua expressed her heart warm gratitude to the caretakers of the Home for their services and advised them to continue doing more towards uplifting the plight of every child at the Home as there are more blessings in such work but could equally turn out to be a curse when the children are not managed well.
"The Bible says love to orphans and widows is one of the greatest blessings, if they are not well managed, it could be a curse for the caretakers, so it behooves on us to do our maximum best to secure the happiness of the children for God to also bless us", she stated.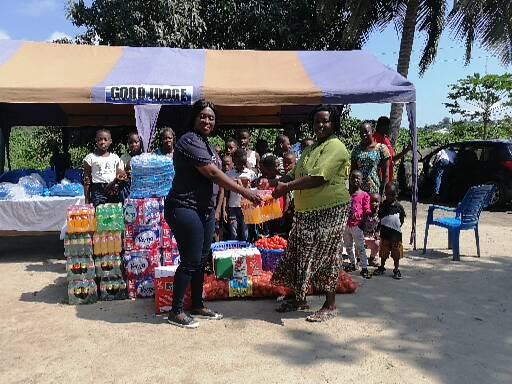 Efua black called on well-meaning Ghanaians, benevolent organizations, and the Government to extend helping hands to the Home.
She hinted at the   release  of  her second  single, title "Reign", a contemporary worship song  come Monday 18th October 2021.
Receiving the items on behalf of Father's Home Ministry, Janet Anderson, a parent at the children's home expressed gratitude and for the love and kind gesture of Efua Black and friends in considering to celebrate her birthday in the home since she could have chosen to mark it at any place of her choice.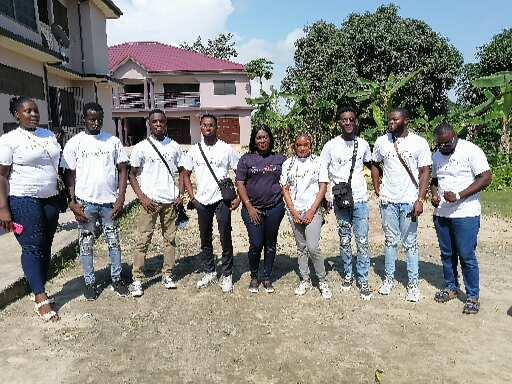 She thanked the team and prayed for God to replenish anything that had been lost through the sacrifice to put smiles on the faces of the children.
The Father's Home Care Ministry currently has 100 children who are being catered for with some in primary, Junior, and Senior High school as well as others in numerous Tertiary Institutions across the country.
Story by Kwame Offei