#COVID19: Obour's household, contacts test negative for coronavirus
Relatives of Obour, who came into contact with his father prior to his coronavirus diagnosis, have tested negative.
These contacts had been tested following reports Obour had hidden his father's travel history from hospital officials endangering the lives of people he interacted with.
The former Musicians Union of Ghana (MUSIGA) president, born Bice Osei Kuffour, had three family members and 33 other contacts from Asante Dwaso tested for the coronavirus.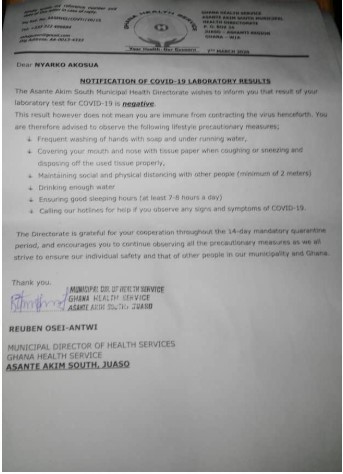 https://ameyawdebrah.com/sarkodie-backs-obour-calls-for-legal-action-against-ridge-hospital-2/
In a report sighted by Adomonline, tests conducted by the Asante Akim South Municipal Health Directorate officially cleared Agyeiwaa Constance, Frimpong Oduro and Nyarko Akosua.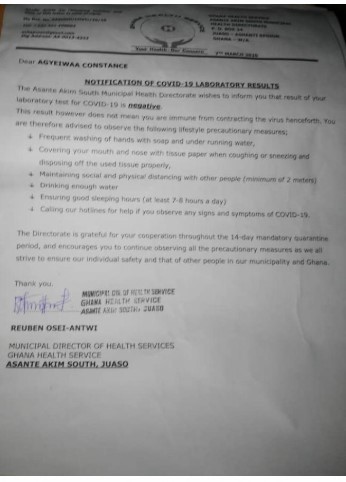 Although Obour says the health officials told him that his result is negative, he is yet to see the evidence that proves it.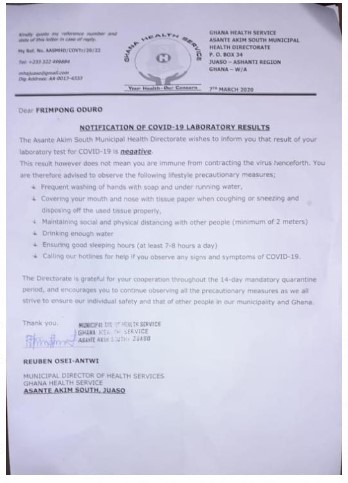 To follow up, Obour wrote to the Officer in charge of the Covid-19 Centre at the Greater Accra Regional Hospital, on April 1, requesting for the results of an independent test he had taken at the facility.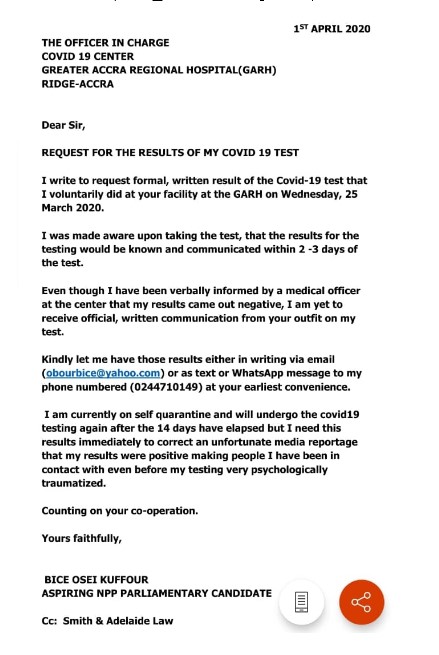 Obour lost his father on Friday, who had tested positive for coronavirus at the Ridge Hospital.
Nana Osei Kuffour was taken to the facility on Thursday, March 26 showing symptoms of the virus.
Obour and family holds one-week observation for father online
SOURCE: MYJOYONLINE.COM
You may have heard of Delta-9 THC, the marijuana extract with psychoactive compound that can get you high and make you feel dizzy and out of control. This is not Delta-9 THC, this is Delta-8 THC. And in this article, we are going to talk about how it works and why it's the smarter choice for many people. And we are going to do all this without ever mentioning any kind of slang or using any type of drugs or alcohol.
– What is it?
Delta-8 THC is a kind of cannabis extract that is psychoactive, just like the Delta-9 THC. It does have some psychoactive properties but it's nowhere near as strong as Delta-9 THC. If you want to know more about this type of drug you should know that it's considered legal in most countries around the world, and it's also available in online shops.
– What is Delta-8 sold as?
You can find it in various forms, all of which are more or less the same. You can get it in the form of pills, sometimes with other substances added to it in order to improve its effects. You can also find them combined with other compounds like Cannabis Sativa and Hemp. In fact, you can even find them mixed together on the same package. Some shops offer you an option to choose which one you prefer most out of the two.
– How does it work?
Well, as previously mentioned, Delta-8 THC is a psychoactive substance and it will make you feel very euphoric and happy throughout the day. However, unlike the regular Delta-9 THC, this is not a hallucinogenic drug that can change your perception of reality while you are on it. So this means you will be able to function normally without any problem. If you're trying to improve your mood, you won't be able to do it if you take this compound but that doesn't mean it can't help improve your mood.
Delta-8 is also known as the 'couch lock' drug and that describes one of its most popular uses. Once you take this substance, you will not feel like doing anything at all and if you somehow force yourself to do something then it won't be easy for you. Of course, this is a good thing as it will give you the chance to relax and just do nothing for a while.
– Which medical conditions can Delta-8 THC help with?
As we've already said, Delta-8 THC has some psychoactive properties that can affect your mood and create a feeling of euphoria when you are on them. Some people may use it to deal with certain medical conditions like anxiety, PTSD or depression but they should be aware that these are not effective treatments in most cases. What they can do is to help you deal with your symptoms better.
– How is it different from Delta-9 THC?
Officially, there is no difference between the two compounds, at least not when it comes to the chemical structure and their effects on the body. The only thing that makes them different is their psychoactive properties.
– Is it safe?
According to the FDA, Delta-8 is safe enough to use as long as you don't feel any adverse effects from it. However, if you decide to use it, I would recommend that you take extra care with your health at all times and never ignore any possible health issues while using this drug. I would also advice that you exercise caution when using it so as not to become addicted to Delta-9 THC.
– Is there any harmful effects?
Delta 8thC is a natural product of cannabis that has been carefully extracted using supercritical CO2 extraction methods. It does not contain any type of harmful substances or even contaminants. You can find it in online stores and you can use it freely as long as the daily dose you take doesn't exceed 20mg of Delta-8 THC. Overdosing might lead to allergies, anxiety, blurred vision and other unpleasant side effects.
– How much does it cost?
As with any other drug, you will have to pay for it so make sure you're prepared to spend some money on it. I would advise that you don't break the bank while buying Delta-8 as there are many other drugs out there that are much more effective than this one.
– In conclusion:
Because Delta-8 is is s natural product